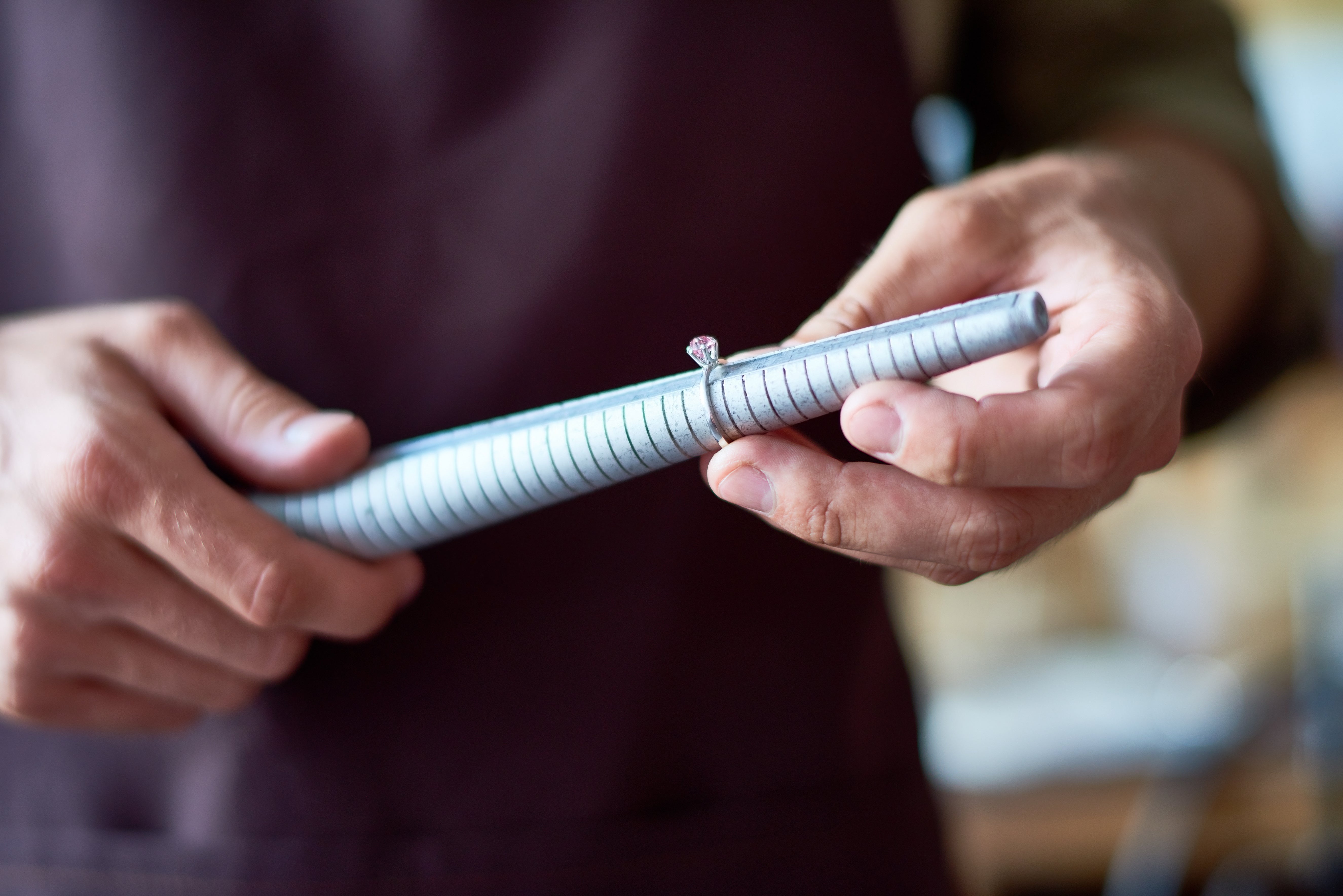 How To Determine Your Ring Size
Maybe you're the type of person who has had a trademark sense of style for the past decade. You found a few pieces of jewelry that work for you, and you don't typically stray from them. 
It's awesome to know who you are, but branching out with new elements from time to time can be exciting. Perhaps you've been thinking about changing things up by incorporating rings into your look for the first time. Before you dive into building your ring collection, you'll need to know which size to buy.
Let's look at the best methods you can use to find out your ring size. Then, we'll talk about a few of the CRAFTD statement rings you can try while you expand your collection. 
Where Do You Live? 
Did you know that ring sizes vary from country to country? There's no standard measurement that applies globally. Thankfully, it is relatively easy to convert between sizes when you know your ring finger's measurement in millimeters. If you're ordering pieces from other countries, ensure that you double-check the accuracy of your size with the brand's size charts. 
Here's a quick overview of a few country's size measurements:
Great Britain and Australia:

These countries use letters rather than numbers to indicate ring sizes. They typically run from A to Z with a few quarter and half sizes placed between most letters.

The U.S.A. and Canada:

North American ring sizes generally begin at quadruple zero and proceed to 13.5 as the greatest ring size. They usually cater to half sizes and quarter sizes, as well. 

France and Russia:

Be extra diligent when ordering French and Russian rings. These sizes begin at 41 and one-half and end at 68 and three-fourths.

Germany:

German ring sizes begin at 13 1/2 on the smaller side and continue to a 22, with some quarter and half sizes offered. 

Japan:

Rings in Japan start at a size one and continue in whole-number increments until size 27.

Switzerland:

Swiss rings start at size one and one-half for smaller rings and end in size 28 and three-fourths.
Methods for To Measure Ring Size 
Now that you have some familiarity with the way different countries size their rings, you may want to know some of the easiest ways for you to determine your own size. Thankfully, it's pretty easy to figure this out when you use one of the following methods.
Once this quick step is out of your way, you'll have all the information you need to purchase new rings that can ramp up your streetwear. 
Use a Trusted Ring 
For this method, try printing out a ring size chart onto a piece of paper. You don't have to measure anything for this one. First, choose a ring that fits the finger you want to measure. Then, lay the size chart on a flat surface and place your ring on the size chart on top of each size representation until you find the one that matches perfectly. 
One of the common ways of looking for a ring size is going to a jewelry store to try on different sizes. However, it is often much faster to measure at home and use an online jeweler. 
Try Using a Piece of String 
If you don't have a ring that fits you well, that might be why you're here today. That's okay; we'll get you hooked up soon. You can find out which size will fit you most with a piece of string, a pen, and a ruler. 
Wrap a piece of thread or floss around your finger. Then, mark the string where the end meets the rest of the thread. Align your thread or floss with a ruler and see where the marking meets on the millimeter side. Once you know your finger's measurement in millimeters, determining your ring size is easy. 
Try Out a Ring Sizer 
Some people might want to skip measurement altogether. If you want to try something on to see how each size feels, you can test out a ring sizer. It's a terrific way to determine the perfect ring size, especially if you're between sizes. 
Guidelines for Ring Sizing
To some, it may seem relatively easy to figure out your size. But did you know some factors can determine whether a particular size is accurate for you?
Let's look at a couple of quick tips to consider while you choose your next favorite band. 
Think About Where You Live 
Will you be moving anytime soon? Some people experience more swelling in higher temperatures with greater humidity. If you know that you'll soon live in a climate with icy conditions and dry weather, you may want to consider sizing down a half size so that your band doesn't slip off or slide around on your finger.
Keep Your Entire Finger in Mind
Everyone's anatomy is different. You might find that your rings tend to get stuck going over your knuckle. This might be an indication that your current size is a bit too snug. Consider trying on bands that slip on your finger without hassle. Remember that your left ring finger might be differently sized than your right-hand ring finger, so double-check before you put down your credit card. 
(Hint: if your ring gets stuck, try getting sudsy up with a bar of soap). 
Six CRAFTD Rings To Boost Your Ring Selection
When you've finally got your size down, it's time to let yourself indulge as you browse high-quality bands that can accent your trademark style. We think you're worth jewelry that lasts for a long time and looks great through all your wild adventures — that's why each ring we'll show you today features excellent quality materials. 
Let's look at a few stellar rings that are CRAFTD to last. 
1. The CRAFTD St. Christopher Ring 
Perhaps you've been looking for a valid excuse to try out a statement ring. We think statement pieces are excellent for helping your look to stand out in a good way, either at a big event or for everyday fashion.
Our CRAFTD St. Christopher Ring is one statement band that looks incredible and has some meaning behind it. This piece represents the patron saint of safe travels, which can serve as a reminder that your life will always be a journey that leads to positive places. 
You're free to customize your ring to fit a silver or gold aesthetic. At CRAFTD, we use premium 316L stainless steel for silver jewelry pieces and 18-karat plated gold. We coat these pieces in a protective solution so that you can wear your rings in any environment with complete confidence that they will retain their lacquer.
2. The CRAFTD Band Ring
Looking for a sure bet in the world of men's rings? Our CRAFTD Band Ring is a piece that's already well-loved by many. Of course, you can see what the hype is about for yourself. This band features a slightly rugged texture displaying our CRAFTD logo around its circumference.
If you're not fully ready to commit to a big statement piece yet, this ring could be an ideal option that adds character to your look in a subtle way.
3. The CRAFTD Antique Ring 
Maybe you're the kind of person who prefers to draw inspiration from the fashions of past decades. We think marrying past details with a modern feel can make for killer jewelry. 
One example of a ring that has a timeless feel is our CRAFTD Antique Ring. This heavy-weight angled band features a bold flat oval face with a black sheen. The CRAFTD logo along the shank lets you know this ring is high-caliber.
4. The CRAFTD Crown Ring 
Do you believe that your mindset influences your life? We think self-confidence starts with choosing to believe in your worth above all else. One statement band that can remind you of this is the CRAFTD Crown Ring. The detailed crown shape makes an excellent accent to your night-out looks and can remind you of your status all throughout your day. 
5. The CRAFTD Cali Ring 
Perhaps you're one who prefers geometric shapes in your jewelry. You can choose a ring that displays this trademark look with our CRAFTD Cali Ring. This mid-weight band displays a bold black square with a high-shine gloss across the top. It's a solid piece you can add to your usual attire, and it's sure to be the target of a few compliments. 
6. The CRAFTD Band 2.0 Ring
Some people prefer more straightforward silhouettes when it comes to their jewelry. You're free to keep rings on the slimmer side if that's what you desire. 
Our CRAFTD Band 2.0 is perfect for those who love minimalist styles with rugged detail. Try it in silver or gold for a go-to staple piece. 
Measure Twice, Order Once 
We know your life is full of important events, whether that's seeing Jay-Z perform with your friends or bringing a date home for an evening of movies and wine-tasting. When you order jewelry, you want to be able to wear it right out of the package. 
For best results, compare your ring measurements with our ring size chart before you finish ordering. When it arrives, you'll know you scored a piece of jewelry that's a perfect fit for you in more ways than one. 
Sources:
The Official International Ring Size Conversion Chart | Ring Sizes
How to Measure Ring Size: A Ring Size Chart and 2 More Tips | Real Simple
Top 11 Tips On How To Measure Ring Size At Home | Wedding Forward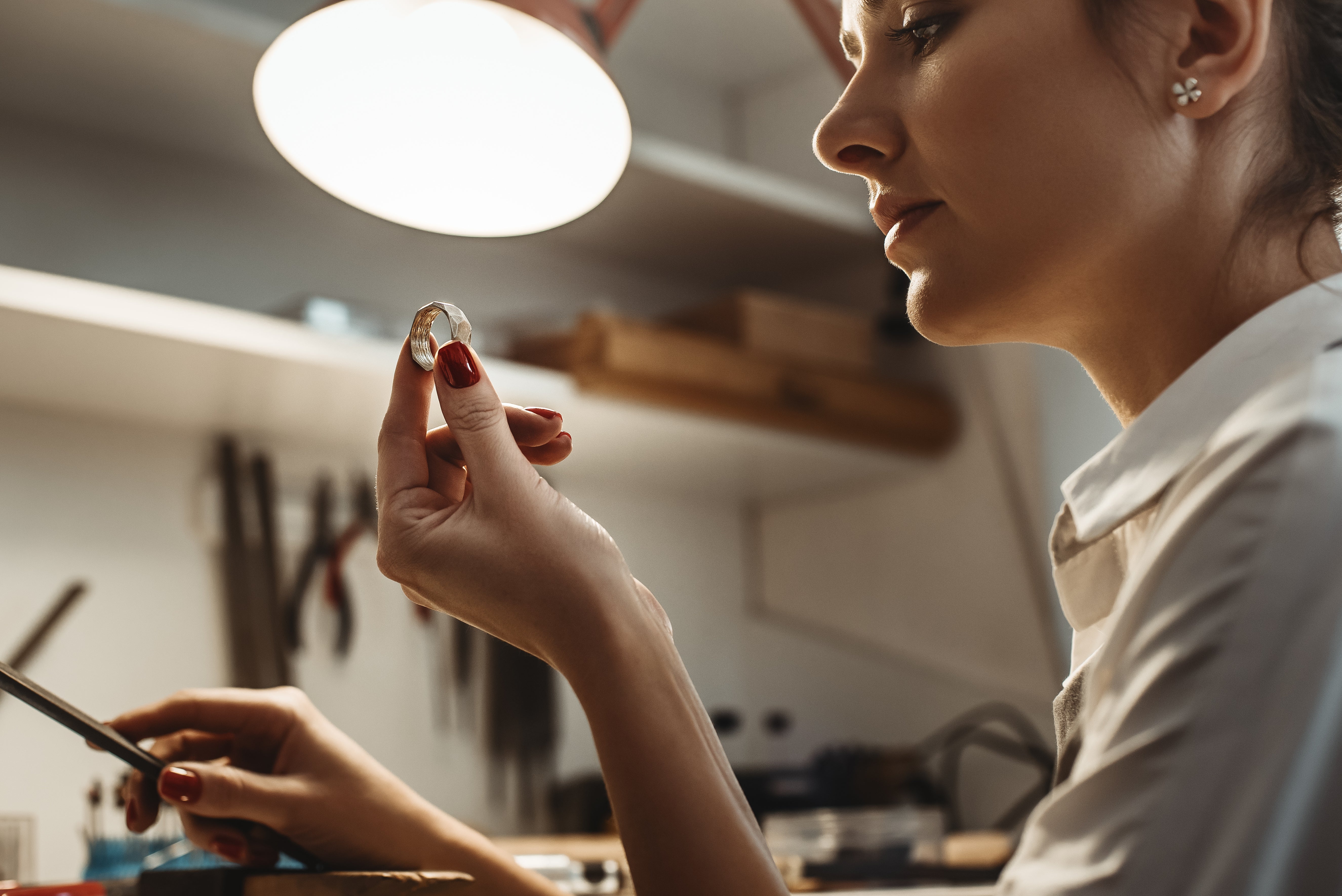 How Much Does it Cost To Resize a Ring?
Do you wear rings often? If so, you'll know how special it can feel to find a ring that fits you perfectly. You may also know how frustrating it can be to order a band you're excited about, only to...
Read more
How To Tell if a Ring Is Too Big
It might feel like common sense, but, believe it or not, many people wear rings that aren't the best fit for them. Do you often have to adjust your rings to feel comfortable? Perhaps you avoid cert...
Read more