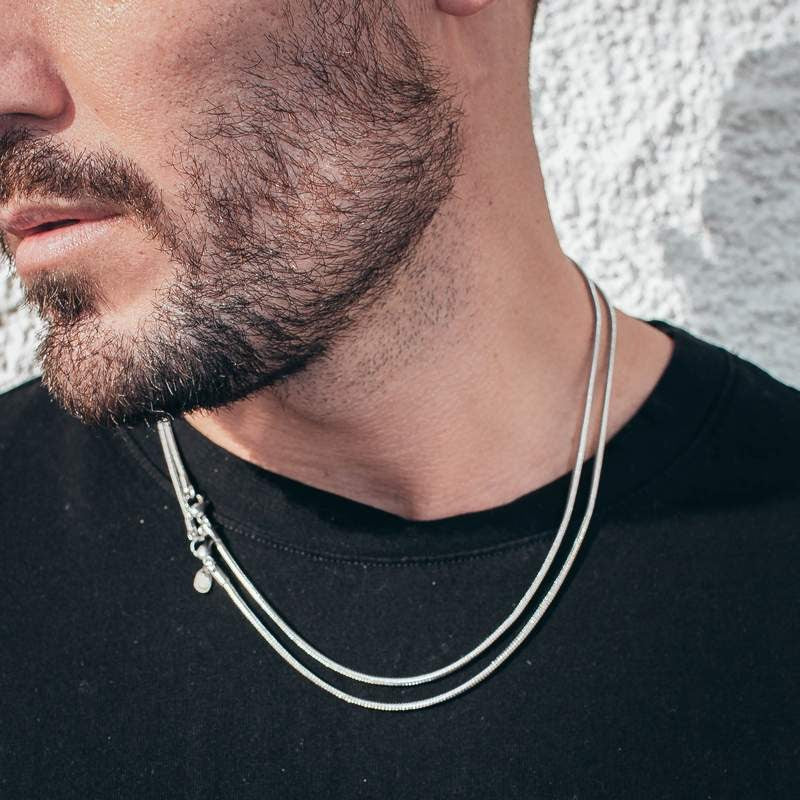 If you've never seen a Snake chain before, you might have some ideas about what it could look like. There's no rattle involved. Your Snake chain also won't display a snakehead with beady eyes and a slithering tongue. Snake chains are classic pieces of jewelry that have been well-loved for decades.
Snake Chains Feature a Sleek Design 
Instead of displaying a literal snake, these chains take inspiration from the flawless, sleek finish of a snake's scales. The chain links together through individual curved plates that are woven tightly to form a continual tube shape. This tight design makes the Snake chain so flexible in its movement. However you wear it, this chain will move as freely as you do. 
Smooth Coils in High Quality 
When you buy CRAFTD jewelry, you're treating yourself (or others) to jewelry made with high-quality materials. That means your Snake chain's smooth coils are made with 18 karat gold or premium 316L stainless steel. Every link, fastener, and finely-woven plate is crafted to last. You can wear your piece proudly time after time, knowing it will retain its color and finish.
Try Out Multiple Lengths 
This Snake chain is one you'll relish wearing, so you might as well have a few variations. Our classic Snake chain is available in three lengths, so you have multiple options for styling it. Try it out in our fifty-centimeter length for a tighter fit. Our fifty-four-centimeter Snake chain is a solid, safe middle-ground option to wear alone or with other styles. Finally, our sixty-centimeter Snake chain is the perfect option for you if you enjoy pairing long necklaces and chains.
CRAFTD Jewelry Quality 
Do you often find yourself gambling on inexpensive jewelry online, hoping for quality pieces? Then, when your jewelry arrives in the mail, you see that it already lacks shine? When you wear it, does your skin turn green, and eventually, the jewelry color turns, too? Whether you're looking for an ideal Snake chain to add to your collection or a classic Toggle Chain bracelet, you can be sure your jewelry won't disappoint you. Your classic chains and other pieces are going to last when they're CRAFTD. 
CRAFTD Jewelry is Durable 
No one likes jewelry that breaks. There's a special kind of disappointment when a bracelet or chain breaks mid-day while you're wearing it. These breaks happen in chains made with low-quality materials. CRAFTD jewelry is different. Our pieces are guaranteed to keep their color and shine through water, sweat, and heat. You can wear your jewelry with confidence, knowing it's not going anywhere.
We Offer Premium Classic Jewelry 
You deserve to wear pieces made with high-quality metals and pieces that won't break. That's why all of our CRAFTD jewelry is made with 18 karat gold and premium stainless steel. Whether you try out a classic Snake chain or a staple Wheat chain, your necklaces are guaranteed to last your lifetime. See our Essentials collection for more classic pieces that are sure to endure your adventures. 
Meaning and Belief in Every Piece 
Are you a sentimental person? Do you want to carry the life lessons you've learned with you? Our jewelry is not only aesthetically pleasing, but it's also symbolic of the things that are important to you. You might be someone who's made your own path in the world, and you want to remind yourself how far you've come. Maybe you overcame a challenging obstacle, and you want to memorialize a difficult time in your life. With our pendant necklaces, you can wear your self-belief each day.
What to Wear with Snake Chains 
Snake chains are sophisticated and simple. Their simplicity doesn't overshadow their unique form and luxurious feel, however. When you're looking for jewelry to pair with your Snake chain, you have so many options. The good news is that your Snake chain will add a bit of sensuality to any other piece you wear. Here are a few necklace options to pair with your timeless Snake chain.
Eye-Catching Pendants 
Our pendants are more than just pieces of jewelry. They're statements you make to the world and yourself. In 18 karat gold or premium stainless steel, our pendants are available to you in over sixty styles. Pair them with your Snake chain for a combination that's as striking as you are. 
Rose Pendant 
Your new Snake chain will look stunning next to our Rose pendant. Roses often symbolize devotion, immortality, and desire. If you're someone who's dedicated to their craft, their love, and their life, you should have jewelry that represents that. Our Rose pendant will not only elevate your Snake chain but can transform your look into something personal.
Angel Pendant 
Whether you're spiritual or not, angels represent the truth that there is good all around us to offset the bad. Perhaps you enjoy the symbolism of purity and innocence that angels hold. Maybe you lost someone important to you, and you want to remember them by wearing an Angel pendant around your neck each day. Whatever your reason, this piece is an excellent option for those who wish to remember the good. 
Crucifix Pendant 
Are you a leader or a follower? Who are you following? Who are you leading? If you're the type of person who holds their values in high regard, you might like to wear a Crucifix necklace. The crucifix is a symbol of sacrifice, leadership, and death to the parts of yourself that hold you back. Pair it with your Snake chain for an effortlessly cool look that's packed with meaning.
Layer Other Classic Chains 
Another way you can style your Snake chain is by layering it with other classic chains. Add texture to your look by mixing chain designs. You can play around with the lengths and widths of these necklaces to create a look that's individual and unique to your style. Keep it simple, or go for bold, outspoken looks. The choice is yours.
Three-Millimeter Figaro Chain 
Do you want to keep your style looking simplistic and effortless? Try pairing your thin Snake chain with a three-millimeter Figaro chain. The slim profiles on both these necklaces will accent one another for a minimalist vibe. Try them in different lengths for added variety, or keep them the same for a tight-layered look.
Five-Millimeter Rope Chain 
A Rope chain is an excellent way to add visual interest to your jewelry. Its multi-twisted style adds dimension and character to whatever piece you might layer with it. A Rope chain would pair beautifully with a Snake chain you enjoy. Their differing styles create a contrast that can upgrade whatever you choose to wear with this combo. Try out an essential five-millimeter Rope chain for a medium twist. 
Another Snake Chain 
Double-up on your sleek, smooth style by adding another Snake chain to the mix. If you're someone who prefers symmetry and cohesion in the jewelry or clothes you wear, this combination is perfect for you. You can wear them in differing lengths or add a duplicate chain in the same length for twice the intrigue. In 18K gold or premium stainless steel, you can wear your Snake chains for your entire lifetime.
Add Killer Earrings 
You're not out of options to ramp-up your Snake chain neckpiece. You might be looking to start wearing earrings to accent the rest of your jewelry. Our CRAFTD earrings make terrific statement pieces for your ears. You can pair a bold, dangling earring with your chains or keep your earrings minimal with an accent stud. 
Crucifix Earrings 
Maybe you love the crucifix theme, but pendants aren't your thing. Try our Crucifix earrings in gold for a piece that will draw attention. It's handmade, and it will never discolor or tarnish, so you know it's crafted to last. Wear it alone for an asymmetrical look, or try it on in a pair for added intensity. 
Compass Earrings 
Maybe you enjoy subtlety. Making audacious statements isn't for everyone. You can represent your journey and your belief in your inner compass to guide you with our Compass earring stud. It's intricate yet straightforward for those who seek fine details. Wear it in silver to offset a silver Snake chain and embrace your individual style.
To Sum it Up 
Want to add subtle sophistication to your jewelry? A Snake chain is a fantastic piece of neckwear that can do just that. Its smooth coils and fluidity make it a one-of-a-kind piece. A Snake chain in gold or stainless steel is a perfect jewelry element to layer or wear alone. When you choose a CRAFTD Snake chain, you can be confident it will always retain its attractive, sleek shine.
Sources:
How to Identify Different Necklace Chain Styles | Bellatory 
A Beginner's Guide To Different Types of Chain - The Bench | Cooks On Gold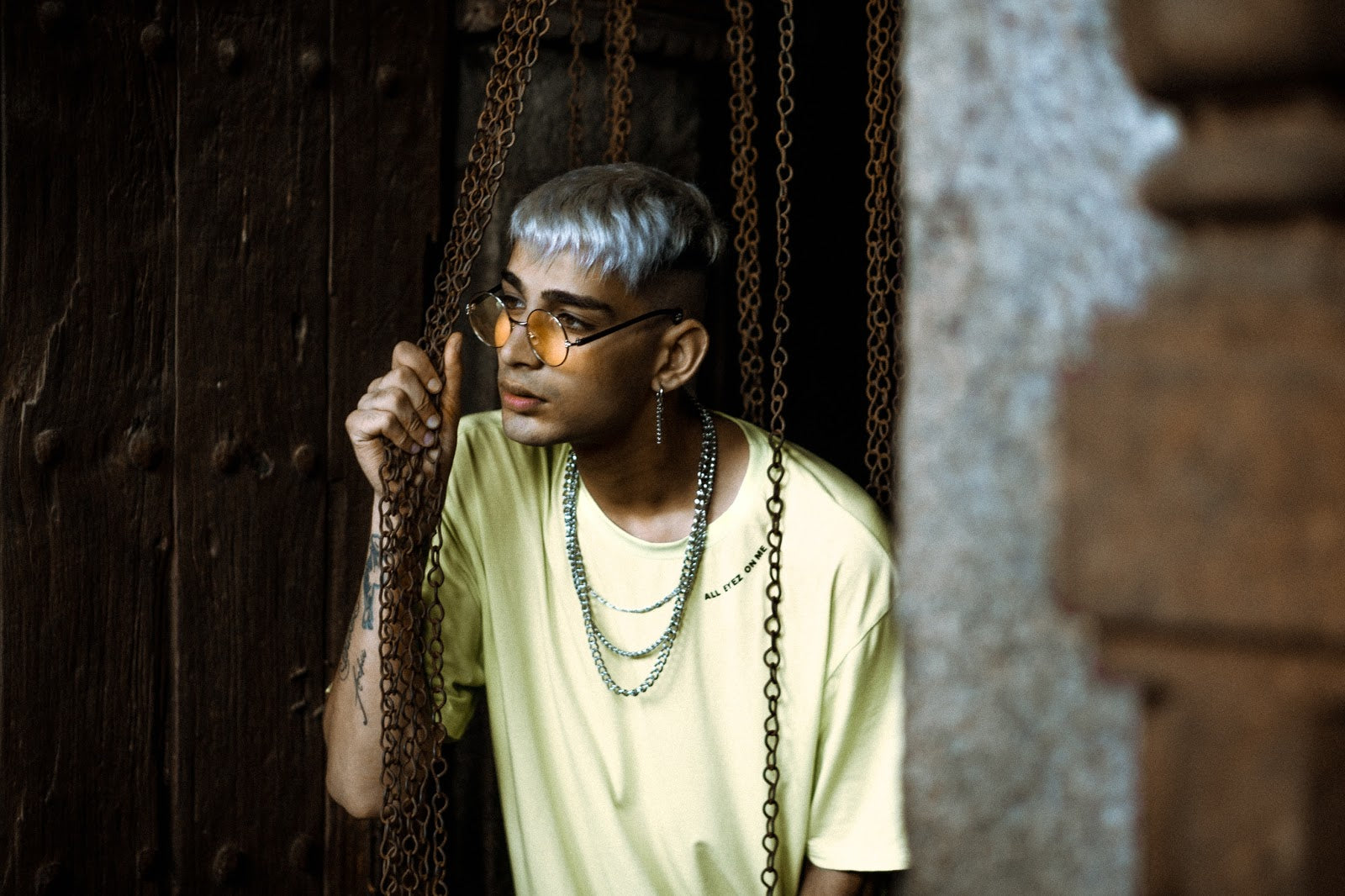 Let's say you're looking online for the perfect gift for your boyfriend for his upcoming birthday. You know he mentioned wanting to wear more necklaces, but you're not sure which kind of chain he'd...
Read more
What do chains have to do with tennis? Perhaps you're well-acquainted with tennis chains. You know all about their origin, who's wearing them, and how to style them. Good for you. It's an exciting ...
Read more