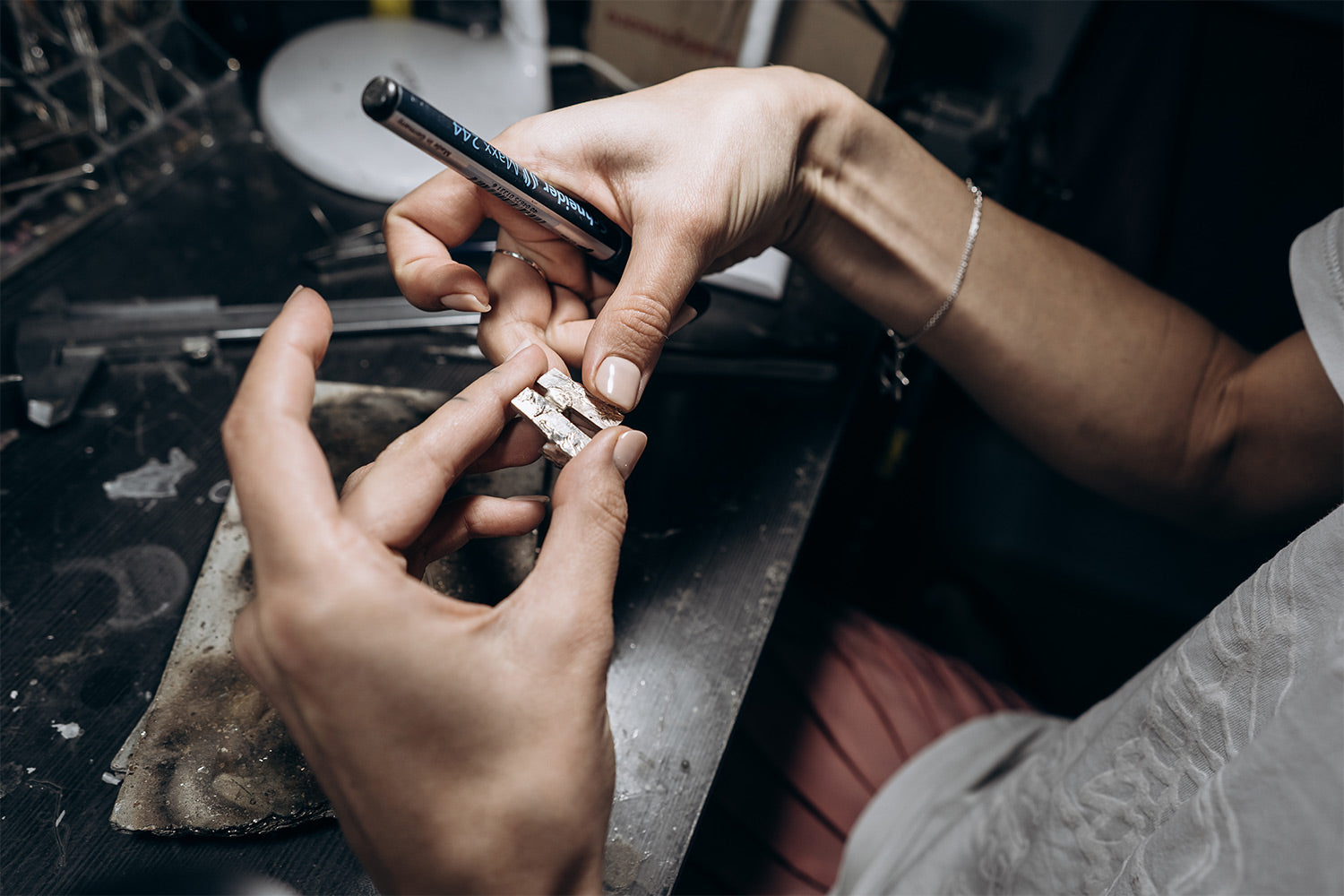 How Much Does It Cost To Make Custom Jewelry?
So much of life is cookie cutter. Often, people drive the same cars that many other people do. Don't most of us use the same kind of smartphone?
With so little originality, it's no wonder you could be looking for a way to add some personality to the monotony. Custom jewelry is a way to deviate from the norm and create something you love with a personal touch.
Today, let's go over the reasons custom jewelry can be so valuable. Then, we'll talk about how much custom jewelry can cost and go over how to style your custom pieces with your favorite CRAFTD jewelry.
Why Is Custom Jewelry Valuable?
Perhaps you're searching for a gift for your boyfriend for his birthday. You know he loves jewelry, but you don't want to go for anything commonplace. In this case, you might want to consider giving him personalized jewelry for this unique occasion. 
Let's look at the reasons customizable jewelry makes an excellent gift.
Custom Jewelry Is One-of-a-Kind 
When you're giving a gift to someone you care about, you don't want to pick out just anything; you want your present to be significant and memorable.
One reason custom jewelry is so unique is because of its one-of-a-kind nature. When you request a piece to be made for your order, you'll know you're the only person to receive that specific piece and enjoy its design.
Custom Jewelry Can Tell a Story 
Let's say you and your boyfriend or partner have been through a trying time this year. You have both overcome significant obstacles, and you have a jewelry design idea to represent this tale of defeating the odds.
You might be thinking about asking a jewelry artisan to design a mountain pendant necklace to illustrate the time you both remember. This expressive aspect makes custom jewelry perfect for gifts.
Other common custom items include wedding bands with a custom engraving and birthstone jewelry with the corresponding birthstones for a birth month. When looking for a personalized necklace, name necklaces are a dramatic choice, while initial necklaces are more subtle. 
Custom Jewelry Gives You Exactly What You Want 
There's not much guesswork with custom jewelry. When you're hoping to pull off a particular design with a specific jeweler, you don't have to wonder if you'll receive a quality piece of jewelry.
By ordering custom jewelry from a high-quality jeweler, you'll be able to talk about the specific materials you'd like, as well as design elements and price range. 
What Goes Into the Cost of Custom Jewelry? 
Custom jewelry can sometimes cost more than other pieces. Why is that?
Let's take a brief look at the reasons why this kind of jewelry may run for a bit higher than your typical chains, pendants, and rings might.
Custom Artisanship Plays a Part in the Price 
Whenever you commission jewelry artists to create a unique piece of jewelry, you're getting their specific attention to detailed craftsmanship. With this special attention to detail comes a higher price tag for the craftsman's time and effort spent crafting the pieces in question. 
Creative Design Work Adds Value to Your Piece 
In addition to paying for a jewelry artisan's dedicated time and effort, you also may pay more for the design of a custom piece of jewelry.
For example, if you didn't have a particular image or idea in mind for the jewelry you wanted, the custom jewelry designers might also need to spend time to sketch up a design for the piece of jewelry that suits your vision. 
The Typical Cost of Custom Jewelry 
By now, we have discussed why some custom jewelry articles have the potential to be more expensive than other pieces. What do you need to know when it's time to budget for custom jewelry?
Depending on your jeweler, getting jewelry made to your specifications can cost you $3,000-$4,000, on average. Increased fees may be due to the number of gemstones or diamonds you add. Custom jewelers use the utmost precision when making everything from custom earrings to custom necklaces. They have years of experience and schooling.
However, if you're able to find a more affordable jewelry retailer, you may be able to find quality custom jewelry for less. 
How To Style Custom Jewelry 
Perhaps you have a few unique pieces of custom jewelry that you enjoy wearing. If you wear these pieces daily, you may be starting to wonder how you can style your custom jewelry to stand out and look fresh.
Let's go over a few tips for styling custom jewelry to fit your vibe:
Add Everyday Pieces for a Relaxed Style
One way to style your unique charms, chains, and other jewelry is to pair them with simple pieces for a natural look. By going with understated staples, you can ensure that your jewelry always adds to your look without drawing too much attention. 
How's your staple jewelry collection looking these days? When you need to refresh your classic jewelry pieces, take a look at a few of our favorite CRAFTD pieces for inspiration. 
Cuban bracelet:

The Cuban chain is a go-to piece for many. Whether you're wearing a work uniform or a pair of sweatpants, this style of chain looks fantastic. One variation on the Cuban chain is the Cuban bracelet. This piece is a low-key version of the Cuban chain design that you can wear on your wrist for a naturally cool look. 

Connell chain: If you're someone who enjoys minimalistic details, having slim chains is an essential part of your wardrobe. The Connell chain is the perfect example of a chain that you can wear for any occasion.
If you're going on vacation or getting ready for your wedding, this is a prime piece to consider. Wear it alone or pair it with your custom pieces for a novel jewelry combination.
Rope ring:

Maybe you're the kind of jewelry-wearer who likes low-key jewelry pieces with a bit of texture and individuality. If you have a custom ring that you want to wear, pairing it with our rope ring is a fantastic way to incorporate unique jewelry while remaining true to your simplistic style. 
Pair Your Custom Jewelry With Statement Pieces 
If you have custom jewelry, that might mean you enjoy being different from the crowd. Rather than wearing subtle jewelry that doesn't draw attention, you may be the kind of person who wants to go bold with their jewelry and have fun creating layers and intriguing combinations. 
You can craft a jewelry ensemble that's all your own by combining your custom jewelry pieces with other bold statement items.
How To Make a Statement
Let's look at a few statement pieces you can wear to complement your custom jewelry and enhance your look. 
Incorporate Jewelry in the Same Metal Color
Another way to style your custom jewelry is to pair it with other pieces in the same color metal. Is your custom piece gold-colored? You can check out our all-gold pieces to see which 18-karat plated gold pieces are perfect for you.
 If you're looking for silver, you can also look through our silver collection to find stunning premium 316L stainless steel jewelry that can accent your custom pieces perfectly. Matching your metal colors is one way to make all your jewelry look uniform, even with articles from different jewelers.
Choose between white gold, yellow gold, and rose gold when looking at that iconic metal. Want something a little more durable? Consider platinum or sterling silver for your finished product. 
How CRAFTD Offers Ultimate Value 
Having a piece of custom jewelry can be meaningful. Giving custom jewelry is a way to go further than a typical gift by choosing something one-of-a-kind and creative that lasts a lifetime.
When you're looking for jewelry that can compliment custom pieces and hold its value, we've got you covered at CRAFTD. Our high-quality materials guarantee you'll find a worthwhile accessory to compliment your custom jewelry and last for years.
Sources:
Buying Jewelry | Federal Trade Commission
Jewelry Careers Guide | Jewelry of America
Stainless steel | Definition, Composition, Types, & Facts | Britannica