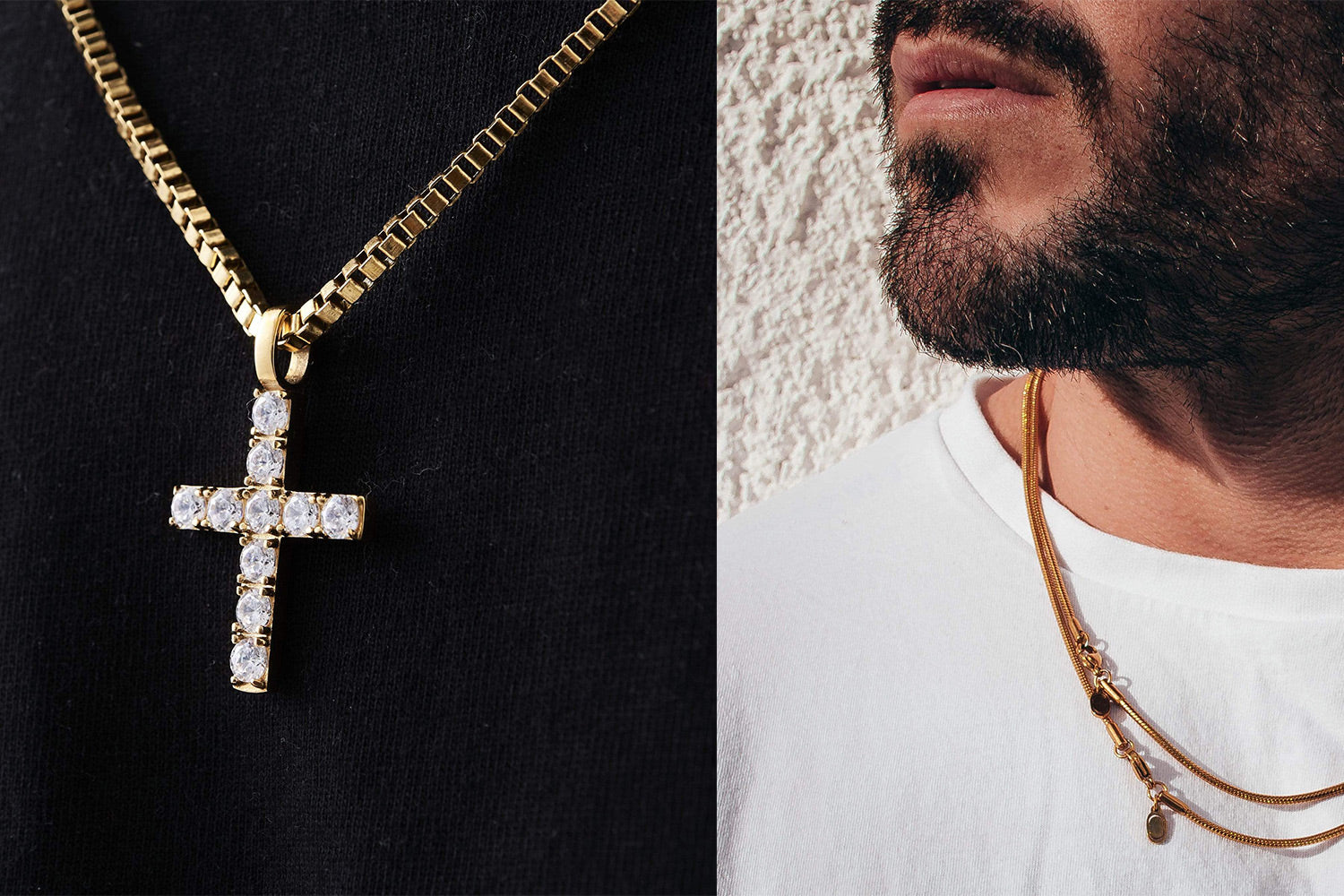 Rose Gold vs. White Gold: What Is the Difference?
Think back on all the pieces of jewelry you've worn throughout different periods of your life. If you've been wearing jewelry for a while, you might remember some of the trends you enjoyed from decades ago. If you're just recently getting into jewelry, you might only have a few pieces to think about.
When you imagine the jewelry you've worn in the past, what color was it? You might find that you gravitate toward one particular metal color over another. 
As you think about your jewelry collection today, you might want to add a few new pieces to your stash to give your wardrobe and accessories some new life. One way you can make a significant difference in your attire is by incorporating new metal colors into your jewelry now and then.
Today, let's talk about two specific gold colors: rose gold and white gold. After learning the difference, we'll talk about how you can upgrade your style with new gold jewelry in your rotation. 
What Is Rose Gold Made Out Of?
How familiar are you with rose gold jewelry? If you've never encountered this metal before, there are a couple of things to note about its makeup.
First, as its name implies, rose gold has a mauve or blush tone to its coloring. Second, its tint comes from its composition of 75% pure gold and 25% copper. You might be wondering if there are any advantages or disadvantages to this gold hue.
Here are some aspects worth noting:
Pros of rose gold:

This metal is more durable than yellow or white gold because of its copper content. 

Cons of rose gold:

When you're thinking about purchasing rose gold, you may need to keep in mind any reaction your skin may have to copper. 
What Is in White Gold? 
As you consider the different kinds of gold, know that white gold often goes overlooked. This gold color has a beautiful white/silver hue that makes it a good match for many skin tones and clothing articles. White gold gets its color from its content of 75% pure gold and 25% nickel and zinc. This metal also receives a rhodium plating.
Here are a couple of advantages and disadvantages of white gold:
Pros of white gold:

White gold is bright and dense. It's also less expensive than platinum while offering similar colors, making it a killer option for those looking for jewelry on a budget.

Cons of white gold:

Sometimes, this kind of gold can be susceptible to scratches. You also may need to evaluate whether your skin can tolerate nickel and zinc before wearing this kind of jewelry. 
Four Tips for Deciding Which Color Gold is Best for You 
White gold and rose gold are quite different. Although they both contain 75% pure gold, their color and composition differ considerably. How can you know which color you should add first when you want to diversify your jewelry collection?
Let's explore four tips to see which color gold fits your vibe: 
1. Take a Look At Your Closet
To decide which color metal to incorporate into your wardrobe, you should know what's in your closet. Take a look at the clothing you wear every day and the apparel you save for unique occasions. If the clothing articles lean more toward cooler colors such as blue, purple, white, and grey, you might consider opting for more white gold or stainless steel in your jewelry rotation.
2. Examine Your Skin Tone
Next, look in the mirror. Although your skin may have one primary color, your undertone, eyes, and hair color can make a difference in the color metal that suits you best. 
If you have pale pink skin with light eyes, you might look better with white gold jewelry next to your skin. On the other hand, if you have rich, warm bronze tones in your skin and dark hair and eyes, rose gold may fit your features particularly well.
3. Think About Which Color You Prefer
This tip might seem obvious, but think about which color you tend to pick off the shelf when you're looking at jewelry in a store. Do you always reach for silver or white gold pieces? This tendency could show you what you'll be more likely to wear from your jewelry rotation. 
4. Know the Symbolism Behind Different Colors 
Did you know that the colors all around you hold symbolism? Some believe that different metals hold metaphysical properties, or at the very least, symbolism. For example, many associate diamonds with wealth, strength, and health. 
Rose gold meaning:

Rose gold is relatively new compared to other jewelry metals. Regardless, some associate rose gold with non-traditional romance.

White gold meaning:

One of the beliefs about white gold is that it represents intuition. In ancient cultures, some also revered it for representing omnipotence and purity.

Yellow gold meaning:

Yellow gold has the warmest tone out of the gold colors, perfect for those who enjoy wearing earthy clothing. Those who wear gold jewelry might

appreciate its symbolism

for accomplishment and faithfulness. 
Seven Gold Necklaces To Take Your Style To New Levels 
Now that we've gone over some of the facts behind different gold colors, you may be ready to add more gold pieces to your life. If you're all set on essential basic jewelry, it might be time for you to branch out into new territory.
Let's look at seven gold necklaces you can wear to take your street style to the next level:
1. The CRAFTD Iced Cross Pendant
You don't have to play it safe with your jewelry. Adding icy pieces to your apparel is one way to ensure you make a statement with your accessories. When you're ready to go bold, our CRAFTD Iced Cross Pendant can make it happen. 
2. The CRAFTD Snake Chain 
Perhaps you've got a few slim chains you enjoy wearing regularly, but you're looking to refresh your pieces with something new. You don't have to keep wearing the same chains for months at a time; try switching things up.
When you're ready to try something new, our CRAFTD Snake Chain can help you take your everyday casual wear to new levels of sleek and sexy. 
3. The CRAFTD St. Michael Pendant 
Are you someone who leans heavily on your values? Maybe it's just the way you were raised. When you want to represent your devotion to the principles that lead you onward, our CRAFTD St. Michael Pendant can help. Stay true to the beliefs that shape your leadership.
4. The CRAFTD Rope Chain 
Here's another slim chain that packs a massive punch. Our CRAFTD Rope Chain may have a low profile, but it can be the rugged piece you need to give your apparel some personality. Wear it alone or pair it with a gold pendant to express your style and your inner self. 
5. The CRAFTD Dagger Pendant 
Are you the kind of person who has always stood out from the crowd with your style and expression? Perhaps it's just in your nature; you've always been a bit bolder than the rest. 
When you want to represent your unique flair and style perspective, our CRAFTD Dagger Pendant can help. Wear this pendant with layered chains for an even more daring combination. 
6. The CRAFTD Figaro Chain 
Sometimes switching up your jewelry looks like adding more pieces into your overall ensemble rather than replacing old pieces altogether.
You can refresh your usual chains by adding a CRAFTD Figaro Chain into the mix. This piece of jewelry has a unique visual pattern that can help add texture to your look and make your clothing more exciting when you step out on the town. 
7. The CRAFTD Compass Pendant 
Your jewelry is more than an attractive piece of your outfit; it can also be a profoundly personal reminder for yourself as you wear it. Our CRAFTD Compass Pendant is the perfect example. 
Perhaps you've recently embarked on a new journey that has you taking your growth one day at a time. A compass pendant is a perfect reminder when you want to remind yourself to keep the faith and stay the course. 
Why CRAFTD Jewelry Stands Out 
When you're ready to try new gold jewelry, you can do so with full assurance in yourself and your CRAFTD jewelry. We make every piece durable enough to last through sweat, heat, and water so that you can wear the chains and gold jewelry you love in any circumstance. Your CRAFTD jewelry will last through it all. 
Sources:
Symbolism of the Color Gold | Symbol Sage
Platinum vs. White Gold vs. Yellow Gold vs. Rose Gold | The Diamond Pro
10 Things You Need to Know About Rhodium Plating | Jewelry Shopping Guide