What do chains have to do with tennis? Perhaps you're well-acquainted with tennis chains. You know all about their origin, who's wearing them, and how to style them. Good for you. It's an exciting piece of jewelry that can add personality to your style.
Maybe you're unfamiliar with this kind of chain. Believe it or not, this necklace doesn't feature any balls, racquets, or other tennis accessories. A tennis chain is a chain lined with diamonds all the way around. These diamonds can be large and show-stopping or delicate and minimal. Either way, a tennis chain is a timeless accessory you can wear.
Where Does the Tennis Chain Get its Name? 
Are you wondering why on earth a piece of jewelry might be called a tennis necklace? The reason is quite amusing. In the 1980s, Chris Evert was making waves with her fashion on the tennis court. She was well-known for sporting a diamond line bracelet during games. During one match in the U.S. Open, her bracelet fell off onto the court, and she asked for the match to be paused so she could look for her 'tennis bracelet.' 
This one incident changed the name of this piece of jewelry forever. Diamond line bracelets proved to be not only a brief fad but a timeless piece that people have enjoyed for decades. The tennis necklace got its name by association. What was once a diamond line chain was forever marked by a single rogue bracelet during an eighties tennis match.
Why Wear a Tennis Chain 
Should you wear a tennis chain? Now that you know a bit more about their history, you can consider whether adding one into your jewelry collection might be right for you. Even if you don't consider yourself to be someone who wears chains often, a tennis chain could change your mind. Let's explore a few of the reasons you'd want to try one out.
Tennis Chains Are Luxurious 
Who doesn't want to add a bit of luxury to their life? Perhaps you've recently wished your wardrobe was more refined or glamorous. You don't have to buy all new clothes or shoes. Adding one tasteful accessory can elevate your street style or nightwear on a third date. Consider trying on a tennis chain to bring your look up a few levels.
Tennis Chains Add Texture 
You might be the kind of person who represents their style through their home decor. You might have placed a particular statement lamp in the living room to accent the carpet's textures and the wall's patterns. You curate your space to be interesting. Shouldn't you do the same with the clothes and jewelry you wear?
If you want to create striking texture combinations in your clothing, you can add a tennis chain necklace as a statement piece. The brilliance of the diamonds around your neck will contrast whatever clothing you choose to wear. It's a great piece to add to your look for nights when you don't mind being the center of attention or catching people's eyes.
Tennis Chains Contribute Variety to Your Look 
Maybe you're the type of person to stick with one kind of chain all the time. Perhaps you love your Cuban chains, and you don't stray from them in your jewelry. Adding in a different kind of chain can help you refresh some of the clothes you already love wearing. Layer a tennis chain with your other well-loved jewelry to vary your look.
What Jewelry to Wear with Tennis Chains 
What jewelry should you wear along with your tennis chain? Diamond line necklaces can be bold pieces. You can amplify your jewelry by layering one with the chains you already wear. Whether you enjoy unique looks or minimalist accessories, here are a few options for layering or pairing.
For Bold, Audacious Looks 
Maybe you were meant to stand out. There's no quieting your energetic spirit. Do you want to wear jewelry that represents your inner zeal? You're free to wear jewelry that symbolizes your intensity. Try pairing one of these pieces with your tennis chain for an exaggerated look.
Toggle Chain 
A Toggle chain is a bold piece your can wear to show your personality to the world. You can choose an eight-millimeter chain for a bulky chain that's impossible to ignore or go for a smaller toggle chain to provide contrast to your diamond line chain. Either way, this is a powerhouse combination.
Figaro Bracelet 
If you'd prefer to wear your tennis chain alone on your neck, you have other options for pairing it. Consider pairing it with a bracelet instead of layering it with another necklace. One incredible option is our CRAFTD Figaro bracelet. The two will contrast one another tastefully.
For Everyday Streetwear 
Do you want to wear your tennis necklace in your everyday life but don't know how to style it? You don't have to save the tennis chain for special occasions. It's a classic piece to try out even in your streetwear. Dress your look up or keep it simple with these layers.
Angel Pendant 
Our CRAFTD Angel pendant is a classic piece to layer with any chain. It symbolizes faith, purity, and immortality. What better way to complement those themes than with scintillating diamonds? Pair the two together next time you get ready to shop at your favorite vintage shop downtown.
Snake Chain 
It's one of the sleekest pieces out there. Our CRAFTD Snake chain is another timeless piece that's made a name for itself throughout the decades. Try on a smooth two-millimeter Snake chain with your daytime look. It's a tasteful chain to wear alone or with a dazzling tennis chain.
Why Tennis Necklaces Are So On-Trend
Do you see the appeal for tennis chains yet? Why are they so loved? There are a few reasons this diamond line necklace is sought-after now more than ever. Let's explore a few of the main reasons if you're not yet convinced.
Celebrities Love Them 
Men and women alike are loving tennis chains. Blake Lively, Zendaya Coleman, and Karlie Kloss are among the women who have enjoyed this popular style in some of the red carpet attire. Some of the men seen stepping out in this piece are Drake and Jaden Smith, proving that diamonds aren't just for the girls.
They're Timeless 
Another reason to love this style of chain is its timelessness. Diamonds don't go out of style. The way you style a diamond chain might change through the years, but at its core, this necklace has been well-loved for decades. Invest in a tennis chain for an essential quality piece that can last your entire life.
Everyone Should Have Some Bling 
Diamonds aren't just a girl's best friend. There's a reason this gem has been unparalleled since the early 1900s. Wearing a high-quality diamond chain is an experience everyone should have at some point in their life. Add a tennis chain to your look to elevate your other chains and bracelets. Don't be surprised when you feel a sudden sophistication while wearing it.
Other Essential Pieces From CRAFTD 
Are you looking for more essential pieces to incorporate into your workwear or your night-out style? Perhaps you're just getting into wearing more jewelry, and you want to know what pieces to add to your collection first. Selecting a few stape items to incorporate into your wardrobe is a terrific start to developing your unique style.
Essentials Collection
As you search for pieces that will go with everything and last you years, let us be a resource for you. Our Essentials collection can inspire your taste and show you a few pieces to start with as you pick out the perfect jewelry for you. You can pick from the essentials collection or try our 'all silver' or 'all gold' collections.
CRAFTD's Quality 
As you pick out other CRAFTD essentials to wear on the days you don't wear your tennis chain, you can have confidence knowing your pieces are crafted to last. You should never have to worry about the jewelry you enjoy falling apart or becoming discolored. 
At CRAFTD, we make our chains, bracelets, pendants, and earrings resistant to tarnishing and discoloration. We only use high-quality materials – 18K gold and premium stainless steel. They're sweat-proof, heat-proof, and water-proof, so you don't have to worry about taking them off as you go about your day. You can wear your favorite chains for a lifetime, knowing they'll keep their color for years. 
In Summary 
A tennis chain is not just for red-carpet celebrities and high-profile icons, though you may feel like one when you wear it around your neck. Wear it with a minimalist Snake chain or an outspoken Toggle chain. You'll look unbelievable either way. 
Sources:
What is a Tennis Necklace? (History and other Details) | A Fashion Blog 
Celebs Rocking the Diamond Tennis Necklace Trend | Fashion Gone Rogue 
Men's Tennis Bracelet - The Next Big Mens Jewelry Trend? | Men's Style Fashion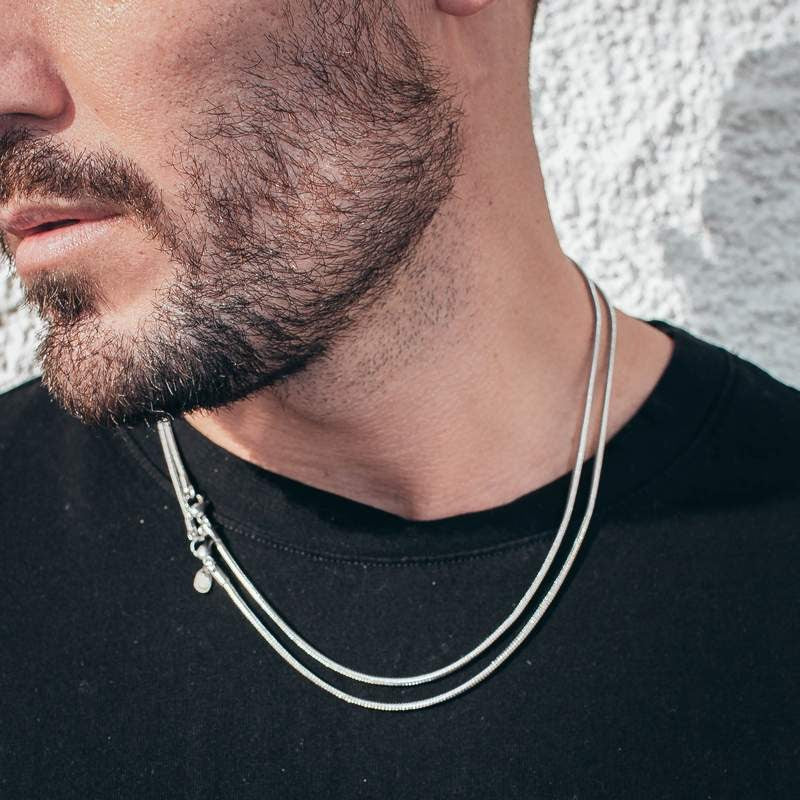 If you've never seen a Snake chain before, you might have some ideas about what it could look like. There's no rattle involved. Your Snake chain also won't display a snakehead with beady eyes and a...
Read more