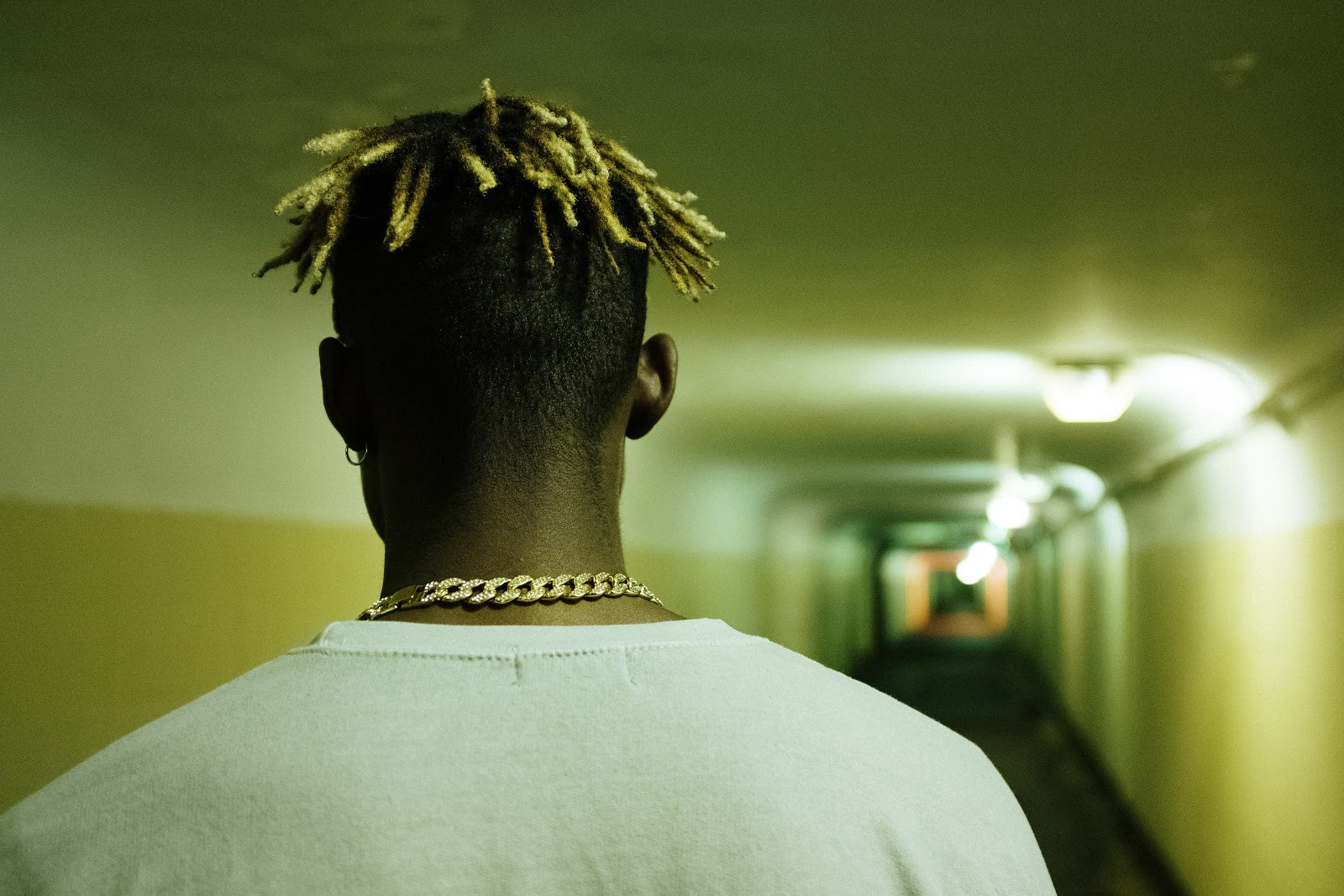 What are Types of Statement Necklaces for Men?
You can pattern your style after the greats who are blazing trails in men's statement jewelry. If you have more of a minimalist lifestyle, wearing understated, tasteful jewelry is a perfectly commendable choice. Perhaps that's not you. Maybe you've always wanted to try bolder jewelry styles, but you don't know where to start. Gone are the days of wearing minimal jewelry out of fear. 
Are Any Men Actually Wearing Statement Jewelry? 
A$AP Rocky, Timothée Chalamet, MGK, Drake. These are just a few of the men who have defied tradition to make way for fresh takes on men's jewelry. Why play it safe with your necklaces and rings when you could have fun putting together an intriguing look? You can start incorporating statement necklaces into your streetwear and evening wear to re-invent your trademark style.
What is Statement Jewelry?
Some jewelry is meant to be dainty. Slim silhouettes and minimalist details can make a piece of jewelry into a perfect accent that blends into your look. Simple stud earrings and slim stackable rings are examples of this. Statement jewelry is meant to be the opposite. It's loud, chunky, attention-grabbing, and sometimes irreverent. 
In rings, this often looks like bold signet designs that call attention to your hands. You can wear these alone or pair signet rings with other interesting rings to further embolden your look. For a look at statement earrings, these Rose earrings are a prime example of confidence in personal style. In necklaces, statement pieces often take center stage with bulky chains, multiple pendants, oversized pearls, and multiple layers. Let's look at some different types of statement necklaces and how you can wear them. 
Simple Statement Pieces
Do you have a friend who loves experimenting with jewelry? Perhaps you're looking to buy them a gift that will fit with their personal style. Sometimes they wear extravagant jewelry, but sometimes they prefer lighter pieces. Let's take a look at a few simpler statement pieces you can try out while playing it safe. 
Try On a Wheat Chain 
A Wheat Chain is a visually intriguing yet refined necklace. Its design pattern in four intertwined strands mimics the braided look of a stalk of wheat. Wheat Chains are an excellent starter piece if you're hoping to incorporate more intricate-looking jewelry into your everyday looks but prefer a slimmer silhouette. Try it out alone or paired with other chains.
Chain and Pendant Statement Set 
Maybe you want to start layering necklaces, but you're not sure what goes together. One great place to start is by combining just two necklaces. Try wearing two slimmer chains together, with one being a pendant necklace. These two together will assemble to be an eye-catching combination that looks nonchalant. Try our curated sets or test your creativity and make your own. 
Statement Necklaces for Bolder Looks 
Are you someone who already wears chains in your day-to-day outfits? You might be restless, wanting to level-up to more adventurous pieces. There are so many options for spicing up your neckwear in a way that turns heads and commands attention. Here are a few statement necklaces that will exude self-assuredness. 
Make a Statement with a Cuban Chain 
You're well-acquainted with slim chains and understated jewelry, and now you want to venture out with your style. For a thicker necklace that will be a staple piece of your outfit, try out our silver Cuban Chain in a twelve-millimeter width. This piece is made out of premium 316L Stainless Steel and Rhodium for a high-quality shine. Step out in this piece to show the world you know how to make bold moves. 
Experiment with Toggle Chains 
If you want a neckpiece that radiates an alpha personality for days, the Toggle Chain is for you. Its heavy links and bold silhouette make for a powerful piece of jewelry. The CRAFTD LONDON logo engraved on the toggle fastener reminds you that your necklace is water, heat, and sweat resistant. It's a good thing, too, since this piece is sure to add to your outfit's drip.
Re-think Manhood With Gemstones 
Do you want to add even more flavor to your looks? Try adding bulky gemstones into the mix. Nothing challenges outdated toxic masculinity like adding sapphires next to your sleek chains. Keep people guessing with this stereotype-bending combination. No way are precious jewels just for the girls.
Multilayered Looks 
Another way to bring up your style is to layer chains together. Heavy-link chains on their own are a fantastic look. Layering several necklaces is also a way to make a statement with your neckwear. Here are a few killer examples of layered looks you'll enjoy:
Cuban Chain + Connell Chain:  When you combine two chains of different thicknesses, the result is a relaxed, confident vibe. This combo is a perfect option for those who want to layer their jewelry without going overboard. 


Rope Chain + Figaro Chain: Mix these two styles for variety. The design pattern of each chain will create a powerful interaction of unique styles. 


Compass X Crucifix Set:

For a statement combo that will be as one-of-a-kind as you are, try out our

Compass x Crucifix pendant necklace set

. The two together will remind you to lead your life with passion in the direction you choose. For added intrigue, layer a third Connell chain in a two-millimeter width. 
How to Wear Statement Pieces 
Now that you know what to wear, you probably want to know how to wear it. As you get more confident with your jewelry, remember that you can take risks with your wardrobe, too. You're marketing yourself to the world as someone who doesn't follow trends – you make them. Let's explore some looks you can try out with your statement jewelry.
Loungewear

: Wear your loungewear in public. Adding jewelry to your sweats and hoodie will elevate your outfit to look put-together. Throw on sneakers with tapered sweats, and try a

silver rope chain

or two over the top of a matching monochrome hoodie. 
Streetwear:

Next time you're meeting friends at your favorite restaurant, wear your statement jewelry for a fun look. Try wearing your favorite plain t-shirt or graphic t-shirt with straight-leg pants and chunky combat boots. Add a

Figaro Chain

and

North Star Pendant

on top to add an edge to your authentic style. 
Eveningwear:

There's no better way to make an entrance than with a perfectly-curated look. Next time you have a suit-and-tie event, you don't have to blend in with the rest. For a tasteful, bold twist, add either a four-millimeter or eight-millimeter

Cuban chain

on top of your collared shirt

to stand out from the crowd. 
Other Statement Jewelry You'll Look Great Wearing
Now that you've mastered statement necklaces, it's time to look at a few other pieces you can wear to show off your style. If you're not a necklace person, chains aren't the only bold option. You can also include striking rings, earrings, and bracelets in your everyday style. Let's look at some pieces you can wear that will upgrade your wardrobe.
Crown Ring
Do you believe in your own power and ambition? Who is the ruler of your life's course? You're the only one who can take charge and lead your life, so you may as well celebrate it. Our Crown Ring is available in 18K gold or premium 316L stainless steel. It features intricately-etched detailing displaying the CRAFTD logo that reminds you your ring is built to last.
St. Christopher Ring
If you're a history fanatic or enjoy jewelry with personality, this St. Christopher ring is for you. Above all, it's a reminder to have faith no matter what obstacles come your way. Like all of our jewelry, it's resistant to discoloring or tarnishing so that you can enjoy it all your life.
CRAFTD Jewelry
By now, you may have seen many pieces that pique your interest. Whether you've fallen in love with a show-stopping, heavy-link toggle chain or decided a statement ring suits your style more, we'd love to hook you up with jewelry that will fit your vibe. When you order from CRAFTD, you'll know you're getting high-quality jewelry that's tough. Our pieces withstand heat, sweat, and water without fading or discoloring. Go ahead – you can wear that statement chain and pendant set every day if you like.
The Main Point 
You can wear statement necklaces with confidence. You're the only one who can bring your soul, story, and style to the world. Why hide it? The boldness you put into your daily style can remind you to own your confidence. Show up in your life with statement necklaces that represent your individuality.
Sources:
30 Statement Necklaces for Men | Trend Hunter 
A Man's Guide To Wearing Necklaces | How To Buy A Necklace For Men | Real Men Real Style 
How to Wear a Gold Chain Necklace( 5 Actionable Tips) | A Fashion Blog 
What do chains have to do with tennis? Perhaps you're well-acquainted with tennis chains. You know all about their origin, who's wearing them, and how to style them. Good for you. It's an exciting ...
Read more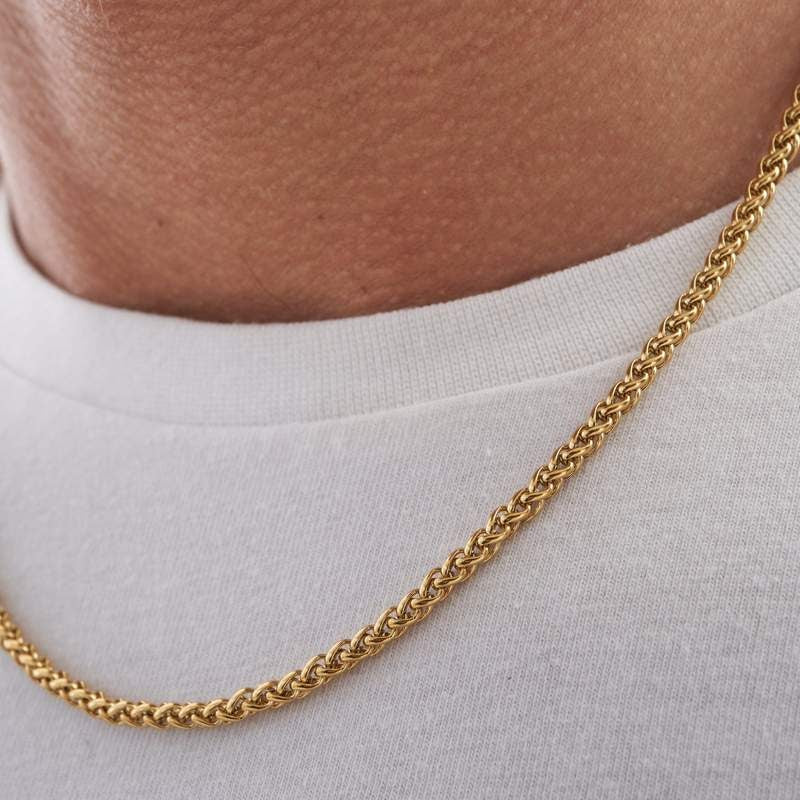 When you first hear the words "Wheat chain," what comes to mind? Maybe you imagine a piece of farm equipment or a tool used for harvesting grain. You might imagine stalks of wheat linked together t...
Read more