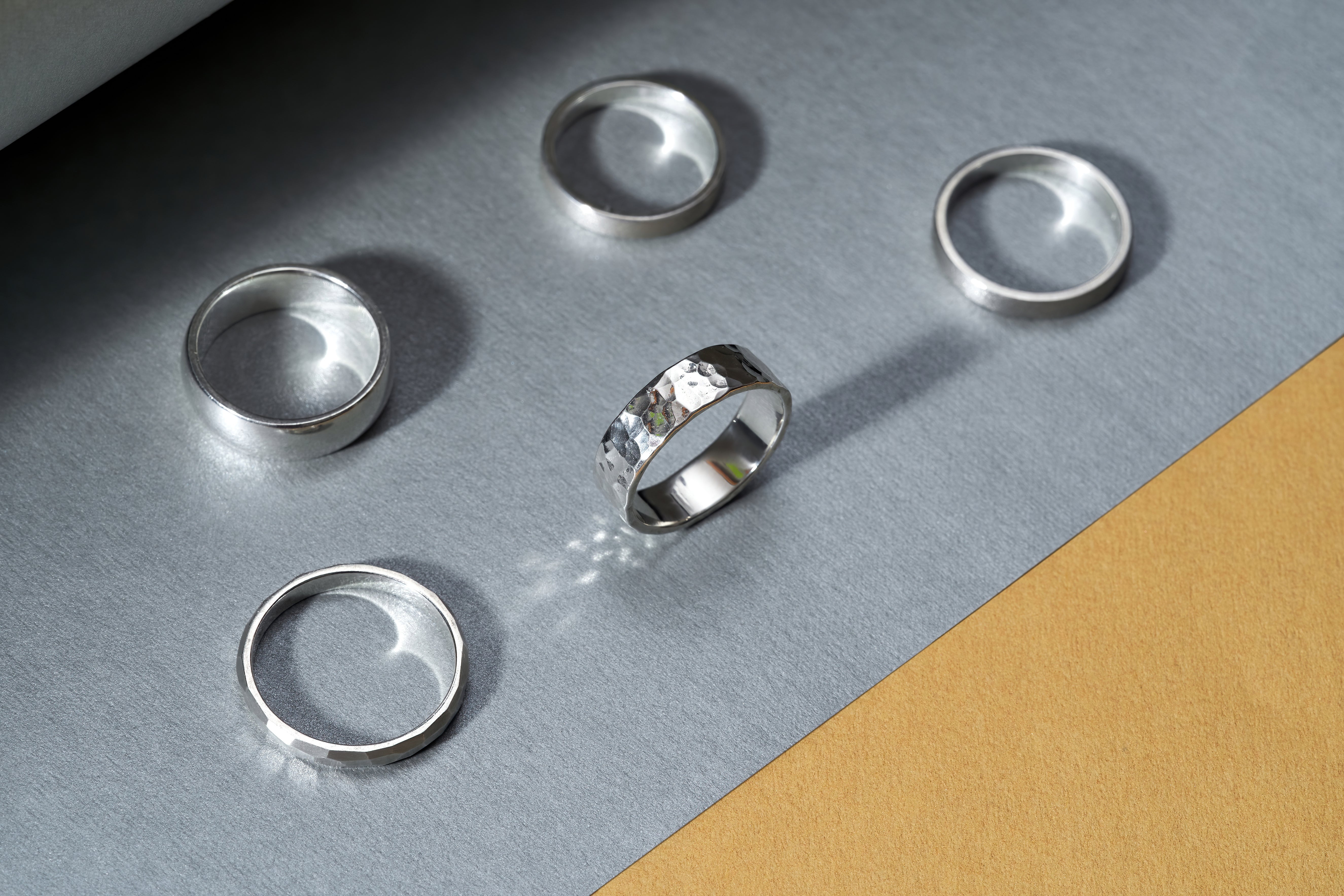 What Is The Difference Between Sterling Silver and Silver and Which Is Right for You?
You've probably seen many things advertised as sterling silver. It's a popular material used for kitchen utensils, currency, ornaments, jewelry, and other home decorations. Perhaps you've also seen certain accessories labeled "real silver." Are you wondering about the difference between the two?
Sterling silver and silver have a few things in common, but they're also not exactly the same for a couple of reasons. Today, we'll look at both variations of this material. You'll learn which of these is more strong and find out the ultimate materials for everyday jewelry. 
Properties of Silver 
Before we talk about the differences and similarities between silver and sterling silver, let's look at the properties of each. To begin with silver, it's worth noting that this is a precious metal. Many have utilized this metal in the production of coins and decorations due to its flexibility and resilience to oxidation.
Did you know that of all metals, silver has the highest thermal and electrical conductivity? It's also one of the noblest metals on the periodic table of elements since it's the least chemically reactive. There's so much to respect about this material.
Properties of Sterling Silver 
Is sterling silver just silver with a dressed-up name? In short, no. Sterling silver refers to silver combined with alloy metals to create a combination of 92.5% silver and 7.5% alloy. Alloy metals like copper, zinc, and nickel can help increase a piece of silver's strength and durability. Unfortunately, the downside to these alloy metals' contribution is their tendency to tarnish. 
The story of how sterling silver received its name is fascinating. English silver coins used to be known as "Easterlings," but eventually, that name got shortened to "sterling" by the 12th century. It wasn't until 1300 that King Edward I made sterling silver official and mandated that it contain 92.5% pure silver and be marked by "guardians of the craft."
When you look on the inner side of a piece of sterling silver jewelry, you'll see an inscription that says "925." The standard of engraving sterling silver pieces has endured since 1300 to let you know your piece of jewelry has been quality-checked for the correct percentages of alloy metal. It's a step that separates high-quality jewelry articles from those that don't quite measure up.
The Main Differences of Sterling Silver and Silver 
Learning the background of each of these silver metals is helpful in understanding how they're different. Ultimately, knowing the differences between these metals is crucial for understanding whether your jewelry will be high-caliber.
Let's look at some of the main differences between these metals to help you choose your favorite silver jewelry material.
Sterling Silver Is Slightly Stronger
While real silver is more valuable, sterling silver has an edge because of its alloy composition. The alloys that genuine sterling silver contains help solidify its reputation as a prime material for metal and other household decorations. 
Sterling Silver Can Tarnish
Sterling silver has been a standard material in jewelry use for over 700 years. However, this type of metal has its flaws. Perhaps the biggest drawback of sterling silver is its ability to tarnish. The same alloy metals that help keep sterling silver strong are the metals that contribute to more sensitivity to water and damp climates.
Fortunately, you have other alternatives to choose from if that's what you prefer. In just a moment, we'll talk about a silver jewelry material that never tarnishes or breaks. 
What Are the Best Metals for High-Quality Jewelry? 
Are sterling silver and silver the only choices you have for jewelry materials? We don't think you should have to choose between pure materials and high-endurance jewelry materials. Right now, we'll show you what we believe are the best quality jewelry materials for their value. 
18-Karat Plated Gold 
We know we've been talking about silver, but let's detour for a moment. With all the gold variations a person can choose for their jewelry, which is best? You might know about the value that karats represent. Do you know about gold-plating? Gold vermeil? Gold-filling?
When you're looking for gold jewelry, how can you find gold jewelry that's top-quality but doesn't break the bank? Our solution at CRAFTD is 18-karat plated gold jewelry. The gold plating ensures your pieces are affordable, while the 18-karat gold content helps you feel confident in the longevity of your favorite chains, bracelets, and other accessories.
Premium 316L Stainless Steel 
When it comes to silver jewelry, how can you ensure you're getting an affordable piece that will last? Is there any way to avoid tarnishing?
At CRAFTD, we're happy to use Premium 316L stainless steel in our silver jewelry pieces. This level of steel is military-grade, meaning it can endure through many environments and activities. Plus, we coat all silver and gold jewelry in a protective solution that helps shield it from deterioration even further. 
Why CRAFTD Jewelry Endures 
At the end of the day, should you have to continually worry about the jewelry you're wearing becoming damaged? You deserve to spend days at the pool, in the sun, wherever else your wild life takes you. 
At CRAFTD, we're passionate about crafting jewelry that works through all your adventures. That's why all our pieces are sweatproof, heatproof, and waterproof. You deserve to enjoy your activities with your favorite jewelry to enhance each occasion. 
How To Wear Silver Jewelry 
Are you ready to wear silver jewelry? Maybe you've recently realized it's time to refresh your collection with fresh pieces that inspire you. When you're looking for silver jewelry that matches your essence, you may be wondering how to incorporate these pieces into your everyday style. 
It doesn't have to be complicated; let's look at a few ideas that might inspire your approach to wearing jewelry.
Wear Slim Bracelets To Add a Understated Touch to Your Fit 
If you're brand new to wearing jewelry, there's no pressure to dive in head-first. You can try to include one new element in your typical looks to find out what works best for your style. 
One easy element you can add to your fit each day is a slim chain bracelet. It's a timeless, sleek silhouette that provides the most understated upgrade to a pair of jeans and a tee-shirt. In premium 316L stainless steel, this piece will look incredible for years. 
Our suggestion for implementing this into your wardrobe is for you to try out our CRAFTD Cuban Bracelet in a four-millimeter size. It's one of our most-loved styles for a reason. 
Layer a Few Chains for an Epic Ensemble 
Layered chains are becoming a timeless component of the well-dressed man's look. From the 1960s rock icons to modern rappers and movie stars, layered chains have been a go-to choice among many different clothing styles. 
When you're building out your silver collection, we suggest searching for a few classic chains you can wear alone and pair together for a more exaggerated look. If you need inspiration for where to start, we're happy to help out.
Here are our top suggestions:
CRAFTD Rope Necklace:

This necklace gives a creative twist on the classic chain design. 

CRAFTD Connell Chain:

It's so subtle that others will notice you look sharp, whether they see your chains or not. 

CRAFTD Cuban Chain:

This chain is a staple piece if there ever was one. In a four-millimeter size, this chain will add the perfect bold detail to your streetwear or weekend fits. 
Try on Silver Rings to Make a Subtle Statement 
If you want to add in a few more silver details, wearing rings is a terrific way to do that. Whether you swap them out often or stick to a few trademark bands is up to you. The pop of silver from your hand has the power to tie your style together visually. 
Are you looking for a bold new silver ring to round out your apparel? We suggest our CRAFTD Vitruvian Man Ring. Its timeless design combines with rugged details to give you the perfect balance of cool and classic. 
Final Point: Stainless Steel Makes for Ideal Jewelry 
When it comes time to choose which jewelry is suitable for your standards and wardrobe, there's no need to settle for pieces that will tarnish quickly. You deserve chains, rings, earrings, bracelets, and pendants that keep their color throughout your life.
CRAFTD jewelry's premium stainless steel is the ideal metal choice for your silver jewelry. You can wear it on chill nights at home and through wild escapades alike; when you choose CRAFTD pieces, you can have total confidence that your jewelry will look incredible for years to come. 
Sources:
silver | Facts, Properties, & Uses | Britannica
Is All That Shines Really Sterling Silver? | How Stuff Works
Uses of Silver in Electronics, Coins, Jewelry, Medicine | Geology