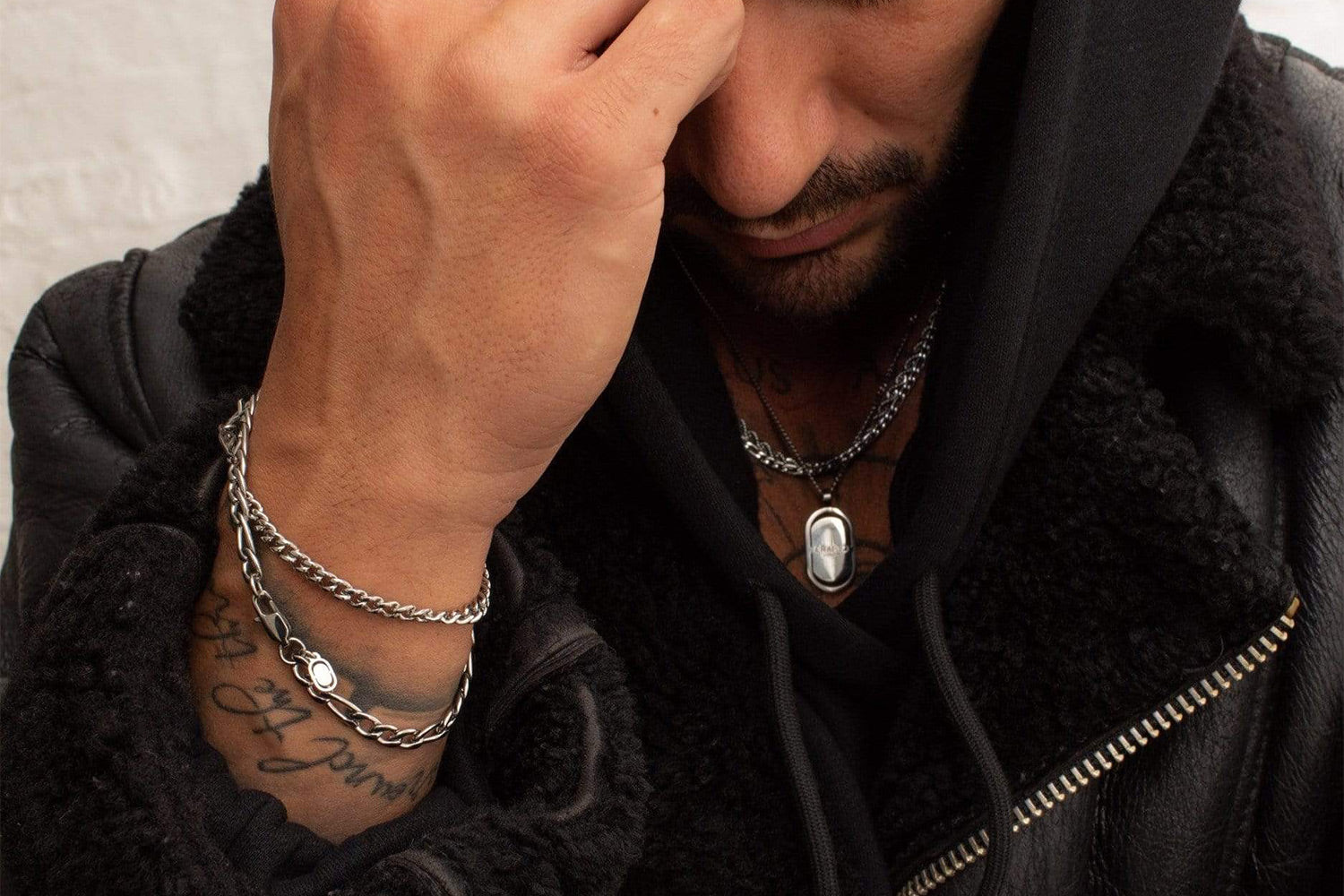 What Is a Cuban Link Bracelet?
Think about your jewelry collection. How's it looking? You might have a ring you got in high school that you think about wearing periodically. Perhaps you own a friendship bracelet given to you by a younger sibling. 
When it comes to accessorizing your outfits, what are your options? Enhancing your wardrobe doesn't mean you have to go out and purchase all new tennis shoes, jeans, or other clothing articles. By adding a few pieces of jewelry to your collection, you can give new life to your attire.
Today, let's talk about Cuban Link bracelets and the other chain styles you can purchase to add diversity to your looks. Then, we'll talk about how you can buy CRAFTD jewelry that looks great for years. 
What Is a Cuban Link Bracelet?
If you're someone who's becoming a fan of jewelry, you'll know different iconic designs have made a name for themselves in jewelry history. Even if you're just a casual jewelry wearer, you've likely picked up on a few familiar pieces you've seen people wear repeatedly. 
When it comes to pieces of jewelry that people have enjoyed wearing for decades, the Cuban chain is one to note. The Cuban link style is a variation of pieces that were popular in hip-hop culture in the 1970s. It earned its name "Cuban" after gaining popularity in Miami, too. This is just one example of an accessory that has made waves throughout the years. 
If you're into the Cuban chain design, you might want to add this chain to your collection. Our CRAFTD Cuban Link bracelet is a medium-weight accessory that makes the perfect addition to everyday wear. You can throw it on with your workout clothing or add it to your evening attire. When you want to own endlessly versatile jewelry, you can't go wrong with having a Cuban link bracelet in your collection.
Once you start wearing your Cuban link bracelet, you may realize this style chain link is one of your favorites. Fortunately, you're not limited to bracelets regarding what kind of jewelry is available in this style.
You can also add a CRAFTD Cuban chain to your collection when you want your accents to be more visible. Choose the chain width and color metal of your preference for a chain that looks stunning on its own or paired with other chains and pendants. 
Popular Chain Link Styles
When you're looking into purchasing more jewelry pieces to add to your collection, it's not always clear to know where to start. You don't have to search the web for the essentials that would fit your closet best.
Let's look at the popular chain styles that look great with modern fashion. We'll include our favorite CRAFTD variations of each style chain. 
Wheat Chain 
If you like intricate design patterns, our CRAFTD Wheat chain might be one for you. Rather than displaying a simplified linking pattern, the wheat chain displays multiple chains interwoven to look like a stalk of wheat. This interlocking pattern makes this chain unique. Add texture to your fit with a wheat chain that's intricate and impressive. 
Snake Chain
Sometimes, you might be on the lookout for a piece of jewelry that's sleek and understated. When you want to look somewhat dapper and charming, a more elevated chain is in order. While this chain makes an entrancing necklace, consider our Snake chain bracelet for your nights on the town or romantic evenings.
This chain features flat, smooth links that seamlessly blend with one another and move fluidly with your every movement. Wear one alone for a minimalistic feel, or pair it with a statement ring to give off a debonair appearance. 
Figaro Chain
As you build out your chain collection, you could begin to feel drawn to more complex styles. One such style that might suit your tastes is our CRAFTD Figaro chain.
This necklace features an attractive link pattern that alternates between short and long links. The symmetry of this chain makes it a go-to piece when you want to accent your other chains with a varied design. 
Belcher Chain 
Some people prefer not to stand out with their accessories. Sometimes the art of looking put-together means knowing how to make an incredible outfit with just a few solid pieces. One staple chain for those who love simplicity is the Belcher chain.
Like all of our jewelry, our CRAFTD Belcher chain is available in your preference of 18-karat plated gold and premium 316L stainless steel. 
Rope Chain 
One reason people enjoy adding chains to their streetwear and evening fashion is their ability to add visual texture. One chain that does a terrific job of adding texture to your other jewelry is the CRAFTD Rope chain.
With multiple twisting strands, this piece does a lot with a little. Wear it on its own for a more simplified look; select one with a pendant for a more expressive look. 
G-Link Chain 
Sometimes, going for something different is the most fun. Instead of sticking to your comfort zone, try branching out. A G-link chain is a perfect chain to try when you're looking for fun accessories to make your fit stand out.
How To Style a Cuban Link Bracelet 
Getting your CRAFTD Cuban link bracelet in the mail can be an exciting experience. Once your favorite new chain has arrived, how should you style it?
Let's look at a few different routes you can take to create a cohesive look with your new jewelry: 
Try On a Few Statement Rings 
Eye-catching rings and bracelets are a match made in heaven. When you're thinking about ways to make your new bracelet stand out, consider throwing on a couple of statement rings.
If you're not into bolder styles, try wearing one signature signet ring on one hand with a more subdued ring on the other. It's a simple way to add even more exciting elements to coordinate with your Cuban bracelet. 
Wear Coordinating Chains With Your Bracelets
After you put on the Cuban chain bracelet, you might want to slip on a couple of full-sized chains as well. You can keep it simple and add a matching Cuban chain in a varied size to compliment your attire, or you might choose to switch things up and select a Figaro chain or snake chain to pair with your new bracelet. 
Choose a Color Metal That Suits Your Look
When you're figuring out how to style pieces of jewelry, one thing you may want to decide is what metal color you want your pieces to be. You might decide to go with all gold or all silver, depending on the colors in the rest of your look.
Here is a brief look at how you can decide which color jewelry to match with your apparel: 
Silver:

Most cool-toned clothing looks better with

silver jewelry

. Think white, grey, blue, and soft purples. 
Gold:

Gold can look good with nearly anything, but black, red, and earth tones look especially great with this metal. 
How CRAFTD Jewelry Stands Out From the Rest 
Buying new jewelry can be fun. Buying it from the wrong jewelry retailer isn't always as enjoyable. When you purchase new chains, earrings, rings, bracelets, and pendants, you'll most likely want them to keep their quality. Instead of picking out cheap, inferior jewelry, you owe it to yourself to select jewelry that looks good for a long time.
Let's look at how CRAFTD jewelry keeps its quality:
High-Quality Materials 
Low-quality silver and gold-colored metals are easy to spot. They become discolored, they start to chip, and they may even cause your skin to turn green.
At CRAFTD, we want better for you. Our pieces always feature high-quality 18-karat plated gold and premium 316L stainless steel. They can handle your daily wear and tear and still look incredible. 
Waterproof, Sweatproof, Heatproof Pieces
At CRAFTD, we treat all of our jewelry so that it can withstand water, heat, and sweat without breaking down or losing its quality. Go ahead... wear your CRAFTD chain bracelet on your next adventure white water rafting or rock-climbing. You can look good without worrying about your jewelry.
Wear CRAFTD Jewelry To Fit Your Style 
The Cuban chain is an iconic piece of jewelry. Whether you prefer to wear it as a bracelet or a chain necklace is your preference, but it's a staple we think you should consider adding to your collection. 
Wear it to the gym or your next romantic movie night. Your CRAFTD jewelry will keep you looking fresh no matter the context. 
Sources:
Facts About Silver | Live Science
Here's How to Prevent Your Skin From Turning Green From Jewelry | Business Insider 
stainless steel | Definition, Composition, Types, & Facts | Britannica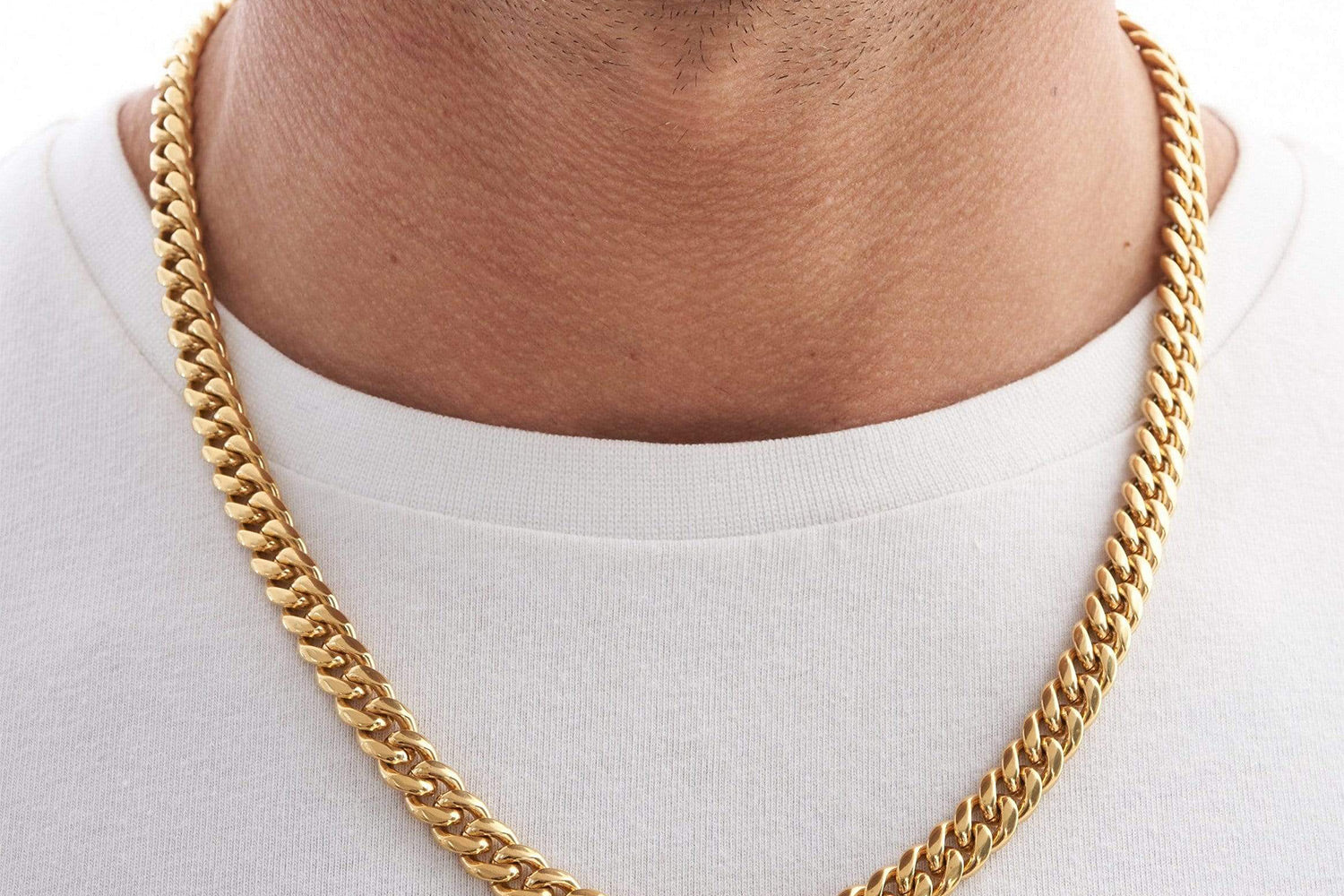 What Does a Figaro Necklace Mean?
Do you have many chains in your jewelry collection? Maybe you saw your grandfather or a family friend wear chains growing up, but you don't have any for yourself yet.  Wearing chains is an exciting...
Read more
There comes a point in your life where you have to ask yourself if you like the way you present yourself to the world. Do you dress for function or expression? When you come to this point, you migh...
Read more