There comes a point in your life where you have to ask yourself if you like the way you present yourself to the world. Do you dress for function or expression? When you come to this point, you might start to wonder whether you should start wearing jewelry to show off your style more.
When we think of rings in general terms, we often think of engagement rings or diamonds, but there is so much more than wedding jewelry when it comes to looking at a selection of men's rings.
Think about the men in your life with good style. The odds are that more than one of those men wears jewelry. Whether they wear chains, bracelets, or rings, many men use accessories to accent their clothing.
You can learn to wear jewelry even if you're not used to it: the key is pairing the look you love with a comfortable fit. 
We'll start with checking out our favorite rings and how you can style them to upgrade your usual 'fits. 
Where Did Band Rings Originate? 
Where did jewelry come from, and when did people first start wearing rings? Some say that the custom of wearing a ring on one's hand began in Egypt thousands of years ago.
The first rings were symbols of ongoing devotion. Later, they became symbols of status and power, and some even authenticated documents like a signature. 
What Finger Do You Wear Your Ring On? 
When you're thinking about what ring to wear your finger in, you can take one of two approaches. First, you can wear whatever looks best to you on your fingers. The second option is to pay attention to symbolism and wear rings accordingly.
Here are a few common meanings of ring fingers:
Thumb:

A ring on your thumb is a sign of influences from wealth. You can wear bands on this finger to communicate your status and affluence if you choose. Alternatively, you can wear rings on this finger simply because it looks right to you. 

Pointer:

Some claim that this finger suggests your affiliation with a particular group or belief system. For example, you might choose to wear your college graduation ring on your pointer finger to show others your association with that school.

Middle:

This finger is the boldest choice for ring wearing. Whatever you wear on this finger will stand out, so be sure that choice is intentional. It's perfect for statement rings. 

Ring:

As you might have guessed, the ring finger represents your relationship status. People often wear

wedding bands

on this finger, or they may wear a promise ring if they're dating someone.

Pinky:

Wearing a ring on your pinky finger has to do with your personal beliefs. Whether you want to wear a ring that displays a message to the world or to yourself, this finger is ideal for such a piece of jewelry.
Best Men's Band Rings 
Maybe you've thought about some of the men in your life and the rings they wear. Perhaps you've started imagining rings you might want to start incorporating with your outfits to accent your clothing and improve your style.
When looking at men's bands, consider your individual taste and choice of metals to narrow down your perfect choice. If you lead an active lifestyle, you might want a metal type that is scratch-resistant and durable. 
Here are a few staple ring styles to have on deck when you need them:
Gold Band Ring 
One of the most tried-and-true styles of ring you can wear is a gold band ring. This piece is versatile and classic, meaning you can wear it with just about anything. Try it on with warm-toned or neutral clothing for even more coordination.
It's a killer staple you can pull off again and again. Gold is often ideal for those with metal allergies (especially allergies to nickel). 
Yellow gold isn't your only option. Consider adding white gold or rose gold to your wish list.
Silver Band Ring 
If warm-colored jewelry isn't your style, you might want to go for a silver-colored band ring. Not only is this a style that can accent any look, but this neutral color can blend in with nearly any apparel.
Wear this manly band to blend in with your workwear or to help enhance your weekend fits. Silver is a great addition to minimalist designs. Common silver options include stainless steel or a sleek sterling silver ring. 
Statement Band Rings 
Basic band rings in simple styles are fantastic for helping to add subtle style to your clothing. When you're ready to upgrade your clothing with more exciting details and unique looks, statement bands or similar items are the perfect jewelry piece to add to your cart.
Either way, this ring style can help you express your values and your style at the same time. You may want to keep at least one statement ring on hand for days or a special event when you want to add a bit more expression to your look. For especially unique designs, consider changing up the width or adding a custom engraving that is personal to you.
Our Seven Favorite CRAFTD Men's Rings 
Are you seeing the benefit of wearing rings with your everyday fits? When you're ready to include more rings in your collection, we've got a few top picks to send your way. 
Here are our seven favorite CRAFTD rings:
1. The CRAFTD St. Christopher Ring
Maybe you're not into understated band rings. If you're looking for more exciting options for rings, try going with a statement ring. Statement rings give you an incredible way to display your specific style and communicate your ideas simultaneously.
Our St. Christopher Band is a perfect example of this. Not only is this ring's design eye-catching and stellar, but it can also be a message not to lose hope. 
2. The CRAFTD Signet Ring
As we mentioned, rings can have many purposes depending on how you wear them. One historic purpose of rings is as a Signet. This kind of ring previously helped authenticate documents with a seal like a signature. 
You can wear our CRAFTD Signet Ring to pay homage to the history of rings. It's a subtle way to make a statement while adding a sharp detail to your look.
3. The CRAFTD Vitruvian Man Ring 
Statement pieces can communicate so much. At CRAFTD, we love making pieces you can wear to express your unique perspective.
Our Vitruvian Man ring draws on Da Vinci's view of mankind. The Vitruvian Man design showcases the fact that you're more than just one thing; you're multifaceted and complex. Wear this statement piece to pay respect to every part of who you are.
4. The CRAFTD Band Ring 
Perhaps you're the kind of person who prefers low-key jewelry. You want a ring that adds a subtle upgrade to your style without drawing too much attention. If that's the case, our CRAFTD Band Ring is a perfect piece to start with. Wear it alone or pair it with other classic jewelry to create a timeless ensemble.
5. The CRAFTD Crown Ring 
Your self-worth is about your mindset. Are you ready to wake up each day and choose to see the best in yourself? You can wear a reminder of this sentiment in your jewelry. Our CRAFTD Crown ring can help you stay in touch with the aspects of yourself that remind you of your worth. 
6. The CRAFTD Rope Ring 
Maybe you're ready to move past band rings to something with slight detail. When you're looking for practical jewelry that can add texture to your look, there's nothing better than our CRAFTD Rope Ring. Pick your preference of silver or gold jewelry. 
7. The CRAFTD Cali Ring 
Are you looking for a ring that stands out and draws attention? Being coy isn't for everyone. You can wear our CRAFTD Cali Ring to display an antique design style with your fashion. Its bold black face and floral details are perfect for helping you make an entrance when you walk into any gathering. 
How To Style Men's Rings 
After you've made the purchases to help expand your jewelry collection, you might already have some ideas of how to begin wearing your rings. On the other hand, you may feel that you still need some assistance to make your new rings look great with the rest of your looks. You can always reach out to a jewelry consultant, but we have some ideas here.
If you need some direction to help guide you in your jewelry coordination, here are a few tips:
Wear your rings with classic chains.

If you're someone who enjoys timeless jewelry and simplicity, wearing a classic 

Cuban chain

with your rings is a terrific look. 

Wear your rings with other rings.

If you're feeling brave, try wearing one understated ring on each hand for a laid-back, cool look.

Wear your new bands with pendants. When you want to add more self-expression, try on a

North Star Pendant

. 

Try on your new rings with bracelets.

Bracelets are another piece of jewelry you can wear to add subtle detail to your clothing. Try on a simple

CRAFTD Rope Bracelet

for an accent that adds to your fit without drawing attention. 
Feel Confident in Your Jewelry with CRAFTD 
At CRAFTD, we believe your jewelry should always make you feel your best. We use top-quality materials you can wear during all your activities so that you always feel good in your skin with your favorite jewelry to accent your natural charm.
Sources:
A Man's Guide to Wearing Rings | Art of Manliness
The Origin of Wedding Rings: Ancient Tradition or Marketing Invention? | GIA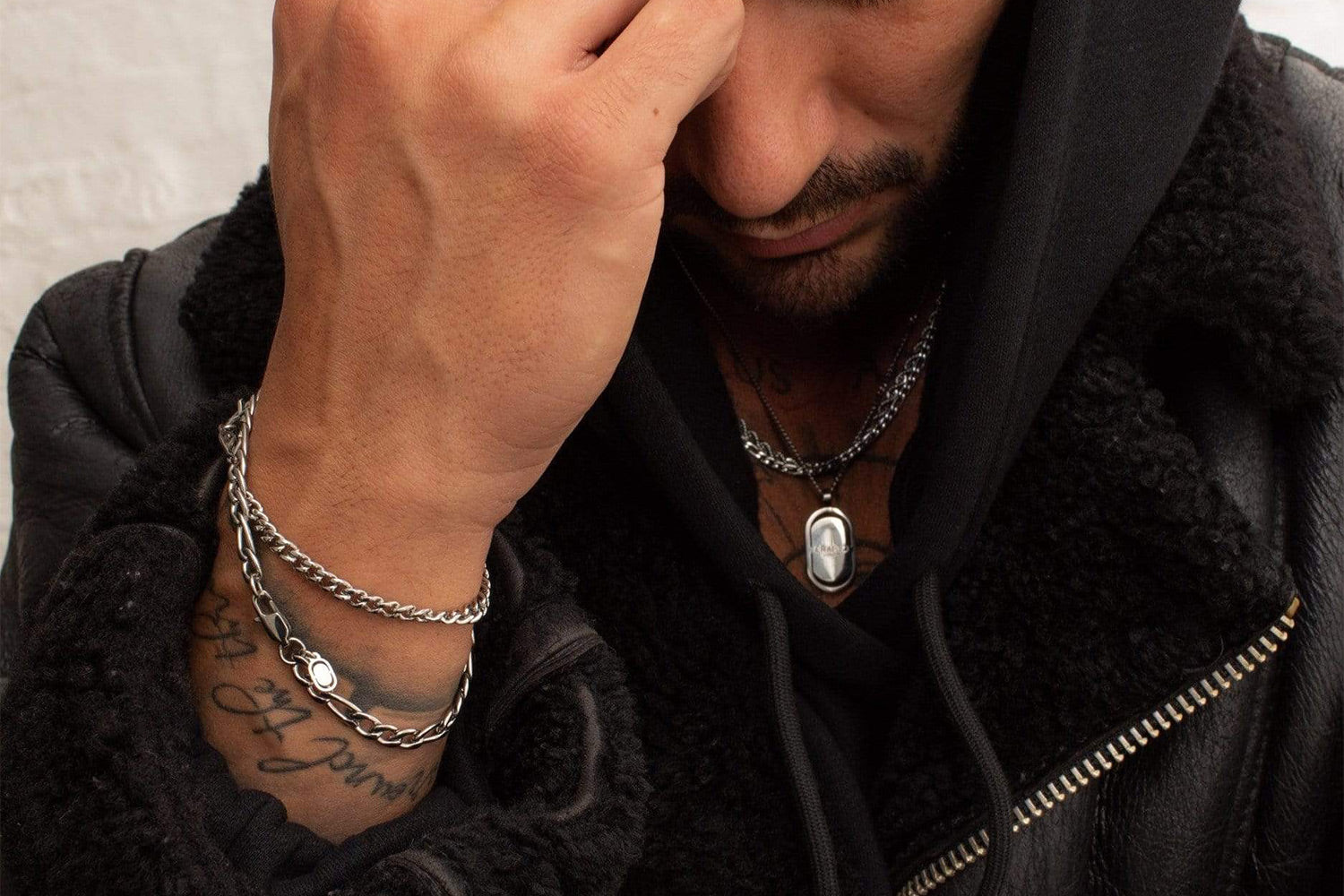 What Is a Cuban Link Bracelet?
Think about your jewelry collection. How's it looking? You might have a ring you got in high school that you think about wearing periodically. Perhaps you own a friendship bracelet given to you by ...
Read more