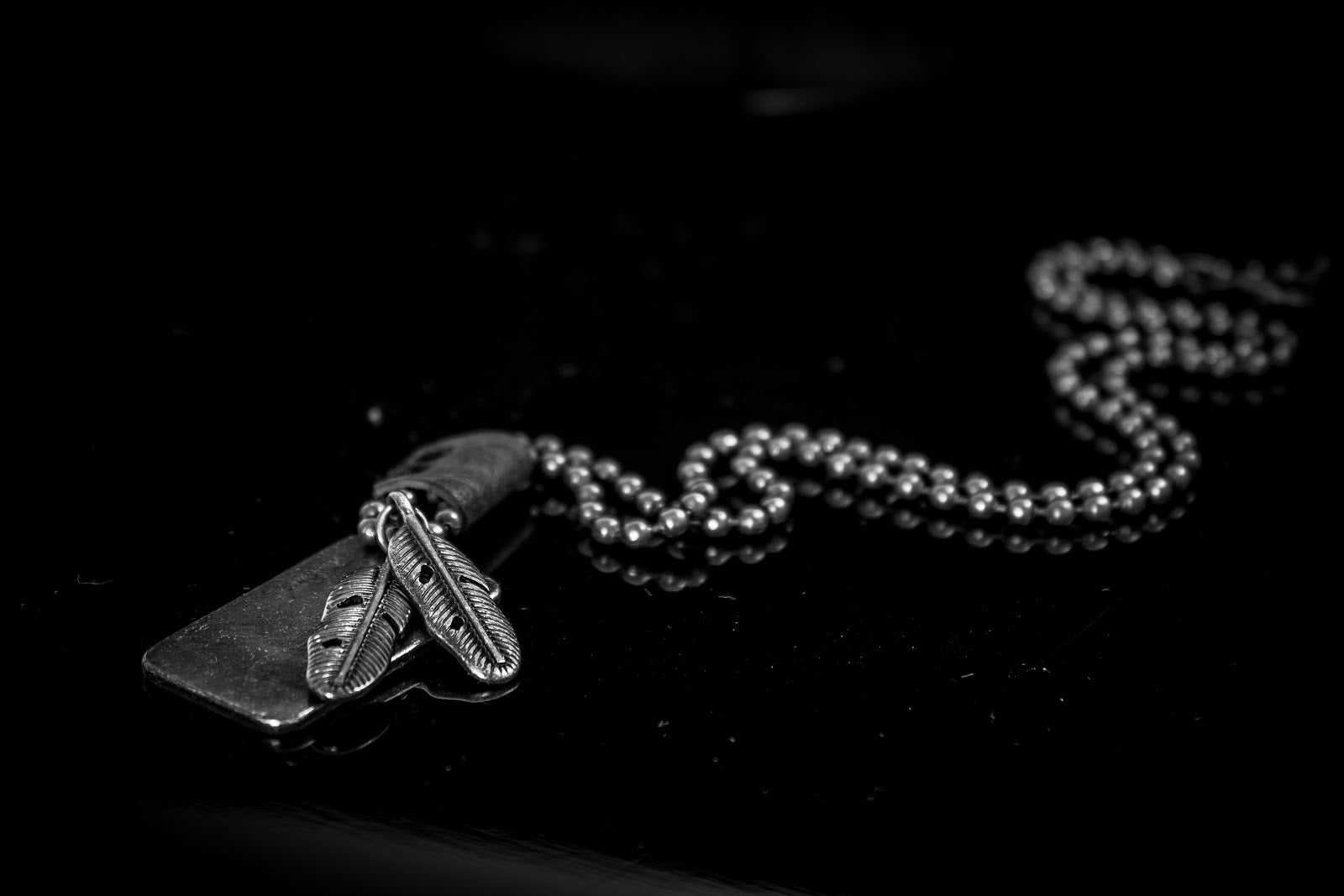 You might be no stranger to Figaro chains or Cuban chains, but do you know what a ball chain is? Let's say you've been trying to turn over a new leaf with the pieces of jewelry you wear. It's not enough to stay in your comfort zone with your two-millimeter wheat chain. You can shake things up now and then to create a personal style that's as versatile as you are. 
Questions You Might Have About Ball Chains 
You might have a few questions about ball chains if this style is new to you. Maybe you're the type of person who needs to get their feet wet before jumping in. Perhaps you know what ball chains are, but you want to know more about how to wear them well. Once you know more about this unique chain, you'll be comfortable enough to take the leap, try one out for yourself, and be one step closer to your new favorite chain.
What Sets A Ball Chain Apart From Other Chains? 
Are you wondering how this type of chain is different than any other chain? Chains are not a one-style-fits-all accessory. At CRAFTD, we carry several chain varieties that display unique patterns based on how they are woven together. While other chains may use links throughout the necklace, ball chains feature individual balls along a strand. It's a visually-intriguing style that was born in the 1930s and has endured to today.
Can I Wear a Ball Chain With Other Kinds of Chains?
There are no obvious right or wrong ways to mix your jewelry. If you want to try out a dainty two-millimeter ball chain next to an eight-millimeter Cuban chain, you can. What kind of aura are you trying to release into the world? If your style is traditional and work-appropriate, multiple chains may not be your thing. If you're a creative type who likes to experiment with new styles, go ahead and wear ball chains layered with others.
Do Pendants Look Good on Ball Chains? 
Pendants can be a bold centerpiece for any type of chain, but they look delicious with ball chains. If you like eye-catching statement pieces, you could opt for a thicker ball chain pendant necklace. Wear it alone or style it with other chains for an exaggerated look. A ball chain pendant necklace is a fun piece that will add flavor to your street style.
Interesting Ways to Wear Ball Chains 
You're only as limited as you say you are when it comes to styling your jewelry. You have every right to try new styles, even if you're blazing a trail. If you want to wear three kinds of chains together, try it out and see how it feels. Get the opinion of a friend whose taste you admire. Let's look at a few more ideas you can use as inspiration to style your pieces. 
Layer It With Multiple Chains 
If you like extremes, this is the option for you. Try layering a four-millimeter ball chain pendant with an eight-millimeter Cuban chain. These two alone would be a powerful combination. For another level of drama, add a two-millimeter Connell Chain into the mix. The trio might just be more powerful together than alone. 
Wear It Alone for a Subtle Chic Accessory 
Are you the kind of person who enjoys simplicity? Do you wake up each day and complete a detailed morning routine before you start your day? Loud patterns and bulky jewelry may not be your thing. You might prefer more manageable no-hassle jewelry. If that's the case, try out a single two-millimeter ball chain to wear on your off days. This piece will add a spritz of personality to your typical put-together style.
Wear It With a Hoodie for an Edgy Outfit 
Perhaps you've been looking for an opportunity to pay tribute to your edgy side. There's no need to play it safe all the time. If you want to venture into bolder styles, try wearing an eight-millimeter ball chain so that it peaks out of our hoodie. Throw on a pair of nice kicks and a statement t-shirt for a look that announces individuality.
Layer It With Another Smaller Ball Chain 
Sometimes it's hard to know what two kinds of chains will look the best together. Here's a way to play it safe while still being experimental with this piece. Instead of layering your ball chain with another kind of chain, layer it with another smaller ball chain. The difference in size will provide enough variety to catch your eye while still being relatively tame.
Pendants to Complete Your Look 
Maybe you already have a ball chain, and you've been looking for one more particular piece that will tie your chain into your look. Consider adding a pendant. As we mentioned earlier, pendants are an extraordinary way to transform your ball chain. The two together will be unstoppable. Here are a few examples:
Compass Pendant 
You're leading the way in your own life. With every decision you make, you learn to trust your instincts to bring you to greater things. Our Compass Pendant in 18 Karat gold or silver can serve as a reminder of your unique journey, all while helping you look cool as hell. Pair it with a ball chain to create a set you'll want to wear again and again.
Jesus Piece 
What's more iconic than a Jesus piece? Adding a Jesus Piece pendant into your everyday apparel is a way to honor the hip-hop music history that made this piece famous. Wear it alone for a singular statement piece, or pair it with an exciting ball chain. These two pieces together will turn heads.
North Star Pendant 
It's easy to get lost in the chaos of our busy world. Between news headlines and the ever-changing nature of life, you're bound to ponder the meaning of everything from time-to-time. If you fix your truth as a north star that guides you, you'll always know the next step to take. Our North Star Pendant is a classy but bold piece that can help you remember who you are. Pairing it with a ball chain will only elevate your entire look.
St. Jude Pendant 
Saint Jude is the patron saint of lost causes. You may feel that the obstacles and set-backs in your life have kept you from your best self. This beautifully-designed St. Jude pendant can be a symbol of hope for you as you search for stepping stones to a higher path. It looks incredible paired with a Figaro chain or a ball chain. Choose self-belief while looking remarkably fresh.
Where to Find Premium Affordable Necklaces
Perhaps you typically wear minimal jewelry and haven't ventured much into necklaces in the past. We hope you've learned enough tips now to feel confident in trying new pieces and new combinations. If you want to add premium chains and pendants into your collection, CRAFTD has your back. We make every piece with quality materials at a price you'll like. You can take a look at our chain and pendant sets to get inspired. 
CRAFTD Jewelry Categories 
There's more to love about CRAFTD jewelry. When you browse our site, you can easily see the stunning pieces we have to offer. When it comes to necklaces, we feature chains, pendants, and curated combinations to help you pull off new looks. We also proudly offer eighteen bracelet styles in gold and silver, striking statement rings, and bold handmade earrings. There's truly something for everybody.
See What's Trending 
Another benefit of shopping for jewelry with us is our trending page. If you find it challenging to keep up with trends, this may serve as a tool for you. Our trending page updates regularly to show you which styles people are buying and loving. Hopefully, this tool will put you at ease knowing the pieces you like are well-loved by others as well. 
Why CRAFTD Is the Best Choice 
CRAFTD jewelry is about inspiration and long-lasting confidence. We want to help elevate your style with eye-catching pieces. However, it's about more than just style for us. We believe the jewelry you wear should be durable and tough enough to withstand your everyday life. That's why our jewelry is always made from high-quality materials and designed to be sweat-proof, heat-proof, and resistant to tarnishing and discoloration.
Conclusion 
You can try new styles at any time. You're free to experiment with a ball chain and stunning pendant or to try any combination you desire. With jewelry that won't tarnish, you can try multiple combinations over time, and they'll always look fresh. We hope our jewelry empowers you to own your personality and show your style to the world.
Sources: 
What is Street Style? | Streetwear Basics and How to Wear It | thethreadability.com
Vintage 1930s Art Deco Ball-Chain Jewelry | Chatsworth Lady 
11 Most Popular Necklaces And Chains (A Simple Guide) | LearningJewelry.com™