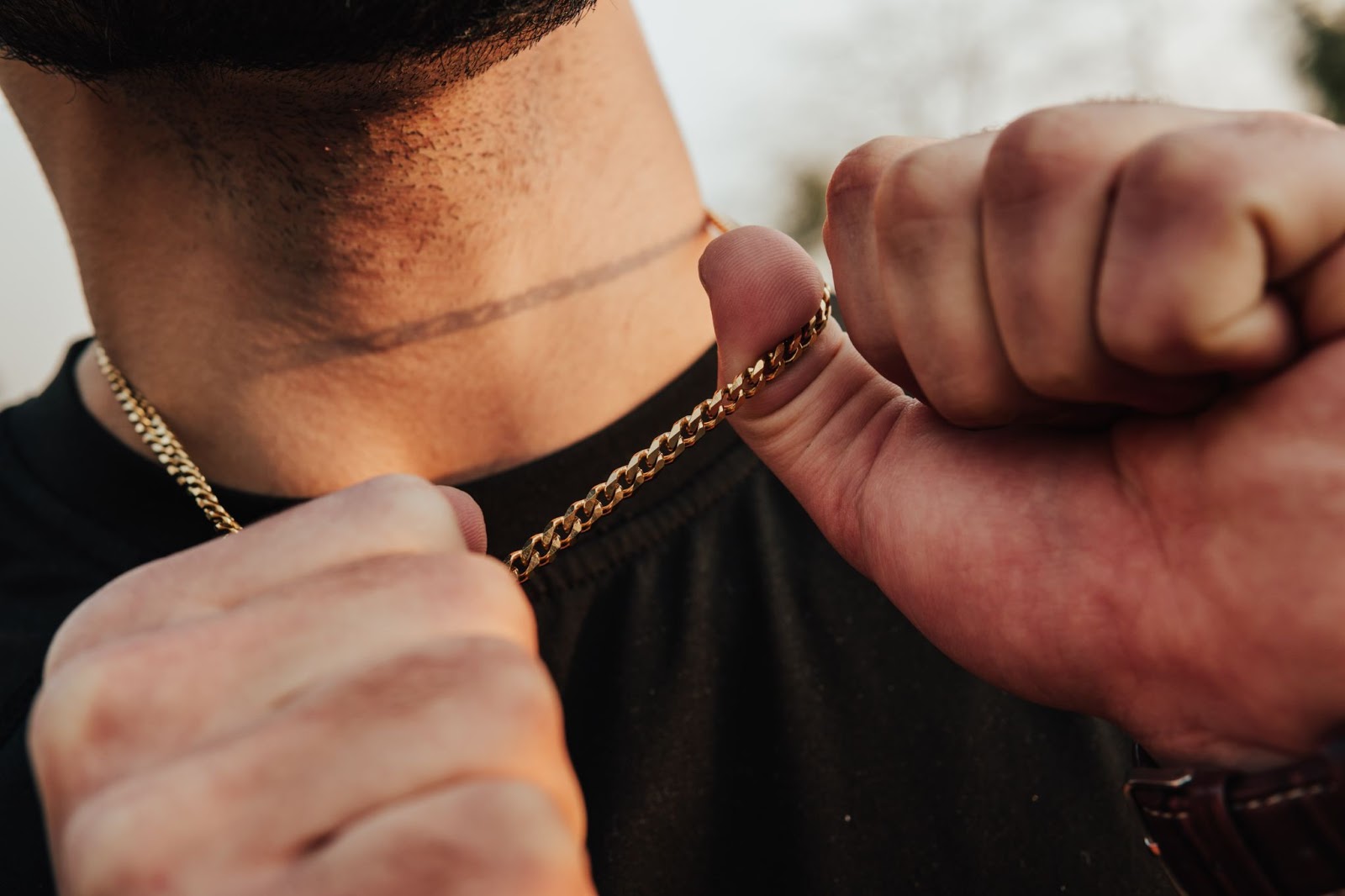 Imagine your dad's birthday is coming up soon. You know he enjoys wearing jewelry and experimenting with combining new pieces. Perhaps you already have the rest of his gift picked out, but you're still looking for the right piece of jewelry to add to his collection. You don't want to pick out something too experimental, and you don't want to choose a piece that's too tame. Then, you see a curb chain that's perfect for his style.
A curb chain utilizes individual links that join together like a standard chain. What makes this style different is that each link is twisted and leveled at the joint to lie flat. The flattened loops in a curb chain are usually uniform in their size and oval shape. In some curb chains, the chains' links might be fed through a rolling mill to make the links even flatter.
Different Kinds of Chains 
Certain chains look perfect with minimalist looks, while others command attention. Some layer ideally with pendant necklaces, while others look stunning on their own. Whether you're new to wearing chains as jewelry or you're a seasoned professional with several varieties of necklaces in your jewelry box, we could all use a refresher. There are many types of chains to wear and love, and we hope you'll discover your new favorite from this list. 
Classic Wheat Chains 
A wheat chain at its core is a variation of a rope chain. Its pattern resembles a grain of wheat, with angular v-shaped links joining together around the chain. Four high-quality strands form each link, making this necklace strong enough to handle your life. It's a classic style you can add to your jewelry box if you're just getting into jewelry. Our five-millimeter Wheat chain is gorgeous on its own, or you can pair it with other chains for sophisticated, busy layering.
Bold Figaro Chains 
Figaro chains have a mesmerizing pattern that can add variety to your neckwear. If you're tired of your usual chains, try adding some personality with a Figaro chain. It's made of a pattern of three short links and one long link, making it a fun design. This unique style is timeless, and you'll love wearing it in 18K gold or stainless steel. Try wearing our five-millimeter CRAFTD Figaro chain layered with smaller chains for a gorgeous combination.
Sleek Snake Chains 
This kind of chain is made a little differently than the others. Instead of displaying links all the way around the chain, this necklace uses curved plates that join together to form a smooth tubular shape, like a snake's skin.
Snake chains are also highly flexible, making them appear almost life-like. Wear one alone for a sleek, modern look. If you're feeling courageous, try adding a second, longer CRAFTD Snake chain along with it.
Handsome Belcher Chains 
Each of these chains has been different from the others this far. Belcher chains are no exception. This kind of chain has its own distinctive features as well. Uniform round or oval links join all the way around to create this style. Our CRAFTD Belcher chain is the namesake of boxer Jim Belcher. The handsome style represents strength and individuality. 
Which Chain Is Right for You? 
Are you looking for a new chain to bring life back to your jewelry box? Perhaps you're tired of wearing the chains you've worn for a few years, and you want to switch things up. We don't blame you for wanting to keep people guessing. You evolve through the years, so why shouldn't your jewelry? Here are a few ways to determine what kind of chain you should try out next. 
Understated Chains to Complement Your Work Wear
If you work a nine-to-five desk job, we understand why you'd want to add a touch of personality to your work attire. You probably want to keep accessories to a minimum, depending on your company's dress code. Still, you can add a hint of your unique style by going for cool, understated chains.
One perfect option for you is the Belcher chain we listed above. It's thin enough to blend into your business attire but has fascinating links as you look closer. Another chain you could try out is a classic Connell chain. In a two-millimeter width, it's minimal and classy. You'll feel more like yourself, even while analyzing data.  
Fresh Chains to Upgrade Your Date Night Look 
Let's say you met someone online, and things are going well. So far, you've been meeting for coffee, and your first official date was a leisurely stroll through botanical gardens. You're looking to ramp things up. You've just made plans at a restaurant that's sure to impress them, and you want to wear chains that show off your style. You can opt for fresh, exciting chains with your date night look.
You can't go wrong with a Cuban chain. In a four-millimeter width, this chain is noticeable yet nonchalant. For an alternative choice, our CRAFTD rope chain or a cool curb chain will complement your nighttime look perfectly. Your date will love seeing you be authentic in your style.
Choose Jewelry that Tells Your Story 
What other jewelry should you pair with your favorite new curb chain? Of course, you're not limited to necklaces. Should you browse our collections, you'd find an array of rings and bracelets to partner with your chains as well, if that's your preference. If you'd rather stick with necklaces, try our CRAFTD pendants to pull your look together, all while reflecting your life's story.
Saint Michael Pendant 
Are you someone who often goes against the grain? Perhaps you've always felt like the only one who saw the truth. Your values have guided you from a young age and led you through trials with wisdom. The truth you see is your gift to the world.
Our CRAFTD Saint Michael pendant is inspired by the archangel Michael. In stainless steel or 18K gold, it's a great addition to your curb chain or other smaller chain. As you wear it, let it be your reminder to share your convictions through the way you live. 
Happiness Target Pendant
Maybe you've always had to fight for your happiness. In a world where everyone asks something of you, you found yourself sacrificing until there was little left for you. Your joy is worth aiming for, no matter how many times you have to shoot to hit the target.
Our CRAFTD Happiness pendant reflects this idea. Both of the pendants are rounded, and one displays the Chinese symbol for 'happiness.' The circular target reminds you to keep trying, and the 'happiness' symbol reminds you of all the little joys you've successfully hit in your life. Pair this with your curb chain to add sentimentality to your style.
Crucifix Pendant 
Perhaps your story is one of death and resurrection. You grew tired of living only for yourself, letting your ego get the best of you. Eventually, you hit a breaking point when you decided it was time to let your ego die so you could truly live.
The CRAFTD crucifix pendant reflects this death and life. This powerful emblem is not only an excellent pair for your chains; it's a symbol of the meaningful choices you make each day to better yourself and the world around you. Since all of our jewelry at CRAFTD is sweat-proof, water-proof, and heat-proof, you can wear it with your favorite chains year-round.
Why to Choose CRAFTD Jewelry 
We know you have choices when it comes to looking for the jewelry you love online. We also know our pieces hold their own. You shouldn't have to gamble on quality to afford your jewelry, and you should have to sacrifice your budget for pieces that last. 
We Offer High Quality Pieces 
As we mentioned, we work hard to ensure the pieces you love are sweat-proof, waterproof, and heat-proof, so you can wear your jewelry without worry. Your pieces will also hold their color and shine since they're resistant to tarnishing and discoloring. CRAFTD jewelry means unbeatable quality.
Our Pieces Reflect Your Story 
Did you see some of your values reflected in the pendants we offer? We hope you did. We delight in offering you high-quality jewelry that's personal to you. Your jewelry doesn't have to be boring or sterile. With CRAFTD pieces, you can enjoy premium jewelry craftsmanship that celebrates the themes you find meaningful. 
To Sum Things Up 
Let's go back to our scenario. Perhaps you found the perfect Curb chain for your dad, as well as a Happiness pendant to complete his look. We hope he feels appreciated when he notices the high-value craftsmanship in his pieces and how they reflect his story. You can feel accomplished, too, knowing the jewelry you found for him will endure through your relationship and last for years to come.
Sources:
Top 10 Types of Necklace Chains | Jewelry Shopping Guide 
Water-Resistant vs Water Repellent vs Waterproof | HZO
A Beginner's Guide To Different Types of Chain - The Bench | Cookson Gold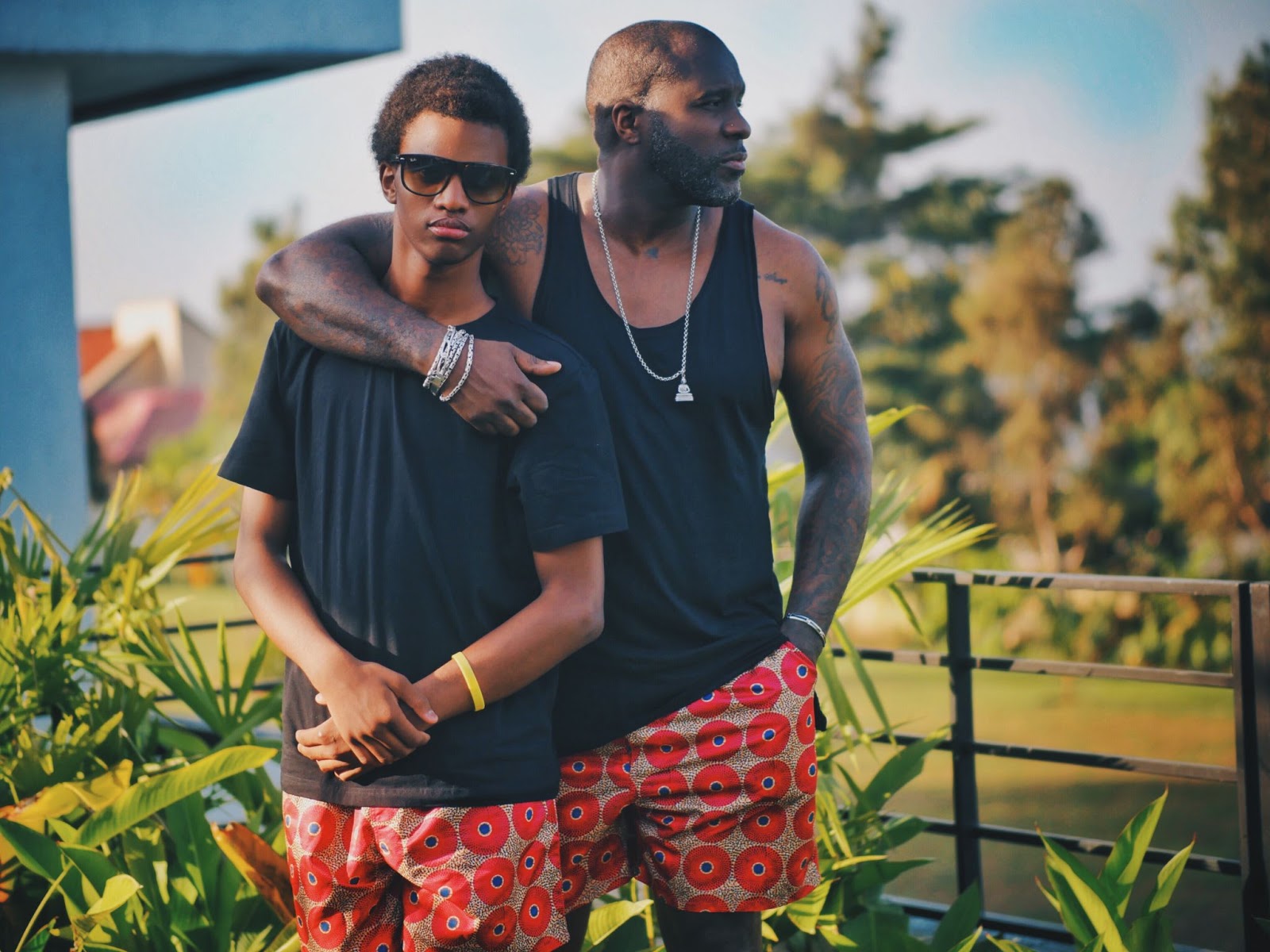 It may sound like a piece of hardware you'd use for a Saturday afternoon renovation project, but box chains are more ornamental than they sound. They're decorative and striking at their core and cr...
Read more
Diamond-cut chains bring a lot to the table with their shape and style. Shockingly, the word diamond in its name refers to its cut rather than sparkling jewels. It's an iconic style of chain that h...
Read more