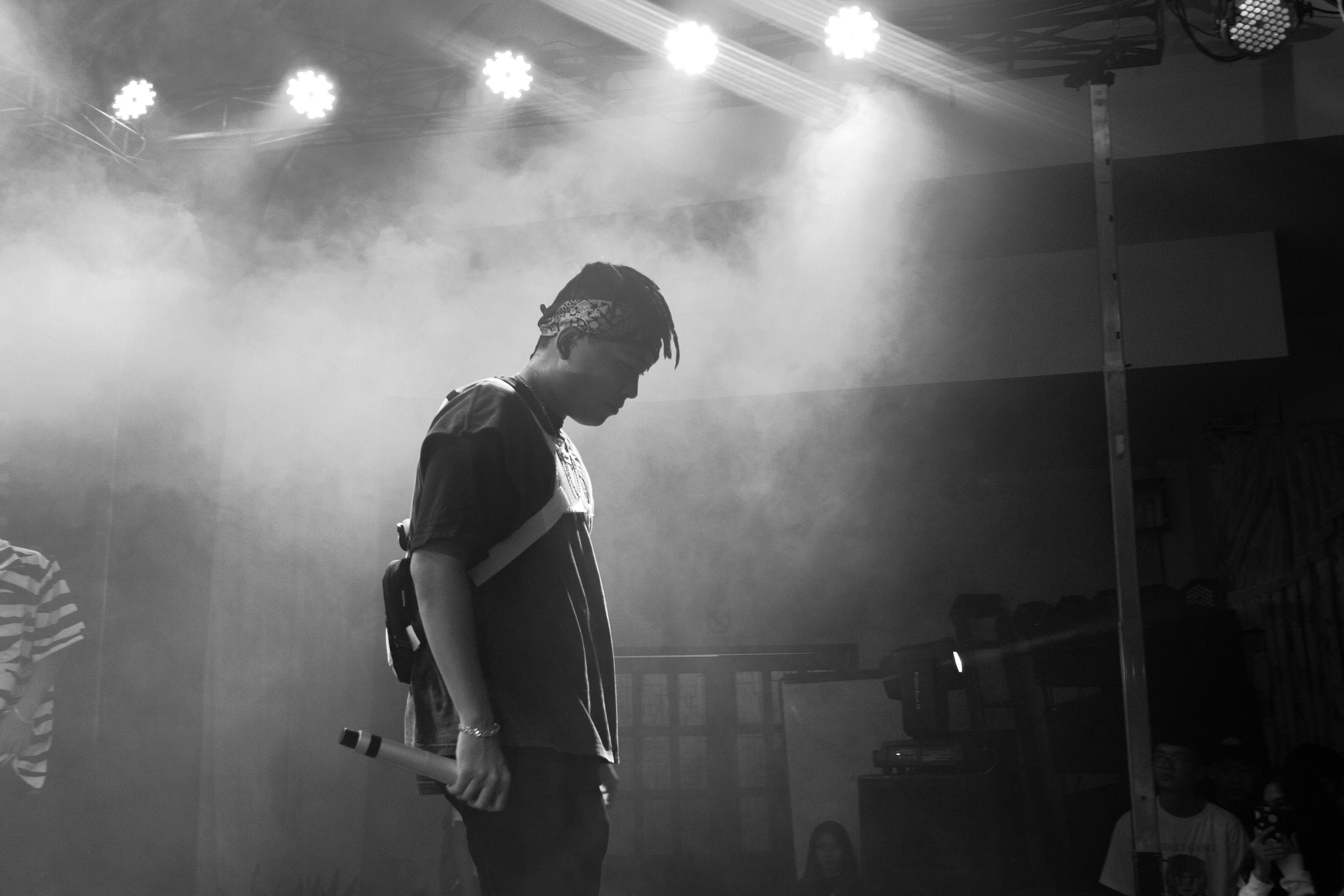 Eight Cool Guys With Earrings
Who said men couldn't wear earrings? Though men's earrings used to be counter-traditional,  21st-century pop culture has made them more popular than ever. If you've ever felt inspired to try out earrings, there's a good chance you've looked up to at least one celebrity who wears them.
We took the liberty of compiling a list of guys who inspire us with their always-cool earrings. Let's look at the styles they're known for and explore the earrings you might like to add to your collection.
Common Earring Styles 
Before we jump in, we recognize that you might need a refresher on types of earrings. First, the most common style has to be studs. These usually feature a single stone or small metal design affixed to a post. Wearing studs is an easy way to upgrade your look daily subtly.
Another well-known earring variety is hoops—these range in size from delicate, ear-hugging pairs to large, eye-catching varieties. Hoops are perfect for wearing alone or along with another style of earring.
Next, we'll move into some bolder types. Dangling earrings made their debut for men in the 1980s, along with mullets and tight pants. Since then, this style has fluctuated in popularity, but men are wearing this style with more confidence than ever in recent years. We won't touch on every earring style today, but here are the core few that will help you enter the world of men's earrings. 
1. Harry Styles 
Let's jump into discussing the men who look incredible wearing earrings. We'll start with someone who's undoubtedly paving the way for men to wear more styles of jewelry with self-assurance – Harry Styles. Mr. Styles enjoys wearing earrings from time to time to accent his always intriguing apparel. One such occurrence was at the 2019 Met Gala when he displayed a bee-themed diamond pearl-drop earring. 
2. Johnny Depp 
You may know Johnny Depp from Pirates of the Caribbean or Edward Scissorhands, but did you know he also loves to show off unique earrings? Johnny Depp's most recognizable earring choice may be his safety pin earrings. It's safe to say that this definitely contributes to his edgy, mysterious vibe.
You can gain inspiration from this look by choosing earrings that add an element of edge to your usual apparel. Coordinate with other layered jewelry to match Johnny's eclectic appearance even more. 
3. Jay-Z
Jay-Z is an iconic master of rap who is literally married to Beyoncé, so you know he knows style. Not only is he a rap icon, but he is also a startup mogul. With his hands in many businesses, Jay-Z knows how to send an image with his look. You can't sell over 50 million albums by accident, after all. Not only does he rock an earring like no one else, Jay-Z knows that an outfit is never complete without a chain. 
In 2007, Jay-Z proved his business savvy by choosing to rock a gold-plated religious chain with his classic streetwear style. Gold-plated jewelry is the smart answer to looking good without breaking the bank (even moguls like a smart buy). 
4. P Diddy
This icon was born "Sean John Combs," but is better known as "P Diddy, Puffy Daddy, Brother Love." P Diddy has blessed us with his music for years. Not only has his music enhanced our lives, but his style game has also always been inspiring. And not only that: this guy is an inspiration just in general. His support for victims of Hurricane Katrina and underfunded New York schools makes him a full-fledged icon. 
P Diddy has called his sense of style "swagger, timeless, diverse," and it's hard to argue with that. He looks slick in the tracksuit trend and is hardly ever spotted without an eye-catching stud in his ear. 
5. Timotheé Chalamet 
This promising actor is no stranger to developing a trademark edge with his apparel and jewelry choices. He's not the most avid earring-wearer (yet), but he showcased one type for an editorial shoot that's cool AF. The actor wore a single wing earring. Not just any wing – this appears to be an insect wing, making the piece even more exotic and individual. 
6. Michael Jordan 
Michael Jordan is one of the most iconic athletes of our time, but he's got a knack for earrings, too. He's often been photographed wearing a single hoop earring in his left ear, which some say is an emblem of good luck. We think anyone can gain style motivation from this classic, minimal look. Michael Jordan is proof that a little goes a long way. 
7. Justin Timberlake 
He might have been dancing on Disney programs as a fresh-faced kid, but now he is dancing on sold-out tours. Timberlake constantly makes appearances on the Billboard Hot 100, but also on Saturday Night Live. We'd call him a triple-threat, but really he is a quadruple threat when you factor in his fashion sense. 
This "Prince of Pop" has a style that just seems effortless. He started rocking some serious earring game during his years with NSYNC. He's back bringing the sparkle, and we love how his earrings have transitioned from bright and blinding to subtle and mature. 
8. Usher 
This Dallas native is one of the best-selling music artists to have ever lived. What else would you call having nine singles hit the number one spot? Usher has won eight Grammy Awards but also has gained respect for his humanitarian efforts as well as a sleek sense of style. 
Usher is a prolific art collector, and that includes an epic wardrobe. Voted "Sexiest Man Alive" multiple times means your fashion game is on point. Usher is usually seen rocking a stud, but fans also recognize the star in a dangling earring. Pair a statement earring with a pair of shades and a dark suit for this iconic look.
Remember this Usher recommendation: He told the New York Times that he doesn't shop for brands, he shops for quality. 
How To Pick the Right Earring Style For You 
Now that you've seen how some of the greats do it let's talk about which earring styles suit you most. You could consider your face shape, skin tone, and typical streetwear when choosing the earrings that complement you.
Alternatively, you could listen to your intuition. If you want to try it, try it. Let's explore a few of our favorite CRAFTD earrings you can add to your streetwear or evening wear to look casually cool.
Three Earrings To Emulate Cool Style 
People say the best things in life come in threes. While this isn't always the case, these three earrings below are absolutely guaranteed to elevate your style. 
The CRAFTD Rose Earring 
No one said you have to be a tough guy all the time. Consider adding romantic elements to your typical attire here and there. Our CRAFTD Rose Earring features a classic rose hanging from a delicate hoop earring. Choose 18-karat gold or premium 316L sterling silver for this piece. Then, add it to your next club-hopping outfit and see how many compliments you might get from men and women alike.
The CRAFTD Compass Earring 
Perhaps you're more of a minimalistic man. You can add studs to your weekend and evening wear to elevate your appearance with little effort. Our CRAFTD Compass Studs are a perfect candidate. Their design is timeless yet attractive, and you can select the metal color of your choice to make it personal. Wear one alone like Harrison Ford, or wear a pair together for more symmetry. 
The CRAFTD Crucifix Earring 
You can mirror Elton John's iconic cross earring with this piece. A cross earring means several things to different people. For some, it's a symbol of rebellion and leadership. For others, it's an emblem of faith and a reminder to cling to. Whatever your motivations, our CRAFTD Crucifix earrings are an exceptional choice for those who love evocative fashions. Wear one alone like Elton, or you can wear the pair together with other jewelry. 
Final Tips For Wearing Earrings 
We're confident you can try out new earring styles and look just as suave as these well-known men with earrings.
Still, here are a few final styling tips before you decide to jump into trying new pieces:
Always Consider Chains:  When you're on the lookout for fresh earrings to add to your jewelry collection, you may wonder what jewelry you should wear to style with them. We're massive fans of the classic chain necklace, and we think they're the perfect addition to any jewelry combination. 
Add in a Ring: Another great counterpart to a brand new earring is a well-placed ring or set of rings. Wearing a tasteful ring along with your earrings is a top-tier combination since it blends more than one jewelry zone. Consider our CRAFTD Signet Ring for a time-tested piece that combines well with anything. 
Small Details go a Long Way: Learn from Michael Jordan on this one. Adding one simplistic stud or hoop can enhance your features more than you know.
You Can Take it Slow: Finally, there's no pressure to build Rome in a day. You can take time to build out your jewelry collection by trying one new piece at a time. Perhaps this month, you take the leap and try new CRAFTD Compass Studs. Next time, you can experiment with that pendant chain. 
Time For Trailblazing 
Celebrities aren't the only men allowed to wear earrings; they're just the trailblazers. Anytime you feel motivated to wear a new piece of jewelry, you should act on that impulse with total self-assurance. Choose your trademark CRAFTD earrings, and soon enough, someone else will be inspired by your style. 
Sources:
A History of Guys Wearing Earrings | My Fashion Galore 
The Rapper Diddy in the Tracksuit Trend | Vogue
Justin Timberlake Gets Nod Of Approval To Wear Earrings Again | Inquisitir
The Evolution of Jay Z's Chain | GQ
Why Usher Shaves His Sneakers (and 4 Other Style Insights) | NY Times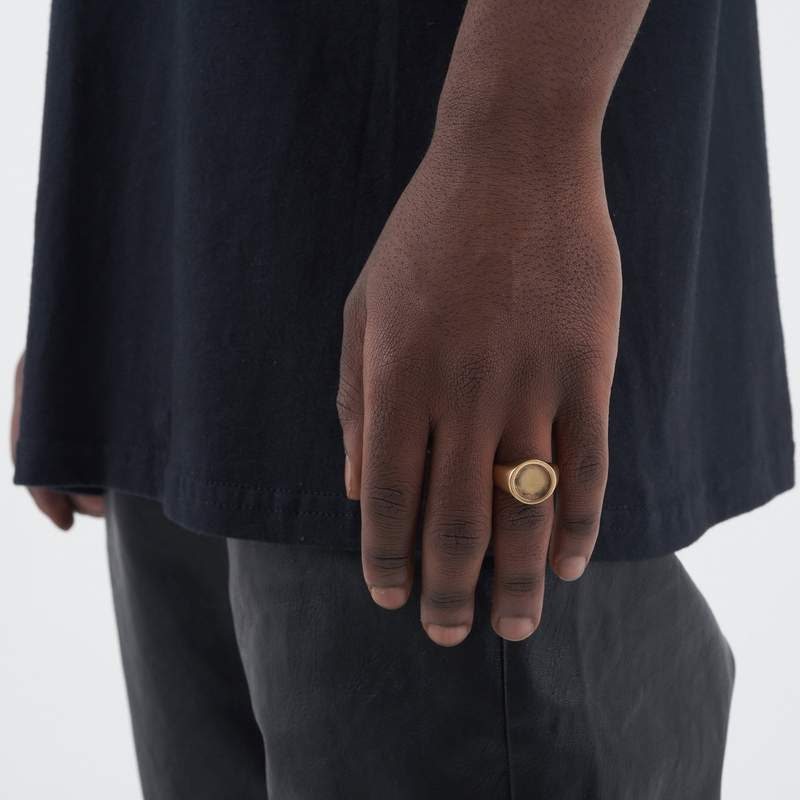 Five Cool Men's Rings With Unique Styles
As you expand your ring collection, not just any band will do. Your jewelry is meant to be utterly unique to represent your particular attitude and style. When you're browsing the most attractive, ...
Read more