How To Tell if a Ring Is Too Big
It might feel like common sense, but, believe it or not, many people wear rings that aren't the best fit for them. Do you often have to adjust your rings to feel comfortable? Perhaps you avoid certain bands altogether because you know they're high-maintenance to keep on throughout your day. 
You deserve to have rings that fit. Let's figure out if your rings are too big for you. Then, we'll talk about finding rings that are perfect for your style once you discover your true size.
Signs Your Ring Might Be the Wrong Size for Your
There are a few signs that can show you you're wearing the wrong size ring. Some people might notice these more quickly, but others may compromise comfort for the sake of keeping a piece of jewelry they enjoy. 
For example, maybe a loved one purchased a band for your birthday, and it holds sentimental value for you. You might not think about how well it fits because you want to keep wearing it. Still, it's a good idea to recognize a few signs that show you your band isn't the best fit. 
You may want to see if any of the following apply to your situation:
It's Difficult To Slip Over the Knuckle 
When you slip on your bands each day, how does it feel to put them on? Maybe your problem isn't that your ring is too loose but too tight. If you notice that it's difficult to slip the band over your knuckles, that's a sure sign that you're compromising on comfort. You should be able to slide your ring onto your finger with little effort, and it may be time to size up. 
You're Constantly Twisting It to Its Correct Position 
Here's a sign that your ring is too loose. Does your favorite band have a face? Perhaps you've noticed your trademark statement ring always turns to the right or left. Maybe it turns all the way around your finger if it's extra loose. 
If you continually find yourself adjusting your ring so that the face shows outward, your ring is too large for you. Sizing down to the correct size could help you avoid having to adjust it so much. 
It Slips Off During Everyday Activities 
Let's say you're picking up your keys to lock your front door and hop in your car to go for some coffee. In the middle of your hurried state, your ring slides off your finger and lands on the ground. Situations like these are a key indication that you should size down for future ring purchases.
You may be trying to convince yourself that your ring size is different than it actually is. Unfortunately, sticking with too-big rings can lead to one of them falling off in a location where you can't get it back. Switching to a smaller size is not only more comfortable, but it's safer, too. 
You Have To Pull Hard to Get it Off 
There are all kinds of reasons that our rings sometimes become tighter than they used to be on our fingers. Perhaps you've recently noticed that you have to tug relatively hard to get your rings off each night.
If you constantly find yourself pulling on rings to get them off, it's time to switch to a different size. It can make a huge difference in your comfort throughout the day. 
Tips To Ensure You Get the Right Size 
You may be thinking of a few rings in your collection that aren't a perfect fit for you right now. How can you find out which size band will fit nicely?
Let's look at a few tips for ensuring you find a size that works well for you:
Use a Ring Sizing Chart 
You'll want to grab a piece of string, a marker, and a ruler for this one. When it comes to using a ring sizing chart, one of the best ways to find out your size is to wrap a piece of string around your finger. Mark the place where the end meets the rest of the string comfortably, then let it go. 
Next, measure the length from the mark to the end of the strand next to a ruler and note the measurement in millimeters. You can use a ring sizing chart to find the size that corresponds with your measurement. 
Measure Again if You Move To a New Climate 
What if your rings used to fit when you lived in a warm, humid climate, but now you live somewhere cool? You might be noticing that the cold, dry weather makes your fingers a bit smaller than they used to be. 
You may want to keep your old rings around in case you move back one day. For the time being, re-measure to see what your new size might be in a cooler environment. 
Don't Settle for an Almost-Fit 
Let's say you found a killer deal online for a statement ring that matches your style perfectly. It shipped to your house, and you soon realized it wasn't a perfect fit.
You may feel tempted to continue wearing it even with some discomfort, but ultimately, you're worth more than that. Consider investing in bands that feel good all day as you wear them.
Treat Yourself to CRAFTD Rings When You Find Your Perfect Size 
Finding jewelry that fits you well is a rewarding experience. When you decide to search for rings that fit your hands more comfortably, we've got a few in mind that we think you'll love.
Let's look at the CRAFTD bands you'll never want to take off. 
CRAFTD St. Christopher Ring 
Throughout history, many people have recognized St. Christopher as the patron saint of safe travels. Our CRAFTD St. Christopher Ring pays respect to this patron saint while helping you express a piece of who you are. This piece is a reminder that the greater good is protecting you everywhere you go.
Are you more of a silver jewelry or a gold jewelry person? You can select either premium 316L stainless steel or high-quality 18-karat plated gold for this statement ring. Regardless of your preference, this ring will add texture and personality to any look. 
CRAFTD Vitruvian Man Ring 
Your jewelry says a lot about you. Statement jewelry allows you to communicate even more with the pieces you wear — our Vitruvian Man Ring is an example of that. Its design comes from Da Vinci's Vitruvian Man piece from 1490. This imagery of two men overlapping reflects your dynamic nature; you're multi-dimensional. 
Wear it in stainless steel or 18-karat plated gold for a piece that's sure to strike up conversations. 
CRAFTD Crown Ring 
Who are you? You might have ideas about your worth based on things others have told you. But deep down, we think you're nothing short of royalty. Our CRAFTD Crown Ring is a stunning band that forms a regal crown around your finger. 
In silver or gold, this ring is a reminder that you have leadership potential and intrinsic worth. 
CRAFTD Band Ring 
What if you want to play it more safely with your jewelry choices? We've got an option for you, too. Our CRAFTD Band Ring features a simple band with our CRAFTD logo shown around the circumference. It's a well-loved piece that makes for an excellent understated everyday accent. 
CRAFTD Band 2.0 Ring 
Not every piece of jewelry has to be a big statement piece – Here's a band for the minimalist. Our CRAFTD 2.0 ring is a perfect band for those who love simplicity and subtle details throughout their looks. It's a flat band with engraved symmetrical lines encircling its entirety. These feature a slightly rugged texture to add character and texture to your everyday office wear or your weekend attire. 
CRAFTD Rope Ring 
Some people prefer to add multiple patterns and detail to their jewelry ensembles. Let's say you're walking out the door to meet up with some friends for drinks. You're wearing a few classic chains together, but you need another piece to bring your jewelry together. You can slip our CRAFTD Rope Ring on to boost your look with added character.
The Right Fit Is Worth It 
Hopefully, you're now able to identify which rings in your collection are due for a re-size. In some cases, you may be able to have a professional resize your jewelry down to fit you. Other times, you may have an opportunity to invest in pieces that match your style and fit your size correctly. You're worth the effort to find a killer piece of jewelry that's a perfect fit.
Sources:
Ring Size Chart: Find Your Ring Size With Instructional Video | The Knot
How To Measure Ring Size | Southern Living
Finger swelling: Causes and their treatments | Medical News Today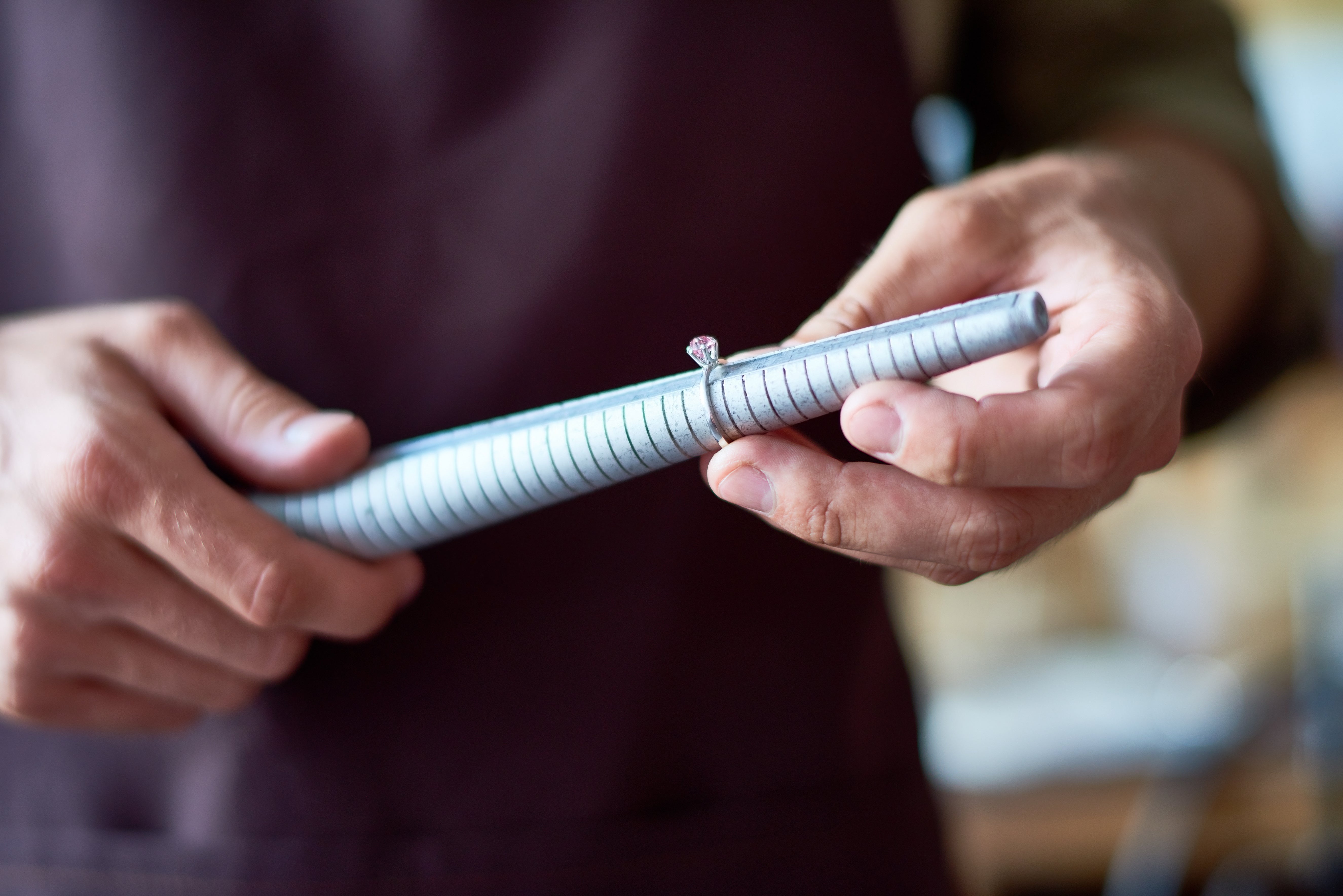 How To Determine Your Ring Size
Maybe you're the type of person who has had a trademark sense of style for the past decade. You found a few pieces of jewelry that work for you, and you don't typically stray from them.  It's aweso...
Read more