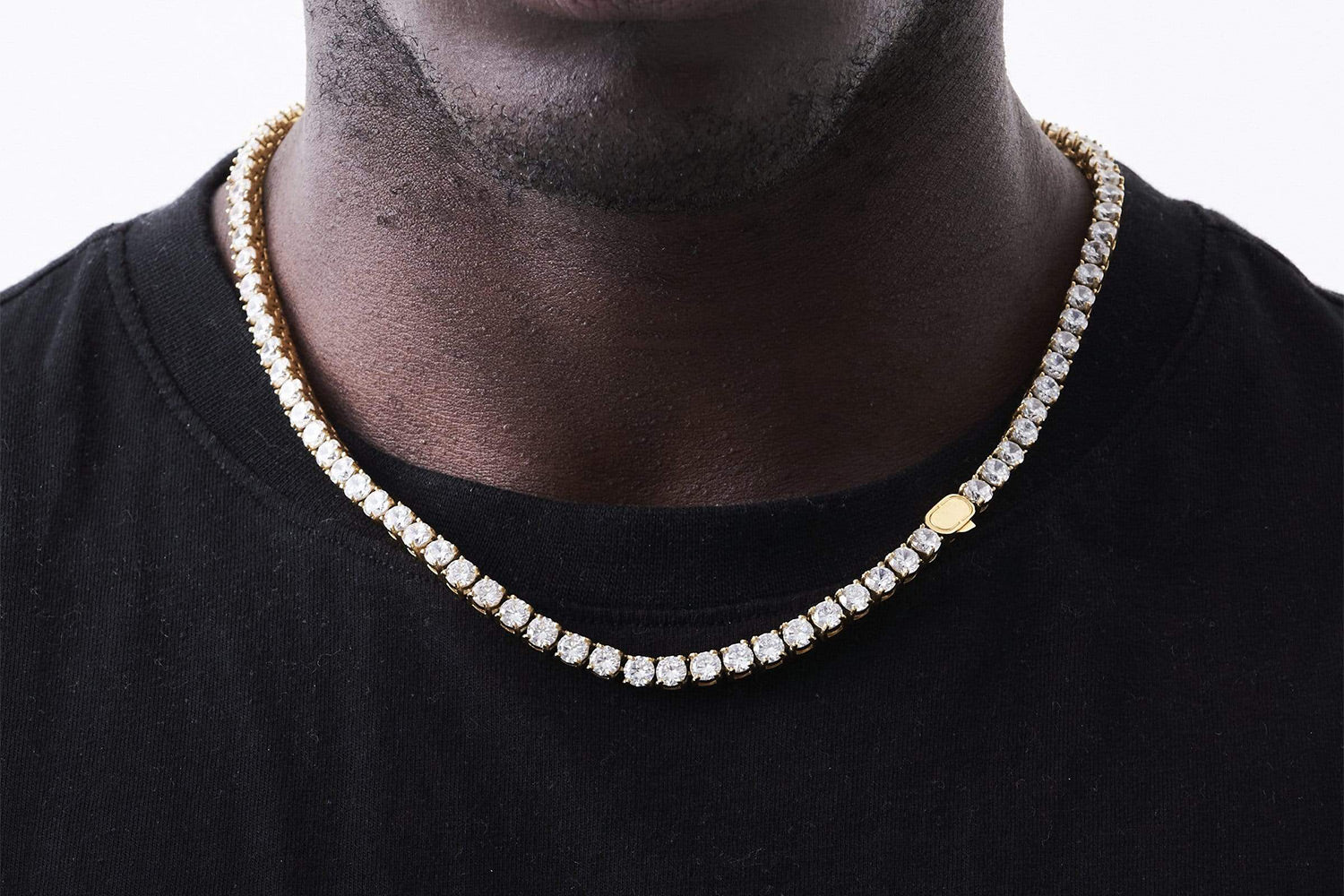 Do Guys Wear Tennis Bracelets?
The tennis bracelet is a piece of jewelry that has been well-loved for years. This diamond-studded accessory can add class and prestige to a look with little effort, making it a fantastic piece to have in your collection.
Traditionally, you might have noticed that  women have worn this bracelet as an elegant accessory. But in modern times, men are turning the tables of masculinity. Anyone can wear a tennis bracelet and look incredible.
Let's learn more about men's tennis bracelets and how to wear them if you've never worn one before. Then, we'll show you more dazzling icy pieces of CRAFTD jewelry you can wear when you want to make an impression.
What Is a Tennis Bracelet?
Have you ever heard of a diamond line bracelet? The odds are that you've likely heard of this piece of jewelry referred to as a tennis bracelet. Though the diamond line bracelet already had mass appeal in the early 1900s, this accessory got a new wave of attention in the 1980s.
You may be wondering why people refer to this piece of jewelry as a tennis bracelet. The story behind its name comes from a tennis match at the U.S. Open wherein Christ Evert lost her diamond line bracelet on the court and asked the officials to pause the game to search for her "tennis bracelet."
As you can see, a tennis bracelet doesn't have any direct relation to tennis. It's a uniform bracelet that features studded stones or diamonds around its length. Though women first wore this piece of jewelry, you can unquestionably pull off this striking piece, no matter your gender expression.
Four Ways for Guys To Wear a Tennis Bracelet 
Are you still feeling skeptical about wearing a tennis bracelet? Perhaps getting some inspiration could help you to visualize wearing this piece of jewelry more easily.
Let's review several ways you can incorporate this piece into your apparel. Then, we'll explore the icy jewelry you can buy today to start wearing with your attire to look dapper. 
1. Add a Tennis Bracelet to Your Night Out Apparel
If you live in a big city, going out on weekends might be a regular activity for you. You and your friends could have a routine of dressing up and enjoying the night at different clubs and underground events. 
When it's time to pick out what to wear, you're free to go a little further than you usually would with your clothing. Go ahead and add the tennis bracelet to your sleek going-out fit. You'll turn heads and make striking first impressions.
2. Wear a Tennis Bracelet to a Memorable Occasion 
Are you a musician, actor, or another professional in the arts? Creative professionals typically have multiple events each year, which allow for dressing to a greater degree than you would in everyday life. 
When you want to pull out all the stops, throw on a tennis bracelet. It's a quick way to look ready for red carpets and after parties alike. 
3. Incorporate a Tennis Bracelet Into Your Street Style 
Let's say you like to make a regular habit of visiting other cities to get a taste of their culture and style. As you get ready for your trip, you might desire to take a few more risks with your clothing than you would in your hometown. Street style is all about bold fashion that demands attention.
Try wearing your tennis bracelet with your favorite chains and streetwear. You might receive more compliments from strangers than you'd expect. 
4. Wear a Tennis Bracelet on a Romantic Evening 
What do you usually do to get ready for a romantic evening? Do you tidy up your apartment? Do you wash all the dishes in the sink? Perhaps you have a candle nearby to set the mood for a night of quality time. 
Wearing a tennis chain is one detail that can bring your look to a more elevated space and set the tone for the night. Consider wearing it out on your date night and keeping it on as the night continues.
Are There Other Kinds of Tennis Jewelry? 
If you've seen tennis bracelets before, you might have become a fan of the style. Although the name tennis bracelet initially referred to a specific bracelet style, it's not the only piece of jewelry with brilliant stones. You can also add a tennis chain to your collection when you want a stronger icy appearance.  
Iced Jewelry Essentials To Have in Your Collection 
When you want to have fun with your jewelry, our CRAFTD Iced collection is one of the best ways. You can add several Iced pieces to your collection to give your looks a high-class feel at attractive prices.
Take a look at the iced jewelry that can make your wardrobe look brand new. 
The CRAFTD Iced Cross Necklace 
What's more iconic than a cross necklace? When you're looking to add more drip to your wardrobe, our CRAFTD Cross Necklace is a fantastic piece to put into your rotation. Choose your preference of a gold or silver base for a customized look. 
The CRAFTD Iced Tennis Chain 
When you want to add an eye-catching piece to your look, our CRAFTD Iced Tennis Chain is one of your best bets. Throw it on top of your favorite vintage tee shirt or tailored fit for a stunning look.
Keep in mind that this piece also looks killer on bare skin. It's perfect for making an entrance or leaving an impression. 
The CRAFTD Iced Tennis Bracelet 
By now, you've probably learned that tennis bracelets are iconic any way you look at them. Whether you're going for that late-night look or stellar street style, the tennis bracelet can bring up your fits to look high-class. Consider adding our CRAFTD tennis bracelet to your collection for an all-star piece of jewelry.
What To Wear with Your Iced Jewelry 
When you're styling this piece of jewelry, know that the sky's the limit. If you need inspiration, here are a few pieces you can wear with your tennis bracelet to achieve the elevated look you desire. 
Statement Rings 
One incredible match for your new tennis bracelet is statement rings. Wear just one if you like, or you can choose to wear multiple rings across your hands for a bolder look. When paired with your tennis bracelet, those who see your jewelry will know you're someone who's not afraid to express their style.
Try our CRAFTD Signet ring for a low-key statement ring that looks incredible with your other jewelry.  
A Single Bold Earring 
How's your earring collection looking? When you're looking to coordinate your tennis bracelet with other pieces, a single bold earring can go far. It's a look that commands attention and creates room for authentic self-expression.
Are you looking for the right earring to add to your selection? Our CRAFTD Dagger earring is one you can incorporate into your jewelry for an extra-bold look.
An Expressive Chain 
A tennis bracelet looks killer on its own. However, when you want to look decked out in unique pieces, chains make a perfect compliment. 
If your chain collection could use refreshing, now might be the best opportunity to add a few new pieces.
Here are a few ideas depending on what kind of chains you prefer:
Slim chains:

When you're looking for something understated, you can't go wrong with our

CRAFTD Connell chain

. Select your preference of gold or silver to have a classic piece that blends in effortlessly.
Bold chains:

When you want a chain that announces your presence before you say a word, our

Cuban chain

does the trick. 
Everyday chains:

If you're looking for a mid-weight chain that you can wear with anything, our

CRAFTD Rope chain

is an incredible choice. Wear it alone or layer it with other styles.
How CRAFTD Jewelry Keeps its Quality 
Other chains and iced jewelry can fall apart and leave unfortunate coloring on your skin. At CRAFTD, we use high-quality materials to keep your jewelry looking good for much longer. 
Our 18-karat plated gold pieces and premium 316L stainless steel jewelry are sweat-proof and heat-proof to last through any activity. You can wear your favorite tennis bracelet or chains repeatedly without worry. 
Hot Pieces That Look Cool 
Stepping out into new jewelry territory might feel overwhelming at first. But over time, you can learn natural ways to wear your jewelry and look stunning in the process. 
When you purchase CRAFTD jewelry, you can wear your favorite pieces through anything. See for yourself why iced pieces can look so good. 
Sources:
How the Tennis Bracelet Got Its Name | GIA
The Fascinating History Of A Diamond Tennis Bracelet | CT Diamond Museum
gold | Facts, Properties, & Uses | Britannica
The Best Street Style at Lagos Fashion Week Spring 2022 | Vogue