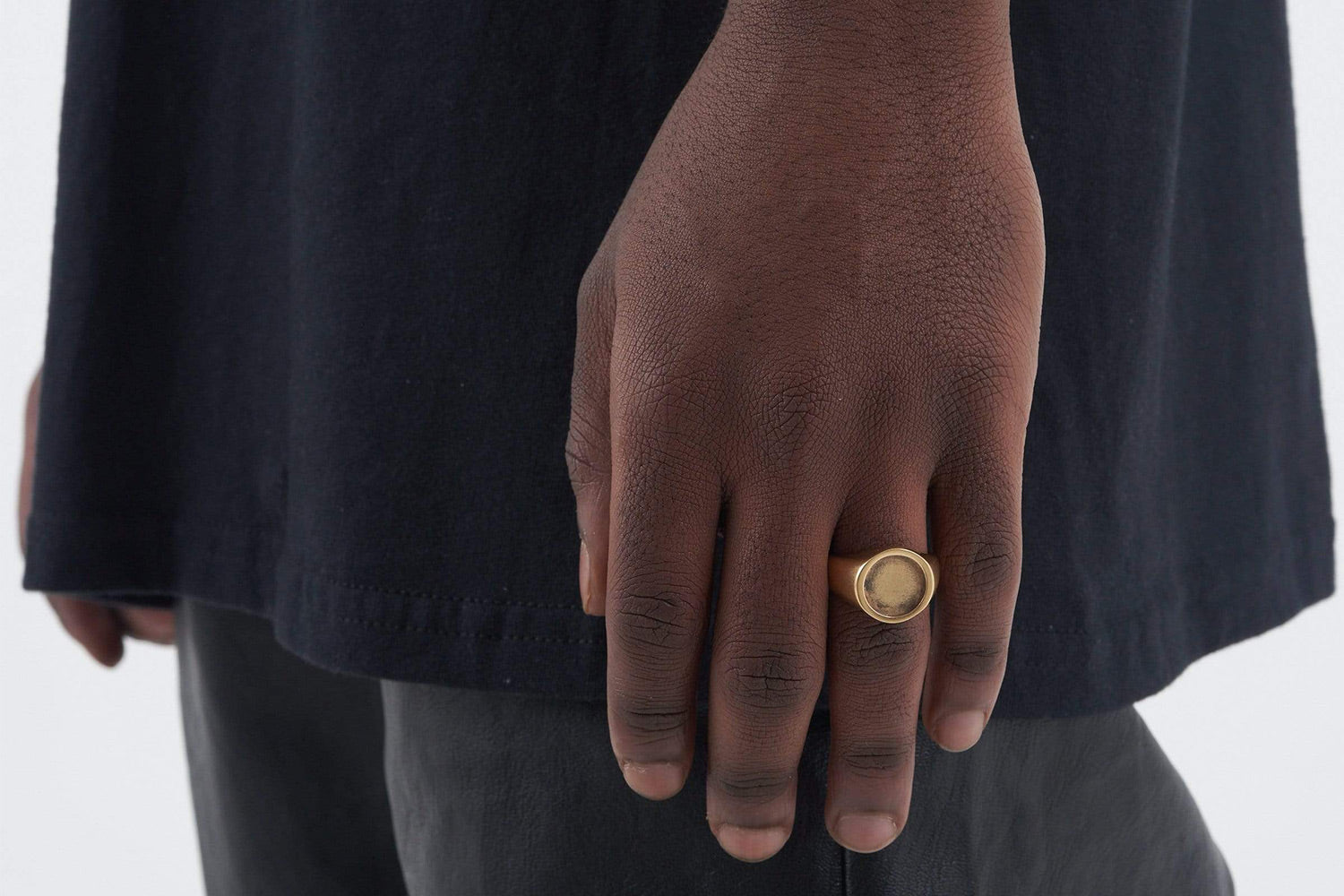 What Does It Mean If a Man Wears a Signet Ring?
When you think of signet rings, what do you picture? You might think of a seal on a letter or a signature on a letter. When did these rings originate, and do men still wear them?
Learning about this style of ring can help you curate one more style into your collection. Today, let's talk about the history behind this accessory and how men wear rings today. Then, we'll show you our favorite CRAFTD statement rings you can add to your outfit to bring up your look.
What Is a Signet Ring?
Maybe you're new to signet rings. Even if you are, the odds are that you've likely seen one before without knowing it. What makes this ring different from other styles?
A signet ring features a raised flat surface as the ring's face. This flat surface is engraved with an initial or meaningful symbol—sometimes a family crest or significant image. 
The History of Signet Rings 
The original purpose of signet rings was different from the way people wear them today. At one point, the symbols or crests engraved on these rings had a role in the authentication of letters.
People would melt the wax, drizzle it onto a seal, and a person would stamp their signet onto the wax to sign their name. Each signet was unique, making it an authentic way to verify identity and convey approval. 
The Symbolism of Signet Rings
As mentioned, signet rings were a way to express an authentic signature in official and unofficial documents. People would wear them facing outward to be ready to authenticate a document. 
In addition to that, some people believe that signet rings held an additional symbolism. With this line of thought, people believed that the wearers of signet rings would wear them facing inward. The inward-facing symbol could remind the wearer of their family values, traditions, and responsibilities. 
How Do Men Wear Signet Rings Today? 
There are two primary ways people wear signet rings today. First, those who wear signet rings do so to communicate an association with a particular group. That group might be a fraternity, social club, or university. Those who wear their ring in public may recognize a fellow university or club member by spotting another identical ring in public.
Second, many people wear signet rings today to enhance their style. These rings are a classic design that can add a vintage touch to daytime and nighttime looks. In just a moment, we'll show you examples of statement rings you can wear and tips on how to wear them.
Nine Statement Rings You Can Wear To Enhance Your Style
When you think of your current jewelry collection, what does it look like? Do you find yourself reaching for the same lone necklace each day? Do you have low-quality rings that need an upgrade?
You can refresh your jewelry collection by adding statement rings into the mix.
Let's look at nine rings you can start wearing to look fresh even when paired with old clothes. 
1. The CRAFTD Signet Ring 
If you're in the market for a simplistic signet ring, you can't go wrong with our CRAFTD Signet ring. This piece of jewelry features a raised circular edge with a rugged sunken face. It's the ideal piece for people who want to add a lot to their outfit with a straightforward piece of jewelry.
2. The CRAFTD Signet 2.0 Ring 
Do you enjoy the signet style but prefer something even more minimalistic? Our CRAFTD Signet 2.0 ring takes the original signet style and improves on its design. Instead of displaying a sunken face, this ring features a round face that's flush with its border. Choose your preference of gold or silver and enjoy this uncomplicated style. 
3. The CRAFTD Vitruvian Ring 
When you wear a signet ring, you don't have to stick with minimal styles. You can choose to try on rings with ornate designs and meaningful symbols etched into their details. 
When you're looking for a more unique, meaningful ring, try out the CRAFTD Vitruvian Man ring. This piece pays homage to Da Vinci's Vitruvian Man work, which communicates the complex nature of humankind. This symbolism of a man stretched out reveals the truth that no person is just one thing. We all have multifaceted identities. 
4. The CRAFTD Fleurstone Ring 
Perhaps you enjoy signet rings with more ornate designs. In that case, our CRAFTD Fleurstone ring could be an idea for you. Its face features a raised flat oval surface coated with a shiny black finish. The Fleurette designs on the ring's shank give this piece a floral look while maintaining a masculine edge. 
5. The CRAFTD St. Christopher Ring 
Your jewelry can be more than a decoration. The pieces you wear each day can help you communicate your story and values, too.
Let's say you've endured a season of change. The path you had set out for your life looks much different than it did at one point, and all you can do is trust a guiding voice to light your path and bring you to a better future.
Whether you subscribe to religion or not, our CRAFTD St. Christopher ring sends the message that you're never alone on your journeys. Wherever you go in life, there's a kindness guiding you, keeping you safe.
6. The CRAFTD Lanura Ring 
Perhaps you're interested in the signet style, but you prefer your jewelry to have a unique element to it. Our LANURA ring draws on the signet style with one differentiation: it has a square design instead of a circle.
The ring's face is rugged and sunken, just like the original signet ring. You can wear this piece when you're looking for something more geometric. 
7. The CRAFTD Avia Ring 
Do you enjoy oversized jewelry? There's something intriguing about a statement piece styled appropriately.
Here's another variation on our CRAFTD Signet ring: Our Avia Ring features a signet ring with an enlarged sunken face. Every other feature remains the same, with the ring's face being slightly larger for a more dramatic flair. 
8. The CRAFTD Crown Ring 
As we mentioned earlier, some people believe that jewelry can be a reminder to you. It's more than just decoration. By wearing specific rings, you may be sending unique subliminal messages about yourself to others and yourself about who you are.
One example of this idea is our CRAFTD Crown Ring. You can wear this piece when you want to remember the royalty you are. It's a terrific piece that makes a stunning addition to your streetwear or a killer accessory for a night out. 
9. The CRAFTD Antique Ring 
You might be the sort of person who finds excitement in vintage-looking pieces. When you want an accessory that draws on the allure of the past, our CRAFTD Antique Ring is a piece to consider. It's a fantastic statement piece in your preference of gold or silver. 
How Do You Style Signet Rings?
Now that you know more about signet rings, you might be thinking about how you could style this piece of jewelry. Should you wear it with your routine fits or save it for special occasions? 
Here are a few examples to help you make this piece of jewelry look incredible:
Date Night:

When you're meeting someone special for the first time, you'll likely want to make an impression. Who do you want to be on your night out? If you're going to keep things more subdued, try wearing your signet or statement ring with an understated chain. These details can help you express your style while keeping things low-key.

At the Office:

You can go for a

simple statement ring

that doesn't feature too many bold designs when you're at the office. 
Special Occasions:

On special occasions, you're free to pull out all the stops. Wear several of your favorite statement rings across each hand to show off your favorite pieces. 
A Crafty Solution 
Buying high-quality jewelry is key to enjoying your pieces for your whole life long. After you've selected a piece that feels exciting, you might find that feeling begins to fade when you notice tarnishing metal and your skin turning unsightly colors.
You can avoid that disappointment by selecting a reputable jewelry retailer. At CRAFTD, we use high-quality 18-karat plated gold and premium 316L stainless steel for your jewelry. Your CRAFTD pieces won't start to break, discolor, or lose their color. 
When you're ready to start wearing a signet ring with your favorite fits, know that choosing a CRAFTD ring means you can wear it for longer. 
Sources:
A brief history of signet rings | The History Press
What Is A Signet Ring & How To Wear Them Like A Gentleman | Gentleman's Gazette
Signet ring Definition & Meaning | Merriam Webster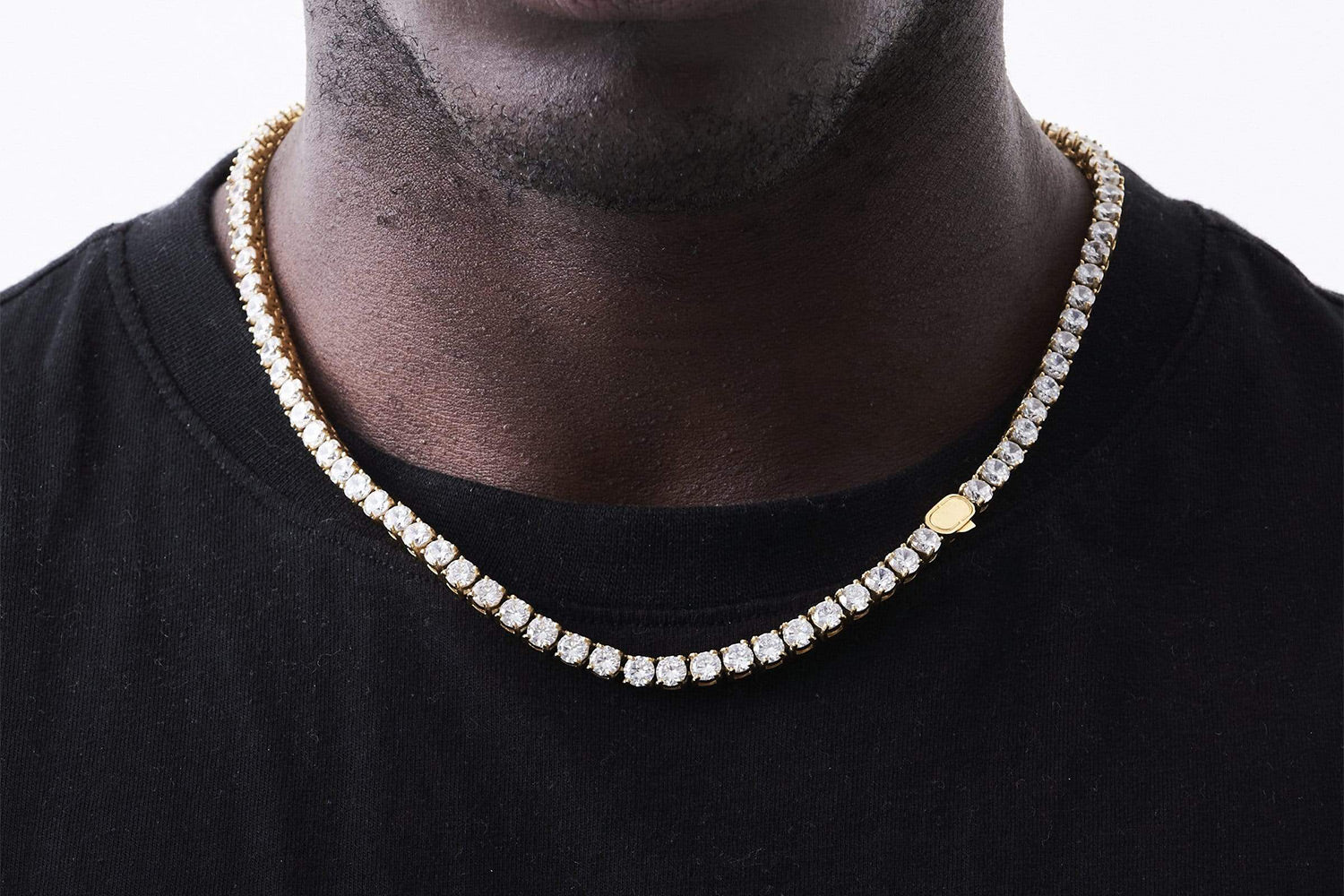 Do Guys Wear Tennis Bracelets?
The tennis bracelet is a piece of jewelry that has been well-loved for years. This diamond-studded accessory can add class and prestige to a look with little effort, making it a fantastic piece to ...
Read more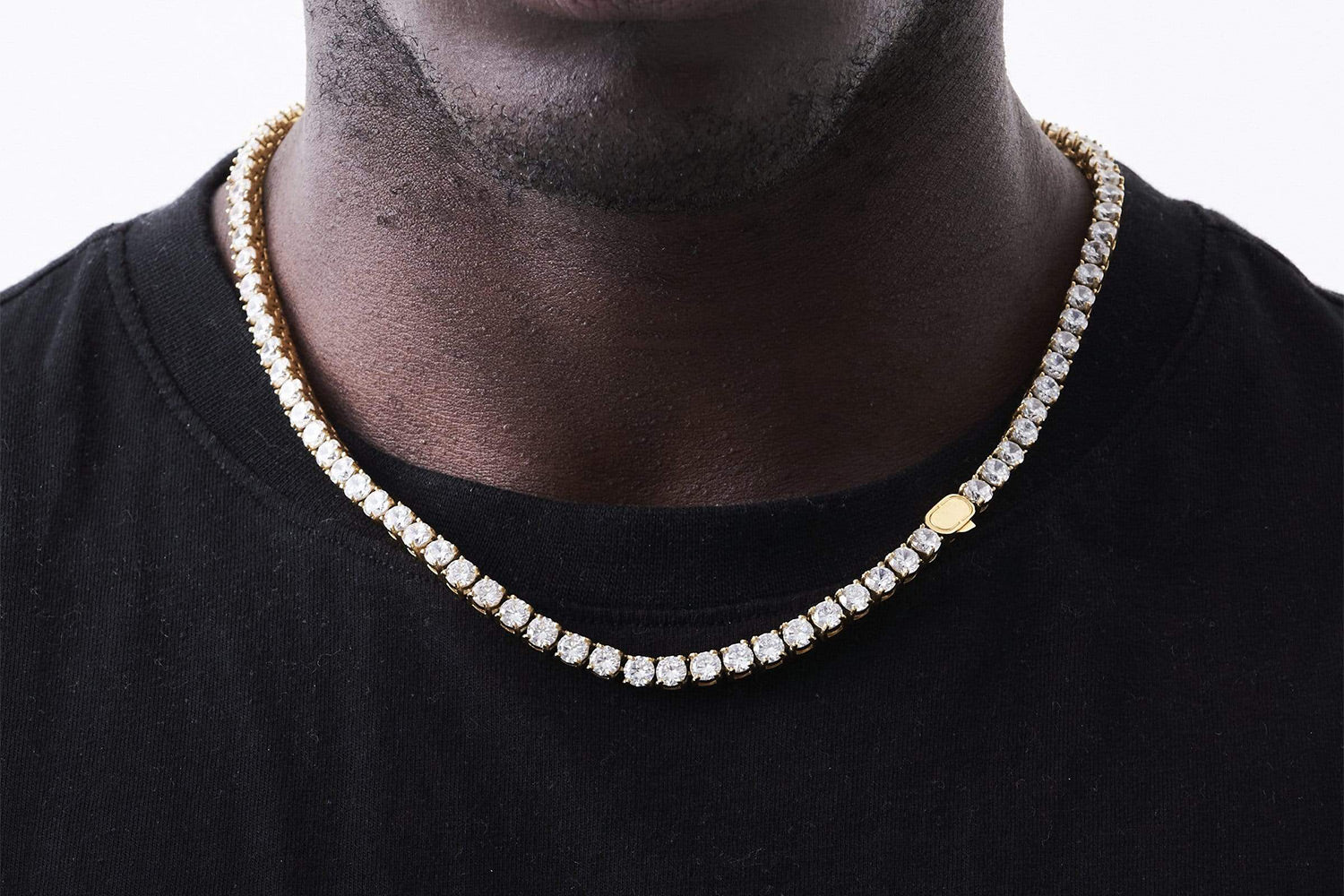 Do Guys Wear Tennis Bracelets?
The tennis bracelet is a piece of jewelry that has been well-loved for years. This diamond-studded accessory can add class and prestige to a look with little effort, making it a fantastic piece to ...
Read more