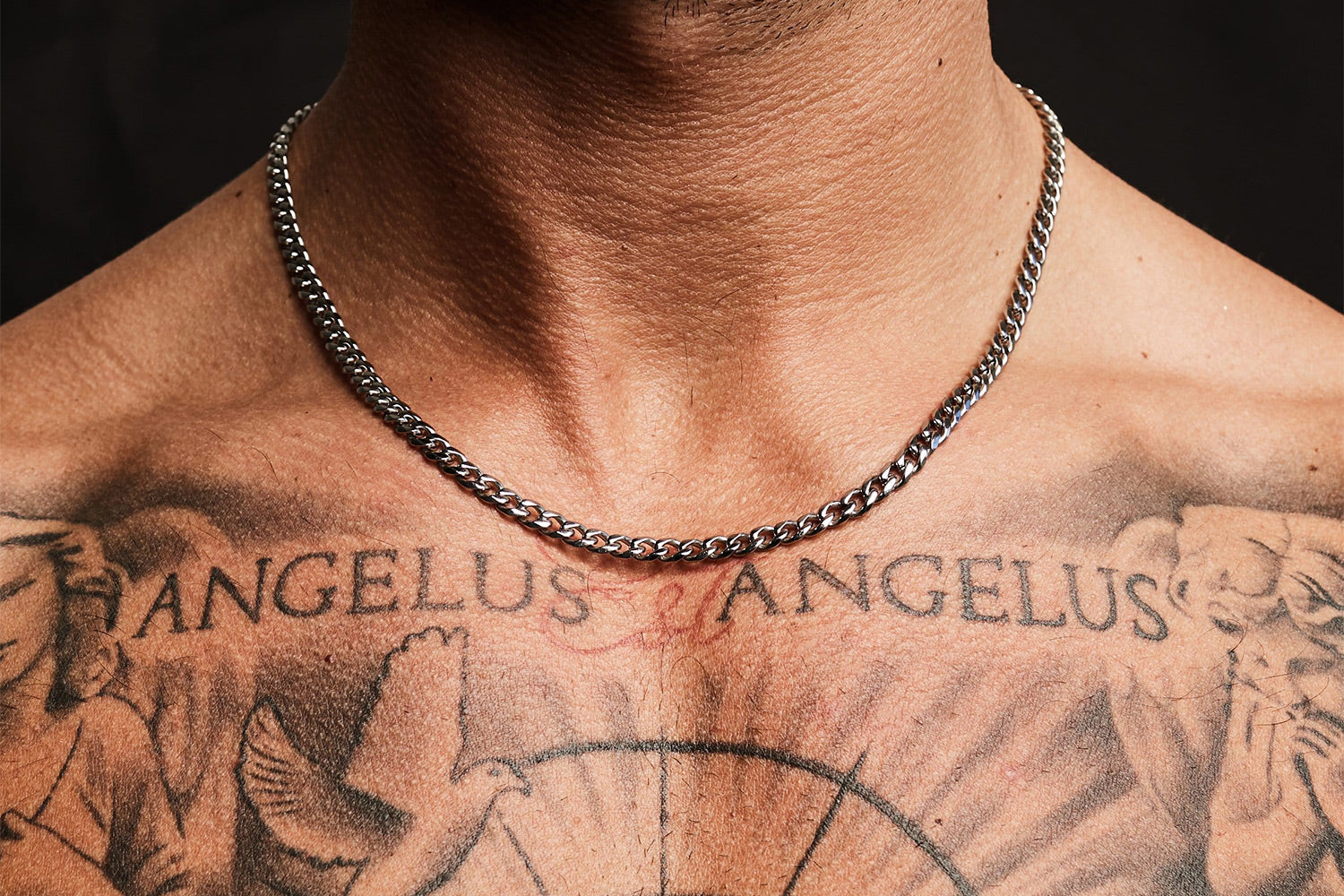 Sometimes, you may notice a piece of jewelry with a unique name. To you, it's an aesthetic accessory with the potential to enhance the way you dress. But did you know many pieces of jewelry have a rich history? Knowing about the iconic history behind some jewelry pieces can help you appreciate your favorite pieces even more.  
Today, we'll talk about Belcher chains and the story behind them. Then, we'll show you our favorite CRAFTD Chains you can wear to add charm to your outfits and knock your daily jewelry looks out of the park. 
The History of the Belcher Chains 
You may have seen Belcher chains before without realizing it. This chain is one of the many historical jewelry pieces with a background worth knowing.
How familiar are you with boxing history? If you're someone who's into professional fighting, you may have heard the name James Belcher before. This boxer has also been known as "Jem Belcher" and always packed a powerful punch during the era called the "Bare-Knuckle Era" of boxing.
From 1800-1805, Jem Belcher, a fan of this particular setting, held the English prize ring title. In 1803, this historic fighter lost sight in one eye in a racquetball accident. Although the injury led to his eventual retirement, those who revere him remember this icon for his championship and induction into the Boxing Hall of Fame. 
The Design of Belcher Chains
How did Jem Belcher's boxing legacy translate to iconic chain jewelry? Initially, the Belcher chain held the name Rolo chain. This trace style of chain features D-shaped links. It's a classic style that can add class to many various outfits.
Whether you're into fighting history or not, the Belcher chain can kick your jewelry up a notch and bring a new edge to minimalistic jewelry.
How To Wear a Belcher Chain 
If you like this style of chain, you could be wondering how to implement it into your wardrobe naturally. You don't have to spend hours brainstorming how to dress with chains. Getting outside inspiration for how to wear chain jewelry can make a difference in your outfits.
Here are a few options for styling a Belcher chain with other jewelry to upgrade your look:
Try One Out with Other Slim Chains
Wearing chain necklaces doesn't have to be complicated. If you're wondering how you can wear your new Belcher chain, a fantastic way to begin is by pairing it with other minimal chains. One chain necklace alone can be a terrific trademark. However, layering your favorite chains can also create an impressive look.
Wear a Belcher Chain with a Chain Bracelet 
Another way you can style your Belcher chain to look amazing is by pairing it with a chain bracelet. By combining these pieces, you can even give a relaxed t-shirt and sweatpants Saturday outfit look dapper. 
Chain bracelets and necklaces are both pieces you can reach for every day to take your looks to the next level. As a bonus, when worn every day, these jewelry pieces can become endearing trademark pieces that others think of when they think of your style. 
Coordinate Belcher Chains with Pendant Necklaces 
Are you someone who enjoys expressing your personality? If you like upgrading simple jewelry, try combining your Belcher chain with a pendant necklace. 
Pendants often display intricate designs that feature aesthetically-pleasing imagery and symbolic themes. You can wear a pendant to express your style or your values. Layer it with a slim Belcher chain to help it blend naturally with your clothing. 
Add Statement Rings to Your Look 
Perhaps you're into bold shoes, clothing, and accessories. In that case, you might be hoping to find ways to make your slim jewelry complement more spirited styles. 
Have you tried adding statement rings to your jewelry collection? By pairing an attractive statement ring with your slim chains, you can create a jewelry ensemble that's straightforward and edgy simultaneously. Wear just one, or try mixing it with simple band rings on both hands. 
Wear Earrings To Complete Your Look 
Some people feel intimidated about wearing earrings, but there's so much to love about this accessory. There are times when going for bold jewelry styles pays off. If you're ready to give more edgy jewelry a try, pair an earring with your Belcher chain.
You can't go wrong with a statement earring when you want a distinctly eye-catching jewelry look. If you want to complement your Belcher chains with something unique, try adding a solid dangling earring to your outfit. 
CRAFTD Chains You Can Wear to Upgrade Your Closet 
Classic chains are essential for those who want to make their closet look great with simplistic jewelry. If you're ready to diversify your jewelry box with multiple go-to everyday chains, you're in the right spot.
Here are six chains to boost your wardrobe:
1. CRAFTD Tennis Chain 
Perhaps simplicity isn't your thing. You might prefer impressive chains that bring out the personality in your style and draw attention when you walk in the room. In that case, our CRAFTD Tennis chains are an ideal piece to have on hand in your jewelry collection.
If you're into Iced jewelry, this piece is perfect for you. Choose your preference of silver or gold to enhance your closet and elevate your confidence. 
2. CRAFTD Cuban Chain 
Maybe you're looking for more classic chains you can reach for with any look. Cuban chains are a terrific staple to have nearby. Layer a CRAFTD Cuban chain with a Belcher chain, or wear it independently. Either way, this piece is one you can wear with a variety of clothing articles. 
3. CRAFTD Connell Chain 
Some people are much more into slim, minimalistic jewelry. When you're looking for something to wear on occasion or a piece you can wear daily, our CRAFTD Connell chain is a wonderful option to have in your jewelry collection. Wear it in your preference of high-quality 18-karat plated gold or premium stainless steel. 
4. CRAFTD Rope Chain 
Here's another amazing chain that can add value to your jewelry collection. Sometimes, you might search for slim chains that add minimalistic charm to your look. Other times, you may look for a bulky, bold piece of jewelry that adds an edge to your appearance.
When you're looking for something that's in the middle of those extremes, a CRAFTD Rope chain is a terrific chain. This piece is slim enough to be subtle yet impressive enough to add sophistication and style to your look. 
5. CRAFTD Snake Chain 
Sleek chains are essential when you enjoy suave jewelry. If you like chains that provide an effortless, cool look, the CRAFTD Snake chain is for you.
In either silver or gold, this chain is a perfect addition to your everyday clothing, work attire, and it can accent formalwear. See why this chain is so great by trying it on for yourself.
6. CRAFTD Figaro Chain 
Perhaps you're looking for a piece of jewelry that offers an eye-catching design. If so, our CRAFTD Figaro chain is a terrific piece to start with.
In this chain style, each link blends to create a chain that's fluid in its movement, causing it to look terrific on clothing and bare skin alike. Wear one alone or pair it with a slim chain bracelet. 
How CRAFTD Jewelry Offers Top-Tier Value 
When you're looking for chain jewelry that can upgrade your wardrobe, you'll want to find a few things. First, you'll want to know the pieces you buy won't fall apart, tarnish or break soon after wearing them. Second, you'll want to know your pieces don't require excessive care. And finally, you'll want to know your jewelry contains premium materials that last.
At CRAFTD, we're committed to introducing you to high-quality jewelry that doesn't require special care. After all, your favorite jewelry should hold up through years of wear and activity. For that reason, we make all of our CRAFTD Jewelry with premium materials such as 18-karat plated gold and 316L stainless steel. 
Your CRAFTD jewelry's high quality makes it sweat-proof, heat-proof, and water-proof. Wear your favorite Belcher chain in any season and during any activity. They'll hold up and keep you looking fantastic no matter the circumstance. 
Look Great in Your Chains
Do you want to make subtle upgrades to your jewelry collection? Sometimes a few small choices can make a significant difference. For example, slim chains can highlight your look and add a sophisticated feeling to your appearance simultaneously. When you want to look incredible in slim chains or statement jewelry that lasts, we've got your back. 
Sources:
How To Dress Well: 17 Style Tips For Men (2021 Guide) | Top Trends Guide
What Is 18-Karat Gold? | Jewelry Notes