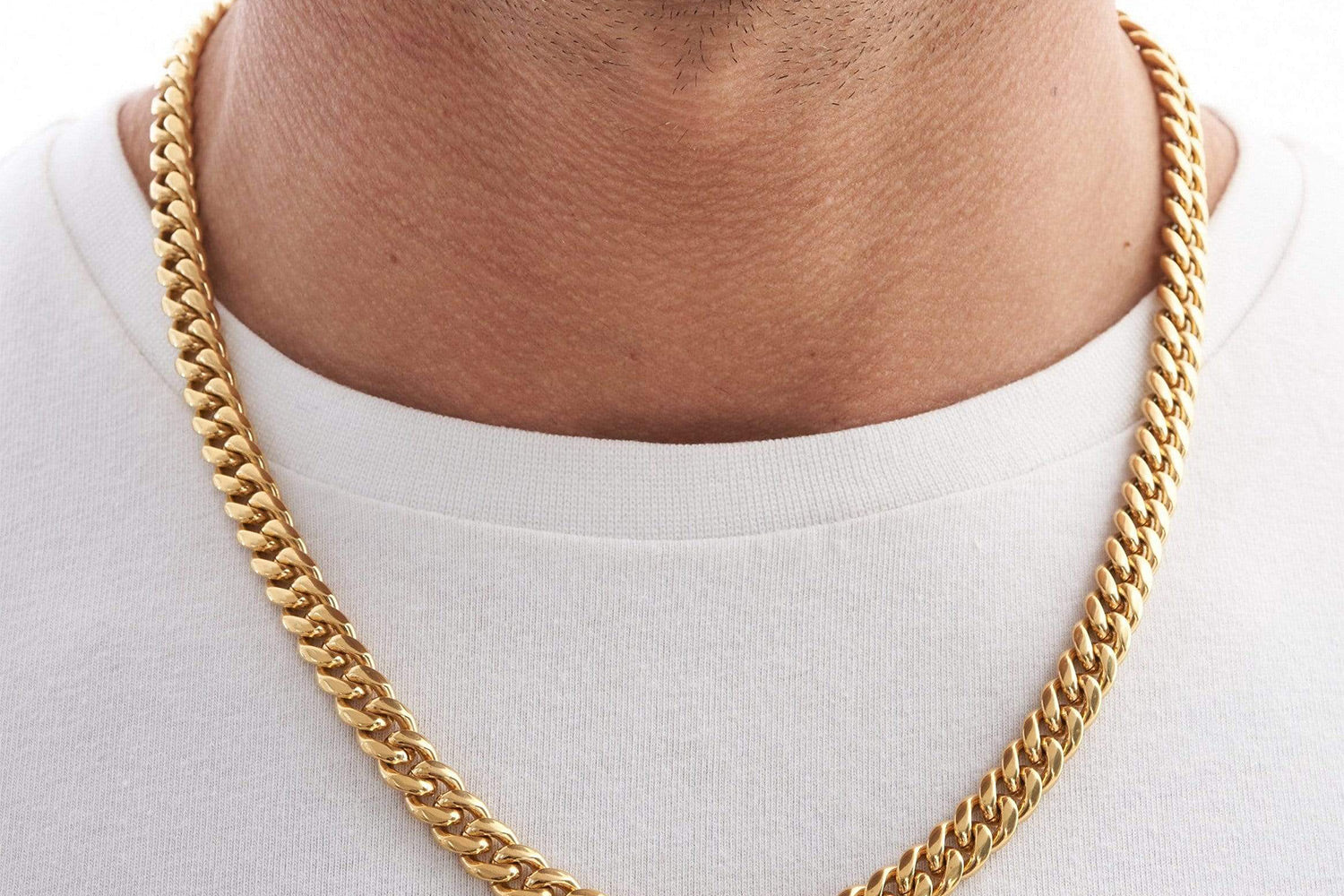 What Does a Figaro Necklace Mean?
Do you have many chains in your jewelry collection? Maybe you saw your grandfather or a family friend wear chains growing up, but you don't have any for yourself yet. 
Wearing chains is an exciting way to add diversity and texture to your clothing. You can easily refresh old fits with new chains, especially when the chains in question are sleek and attractive. 
Today, let's talk about one chain in particular: the Figaro Chain. Then, we'll explore how to style this kind of necklace for different activities and talk about the essential chains you should consider adding to your collection. 
What Is a Figaro Chain? 
What design do you think of when you imagine typical chains? You might think of two interlocking oval-shaped rings that connect to form a necklace. While that's the fundamental design of a chain, Figaro chains are a bit more exciting.
The Figaro design is a variation of a curb chain, meaning every link lies flat. This piece of jewelry features a unique pattern of two or three small oval links followed by one larger oval link. This pattern makes the Figaro chain stand out in a group, and it's a style any gender can pull off seamlessly.
The Story Behind the Name of the Chain 
Sometimes, pieces of jewelry have a significant inspiration behind their name. For example, the tennis bracelet got its name from tennis player Chris Evert who lost her diamond line bracelet during one fateful match.
The Figaro chain is slightly different regarding its name's origins. The legend of the Figaro chain traditionally says that Italian chain makers named this chain based on the classical operas The Barber of Seville and The Marriage of Figaro. While this story's accuracy isn't entirely reliable, it's a fun background that gives this chain even more personality. 
How To Wear a Figaro Chain
If you've fallen in love with this style chain after seeing it, we're not surprised. The Figaro chain is a perfect balance between subtle and eye-catching, making it a terrific piece to have on hand for memorable days and special occasions. 
When you're thinking about how to wear this piece of jewelry with the clothing you already own, it doesn't have to be complicated.
Let's look at a few different contexts and how to style your jewelry for each one:  
Styling a Figaro Chain for Date Night 
If you're going on a date, you probably want to make a killer first impression. One way to leave a lasting memory is to wear jewelry that's attractive and slightly different from the norm. A Figaro chain is the perfect option.
To match this piece with your clothing, consider trying on a pair of straight-leg slacks with boots. Tuck in a plain-colored button-up or sweater, and you've got a look that's simple and strong, especially with a Figaro chain layered on top. 
Coordinating a Figaro Chain for Streetwear 
Are you stepping out with friends for the weekend? Wearing your favorite jewelry is one way to ensure you have a great time and feel your best. 
When you're getting ready to go on a road trip to enjoy new restaurants or live music, you can feel free to express yourself. Try wearing straight-leg jeans with classic canvas tennis shoes and your trademark hoodie on top.
Layer a Figaro chain by itself, or pair it with another necklace for a bolder ensemble. Consider adding a statement ring to your apparel for even more personality.
Mixing a Figaro Chain With Other Chain Styles 
A Figaro chain is one style of chain that's ideal for mixing with other pendants and chain designs. Consider pairing your new Figaro chain with a wheat chain of a different length to create a mix and match appearance. You may even consider adding a pendant that expresses your taste and values to finish the look.
Six Essential Chains To Have in Your Collection 
As we mentioned, there's a reason chains are such a go-to piece of jewelry. By adding this one element to your clothing, you can transform an outfit and add accents that elevate your appearance. After adding a Figaro chain to your wardrobe, you may feel ready to look for more staple chains you can wear with your everyday clothing.
Let's explore the CRAFTD chains that can enhance your collection and make you look fresh any day of the week.
1. The CRAFTD Cuban Chain 
When you're looking for an all-star piece of jewelry you can wear for any occasion, the Cuban chain is an excellent piece to start with. This piece is a curb chain that looks as classic as they come. Choose a bulky style for a more bold appearance, or you can select a slimmer profile version for days when you want to remain low-key. 
2. The CRAFTD Rope Chain 
When you want to switch up your rotation of chains, you can branch out with a CRAFTD Rope chain. This design style features several twisting strands of metal that form an even larger rope twist. It's a piece of jewelry that can add a rugged, elevated feel to a bland outfit. Choose your preference of gold or silver to pair this piece with the look of your choice.  
3. The CRAFTD G-Link Chain
Sometimes, going out on a limb is necessary. Some chains are perfect for everyday wear, while others feature designs that are ideal for bolder looks. 
When you're putting together a look, and you want to take risks with the clothing articles and jewelry elements you choose, the CRAFTD G-link chain is an epic choice. Wear it alone for a simple yet striking piece of jewelry. 
4. The CRAFTD Snake Chain 
Are you the kind of person who prefers to keep things simple? Maybe you want your jewelry to look effortlessly cool without calling too much attention to yourself. If that's the case, adding a CRAFTD Snake chain to your collection is an excellent step for you.
Wear it to work out or to take a romantic interest out for a night of fun. The sleek, classic design will look great for years.
5. The CRAFTD Wheat Chain 
As we mentioned, some chains are perfect for melting into the background and adding attractive details to your look without being too noticeable. Others add exciting texture with their unique designs.
When looking for a chain that isn't too bold or too simple, a wheat chain is a perfect middle option. You can wear a CRAFTD wheat chain with anything, but it's ideal for pairing with other chains to create a multi-layered look. If you need some inspiration, we suggest pairing our CRAFTD Wheat chain with a pendant necklace to create an expressive ensemble.
You can make a chain and pendant set or choose one of our curated sets.
6. The CRAFTD Connell Chain
You might be the sort of person who doesn't want to bother with layered chains or daring styles. Truth be told – there's nothing wrong with keeping things simple.
When you're looking for slim, understated chains, you can't go wrong with a CRAFTD Connell chain. This style is a terrific essential chain you can wear every day without it ever getting old or losing its charm. 
Where to Look When You Want to Try New Styles
Sometimes, you may often approach a place in your life where you want to change things up for yourself. You might purchase new clothing or dye your hair to feel a change of scenery.
When this desire extends to your jewelry, you don't have to take a shot in the dark to decide what pieces to add to your collection. Our CRAFTD Personal Shopper interactive tool takes your tastes into account to help provide you with customized jewelry selections you can wear with your new appearance.
Here's Why CRAFTD Chains Last for Years 
Buying cheap jewelry is a bummer. It's not fun to realize you've bought tarnishing rings or necklaces that won't last. 
The CRAFTD name means your pieces are crafted to last for years. Our high-quality materials and careful craftsmanship allow you to wear your jewelry freely throughout all your activities. You can be assured that your favorite CRAFTD chains will last through it all. 
Don't Be Afraid To Look Your Best 
Adding a Figaro chain into your jewelry collection is a wise move. This piece of jewelry is one-of-a-kind, like you. Wear it with other chains or show it off solo; whatever you prefer, don't be afraid to step out with confidence in your CRAFTD chains. 
Sources:
The Barber of Seville | opera by Rossini | Britannica
The Marriage of Figaro, Commoners vs. Nobility | Mozart.com
What to Wear on a First Date - Best Date Outfits for Men | Men's Health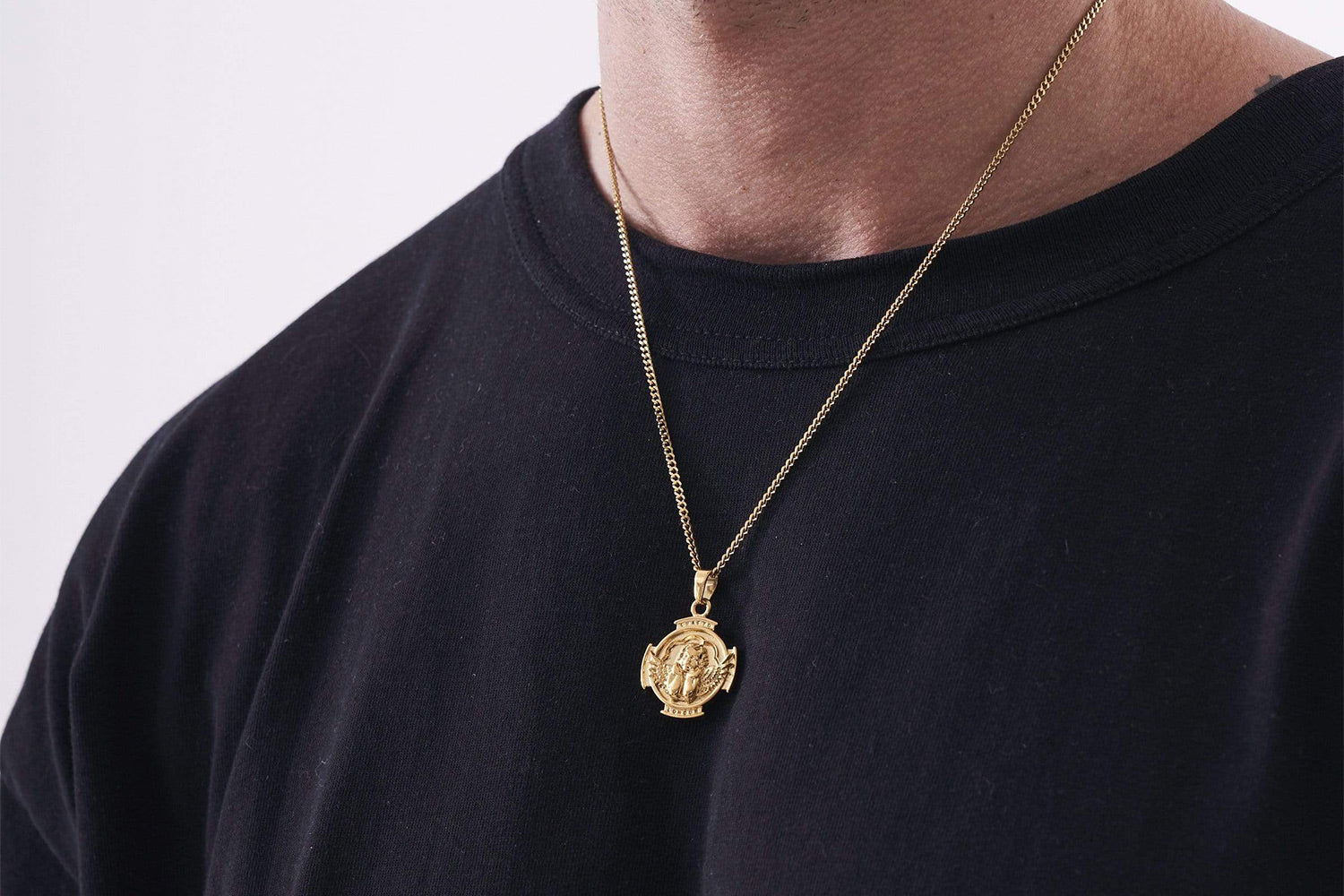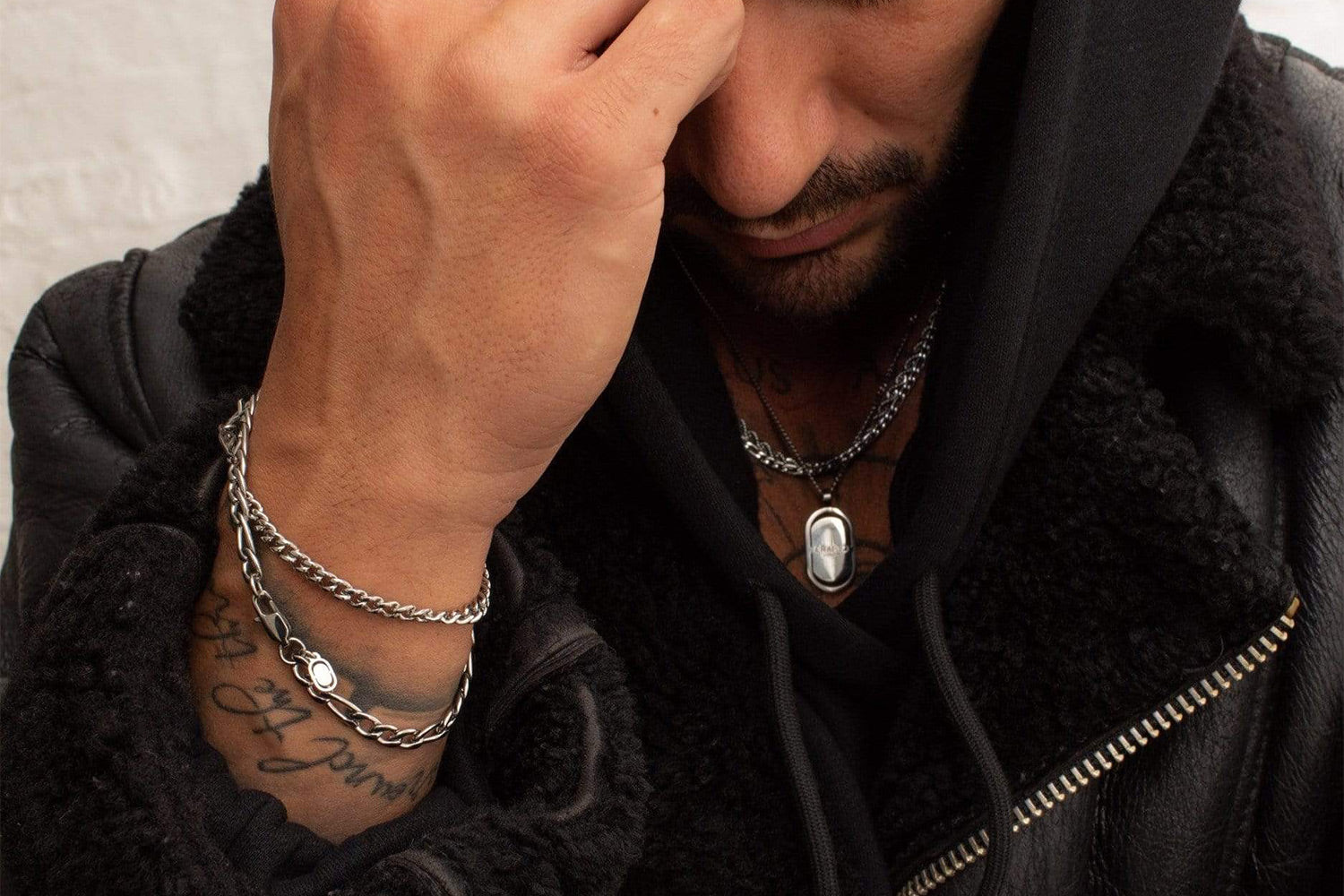 What Is a Cuban Link Bracelet?
Think about your jewelry collection. How's it looking? You might have a ring you got in high school that you think about wearing periodically. Perhaps you own a friendship bracelet given to you by ...
Read more