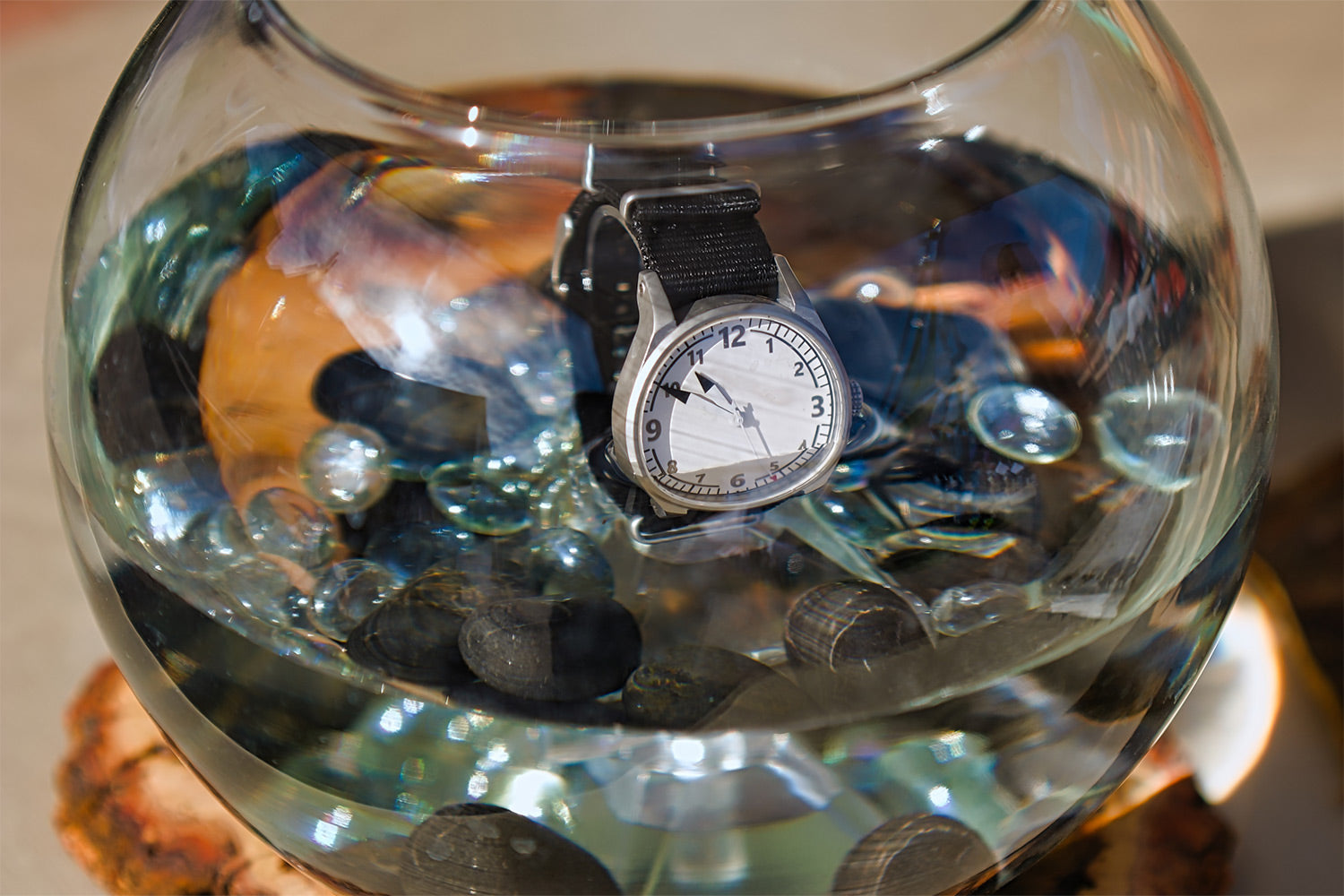 The Best Guide on Waterproof Jewelry 2021
Wearing jewelry shouldn't have to be something you have to think about too hard. Ideally, you'd be able to wear the chains, earrings, bracelets, and rings you love with your clothing each day: no matter what life brings your way.
There are several scenarios when you might need to make the choice to keep your jewelry on or take it off in the water. Whether you're hot-tubbing in winter or going jet-skiing in summer, you deserve to look your best without slipping your jewelry off. 
Today, let's talk about waterproof jewelry.
We'll go over the science behind why certain metals can't handle getting wet and explore all the details to look for when searching for waterproof jewelry. Then, we'll show you some of the best pieces of waterproof CRAFTD jewelry you can wear wherever you'd like to. 
Why Are Some Pieces of Jewelry Sensitive To Water?
It's unfortunate when you notice a ring or bracelet you enjoy wearing each day has started to turn. Often, when this happens, the jewelry has a design you like, and it might even be a piece of jewelry that others know as your trademark. 
Why do some pieces of jewelry look good at first, but they deteriorate later? First, when a jeweler lists the type of metal in that article in its description or packaging, it's not just a gimmick. Descriptions like "14-karat gold" and "18-karat plated gold" help inform you about the quality of the jewelry you're about to purchase.
Which Kinds of Metal Can Get Wet? 
If you're looking for the next stunning statement ring to add to your jewelry, you'll want to know what kind of metal it contains to determine whether it might withstand typical wear and tear more effectively. Some kinds of metal are more susceptible to water damage than others. Let's talk about why.
Gold

: When you're buying gold jewelry, know that the lower number of karats it has, the more alloy metals it contains. Usually, these alloy metals are what cause

gold

to lose its shine and color in water, so opting for a higher karat value is ideal.
Silver: Silver jewelry can be tricky. Although real silver is somewhat resistant to water damage, there are materials that look like silver that might behave differently.
For example, low-quality silver jewelry may contain high levels of nickel or zinc. These

silver alloy metals

might make the jewelry harder, but they'll be more likely to look damaged after contact with water.
One silver-colored metal that stands up to the test is premium 316L stainless steel. This silver-colored metal keeps your jewelry durable and safe from the elements. 
How Can I Tell if a Piece of Jewelry Is Waterproof? 
Looking for durable pieces might seem challenging at first. However, there are a couple of easy ways to determine if a piece of jewelry can withstand water.
If you're shopping online, read through the description. If you're checking out pieces of jewelry in a department store or specialty shop, the details should either be on the packaging or imprinted on the inner band.
For example, whenever a piece of jewelry contains higher-quality materials, it's more likely to have phrases like "925" or "18K" imprinted somewhere on the piece of jewelry. This detail is called a "hallmark," and it can help you figure out which jewelry is worth its salt. If you can't find a hallmark, you might be dealing with a lower-caliber piece of jewelry that's more likely to get damaged when wet. 
Another way you can know whether your jewelry will hold up in water is by reading its description. Does it have a protective coating to withstand water and everyday wear and tear? If so, your piece of jewelry may last for longer. 
The Best Pieces of Waterproof Jewelry You Can Wear 
If you're tired of seeing piece after piece of jewelry tarnish and lose its color, it's no wonder you're looking for better waterproof pieces. Here are a few of our favorite waterproof pieces of CRAFTD jewelry you can add to your collection and wear in any setting.
Chains 
Our CRAFTD chains can help you elevate your style in every season. Whether you're adding them to your winter sweaters or wearing them with your swim trunks to a beach, they'll look good through anything. Let's explore the chains that can take your looks to the next level.
Connell Chain:

Are you the kind of person who likes adding minimalistic details to your fit? Sometimes it's the smallest pieces that add the most charm to your look. If so, our CRAFTD Connell chain could be a match for you. Wear it alone or stack it with other chains for a layered look. 
Cuban Chain:

You might be the kind of person who enjoys timeless elements in their wardrobe. If so, a CRAFTD Cuban Chain might be your next favorite piece. It's the kind of chain that you can wear every day if you'd like. Wear it alone for a simple statement, or pair it with other pieces for a more noticeable look. 
Bracelets 
Bracelets are a detail that often goes unnoticed. However, adding the right chain bracelets to your jewelry rotation can enhance your streetwear with a subtlety that comes off as understated and cool. 
Rope Bracelet:

There are easy ways to add texture to any look. Our CRAFTD Rope Bracelet is an example of that. With twisting strands, this bracelet offers a rugged element that adds visual interest to your clothing. 
Tennis Bracelet: What's more iconic than a tennis bracelet? When you slip on a gold or silver chain studded with high-quality stones, others won't be able to help but notice your drip.
Our CRAFTD Tennis Bracelet adds a unique flair to a classic piece of jewelry many people have loved wearing through the years. Choose your preferred color metal and add it to any fit for an icy look. 
Pendants
If you're the sort of person who enjoys expressing yourself, pendants may be your ideal piece of jewelry. Sure, you can express your personality with rings and other jewelry, too. However, our CRAFTD pendants display thought-provoking themes that can remind you of your values and start conversations anywhere. 
Compass Pendant: You're the type of person who doesn't sit around waiting for directions; you make your own path. Our CRAFTD Pendant necklace features a symbolic design for those who follow their own route in life.
In 18-karat plated gold or premium 316L

stainless steel

, this pendant makes the ideal pair for a classic chain. 
Iced Cross Pendant:

What's more recognizable than a cross pendant? Whether you're religious or not, the cross is an inarguably cool symbol that has remained present in popular fashion for decades. Brilliant stones are our CRAFTD spin on this iconic piece of jewelry. Wear it with other chains for a look that commands attention.  
Earrings 
If you enjoy taking fashion risks, you might love wearing earrings. Earrings can take a typical outfit and make it playful and interesting while adding a touch of edge and mystery to your look, too. 
Rose Earring:

When you want to add one singular detail to your jewelry that packs significant personality, the rose earring is a fantastic choice. Roses historically represent romance and magic, making this a piece that will introduce you before you say a word.
Dagger Earring: Perhaps you've got a tattoo sleeve of traditional pieces that all combine to create an artistic tapestry across your skin. Maybe you've always wanted that appearance, but you're not sure if you can commit.
Wearing a dagger earring is perfect for either of these scenarios. Show off the edgy characteristics that make you unique. 
Rings 
Statement rings are a fantastic way to add a lot of visual interest with minimalist details.
Let's look at a few examples of statement rings you might love. 
Crown Ring

: Your attitude about yourself can play a part in the way you carry yourself. Remind yourself to pick up your head and count yourself among the royals wherever you go with our Crown ring. In your choice of silver or gold, this regal ring can remind you of your worth, all while looking fresh as hell. 
Vitruvian Man Ring

: Remind yourself and others that you're capable of many things with our intricate Vitruvian Man Ring. 
How CRAFTD Pieces Stand Up To the Test 
At CRAFTD, we care about making pieces that can withstand your lifestyle. You shouldn't have to worry about whether your favorite jewelry can endure your activities. Whether you're having an adventure white water rafting or you're wearing your favorite gold chains around the house, CRAFTD has you covered with quality pieces. 
Sources:
gold | Facts, Properties, & Uses | Britannica
What Is Silver Alloy? | Sciencing